Get PolitiFact in your inbox.
Gas prices are high "due to the Democrats' war on fossil fuels."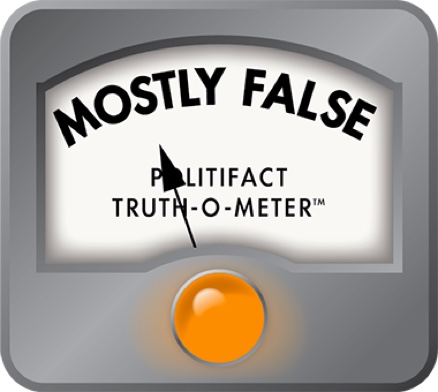 No, Democrats aren't responsible for rising gas prices
If Your Time is short
Since early 2021, gas prices have been steadily rising, with the largest peak seen in March 2022

Those climbing prices have been closely linked to the coronavirus pandemic, because in the early days production dipped because no one was driving. But as demand has risen, supply hasn't been able to keep up, meaning higher prices at the pump

While consumers were already facing higher gas prices, the Russian invasion of Ukraine and the resulting sanctions have forced prices even higher
Across the country, gas prices are climbing to record-setting numbers, putting consumers in a bit of a pinch when it comes to their daily commute. 
As prices have crept up, politicians have been quick to point fingers. 
Republican U.S. Sen. Ron Johnson of Wisconsin, in a March 18, 2022 tweet about the burden the high prices were placing on truck drivers, blamed the "astronomical gas prices" on the "Democrats' war on fossil fuels." 
But is that true? Have policies instituted by Democrats in recent years caused gas prices to skyrocket? Or is there another reason? 
Let's take a look. 
 
Coronavirus, Russian invasion of Ukraine playing major role in prices
When we reached out to Johnson's office, aides sent a host of information about the senator's claim, arguing that President Joe Biden's policies regarding American oil production and transportation are to blame for the hike in prices. 
Alexa Henning, Johnson's deputy chief of staff for communications, cited suspension of drilling and mining on Bureau of Land Management property, the cancellation of the Keystone XL pipeline and signing an executive order barring federal funding from being used to subsidize fossil fuels. 
So let's take a look there first: Were gas prices forced upward because of policies like these, enacted by the Biden Administration? 
In short, no. 
Gas prices have been rising since the initial wave of the coronavirus hit the United States in early 2020. According to a March 9, 2022 piece from PolitiFact National, gas prices were the lowest in May 2020 at $1.87 per gallon, but since then have experienced upward growth. 
In January 2021, when Biden was inaugurated, gas prices were already at $2.33 per gallon, ahead of any policies put into place by the new administration. As of March 2022, prices were around $4 a gallon, on average, according to PolitiFact. 
Aside from that, the halt of the Keystone XL pipeline, which many Republicans have pointed to as a cause for rising prices, would have likely had a very miniscule impact on the global oil trade, said Gregory Nemet, a professor at the University of Wisconsin-Madison's La Follette School of Public Affairs. 
"There are 95 million (barrels) per day of global oil production, and only 0.5 million barrels per day from the Keystone XL so it would have a very small effect, when it would come online," Nemet said in an email. 
What's more, the action did not shut down any existing supply. The Keystone XL was not projected to be finished until the first quarter of 2023. 
RELATED VIDEO
But there have been other factors as well. One of the biggest: The coronavirus pandemic.
According to a March 9, 2022 report from the New York Times, gas prices have risen largely in response to the ongoing impact of the coronavirus pandemic and the disruptions it caused to global supply and demand. 
The report notes that during the early months of the pandemic, when people were largely confined to their homes in hopes of limiting the spread of the virus, gas prices plummeted. There was more gasoline available than consumers looking to buy it. So producers of gasoline started decreasing output. 
As those restrictions have loosened and life has returned to normal, demand for gas has gone up, the report said, with demand now outpacing the limited supply of gas. 
Supply and demand are largely out of Biden's control, but the administration hasn't exactly been sending positive signals to the oil and gas industry by pushing for reduced emissions and other forms of cleaner energy, the Times report noted. 
But, as the Times article said, that stance has played only a "very, very small role in pushing gas prices up." 
Another factor linked to rising gas prices: The Russian invasion of Ukraine and the economy-choking sanctions placed upon Russia by the United States and other countries.
According to the PolitiFact National report, Russian oil accounts for about 4% of America's supply. Europe is far more reliant on Russia's oil, and has far less ability to compensate to make up for the lack of oil it's getting, forcing gas prices up. 
"In a global market, those price pressures will be felt in the U.S.," the PolitiFact report said. "If American producers can get a higher price on the global market, that's where some of their production will go, raising prices back at home." 
In short, there are a lot of factors that influence the rising cost of oil and gasoline in the United States and abroad, but policies put into place by Democrats and the Biden Administration likely aren't the root cause. 
"The bottom line is that these two global forces: economic recovery and disruption from Russia are what has made gasoline prices rise," Nemet said. "U.S. oil production has doubled the past 15 years and yet we still have these high prices. This to me is evidence that expanding supply in the U.S. can only have modest impacts for U.S. gasoline consumers."
Our ruling
Johnson claimed that the "astronomical gas prices" are "due to the Democrats' war on fossil fuels."
He noted, among other things, halting subsidies for oil companies, ending fossil fuel company drilling on public lands and ending the Keystone XL pipeline. 
Experts say those things could have had a small impact, but it's more likely that the effect of the coronavirus pandemic on the supply and demand for oil, and Russia's invasion of Ukraine and the subsequent  sanctions are having a much larger impact. 
We rate this claim Mostly False, meaning the statement contains an element of truth, but ignores critical facts that would give a different impression. 
Ron Johnson, Twitter, March 18, 2022
Email conversation with Alexa Henning, Deputy Chief of Staff for Communications, March 24, 2022
Email conversation with Gregory Nemet, UW- Madison professor, March 24, 2022
PolitiFact, "Ask PolitiFact: Why are gas prices going up?" March 9, 2022
New York Times, "Republicans wrongly blame Biden for rising gas prices," March 9, 2022
Browse the Truth-O-Meter
More by Laura Schulte
Support independent fact-checking.
Become a member!
In a world of wild talk and fake news, help us stand up for the facts.