Stand up for the facts!
Our only agenda is to publish the truth so you can be an informed participant in democracy.
We need your help.
I would like to contribute
Baby boomers didn't have autism, seizures, allergies and other ailments when they were kids.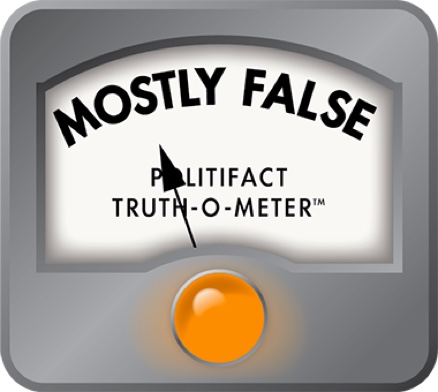 Autism, allergies and other diseases and disorders afflicted baby boomers, too
If Your Time is short
Today's childhood diseases and ailments also existed when baby boomers were kids, though in some cases, the rates of such illnesses have increased.
We accepted a challenge put forth by a recent Facebook post suggesting that children today suffer from more diseases than baby boomers did when they were kids. 
"Baby boomers had measles, mumps and chicken pox," said a post shared in a group advocating for "vaccine rights." "Today's kids have SIDs, autism, seizures, allergies, diabetes, cancer, speech delay, colic, ear tubes, HFMD, eczema and RSV. Time to start researching why…"
This post was flagged as part of Facebook's efforts to combat false news and misinformation on its News Feed. (Read more about our partnership with Facebook.)
Let's get to it. 
Measles, mumps and chickenpox
Before measles vaccines became available in the United States in 1963, an estimated 3 to 4 million people caught the virus each year, according to the Centers for Disease Control and Prevention. Widespread use of a vaccine protecting against the measles virus has led to a greater than 99% reduction in cases compared with the pre-vaccine era, the CDC says. 
Mumps is a similar case. Once a common childhood disease, caes decreased more than 99% after its vaccine program started in 1967. 
Chickenpox was also once common in the United States. In the early 1990s, about 4 million people in the U.S. caught it each year. Now, fewer than 350,000 people get it annually. That's because a chickenpox vaccine became available in the United States in 1995, drastically cutting the number of cases, hospitalizations and deaths. 
Sudden Infant Death Syndrome (SIDS)
The term "sudden infant death syndrome" was first proposed in 1969, but it's not a modern phenomenon, according to a book by a neuroscientist and a forensic pathologist about the past, present and future of SIDS. Today, SIDS refers to the death of a seemingly healthy infant younger than 1 who dies under inexplicable circumstances, even after an investigation and autopsy. Cases of sudden death of healthy infants have been recorded for thousands of years, the book says. Some academics cite as the example of an Old Testament story about an argument between two mothers, one of whom discovered her baby dead in the night. 
Autism
Autism has been a diagnosis for decades, though its definition has changed over time, and it didn't feature in the Diagnostic and Statistical Manual of Mental Disorders, or DSM, a handbook used by clinicians to diagnose illnesses and disorders, until 1980.
Donald Triplett, born in 1933, was the first person diagnosed with autism, appearing in child psychiatrist Leo Kanner's 1943 paper "Autistic Disturbances of Affective Contact" as "Case 1, Donald T." 
Hans Asperger, a pediatrician at the University of Vienna, described numerous children he observed as "autistic" in 1938. Other cases elsewhere in the world went undetected. The Smithsonian describes a man from the mid-1800s who was considered an "idiot" in the parlance of the time but who today would likely be diagnosed with autism. 
Autism is being diagnosed more today than in previous generations, but it wasn't foreign to the baby boomers. 
Seizures
Anti-epiletic drugs, used to combat seizures, have been around since the early 1940s, when baby boomers (born between 1946 and 1964) started to come on the scene. But children were having seizures well before that. In England, for example, children were first admitted to a colony for people with epilepsy starting in 1909. 
Child neurology is a relatively new medical specialty, according to a 2003 article in the journal Pediatric Research, but it "traces its origins to the Hippocratic descriptions of seizures and other neurologic conditions in children. Its true beginnings can be traced to the 1600s and 1700s with classical descriptions of chorea, hydrocephalus, spina bifida, and polio." 
Allergies
In 1859, a doctor in England who suffered from what were then called "summer colds" — seasonal sneezing, runny nose — experimented on himself and discovered his symptoms were caused by pollen, according to a 2018 National Geographic article on the history of allergies.
Our understanding of allergies has changed over time, particularly in the early 1950s with the discovery of mast cells that are packed with different chemicals, such as histamine, which produce symptoms of an allergic reaction. But "allergies are not new," the article says. "Such reactions have been described in historical documents with asthma symptoms recorded in ancient China, Rome, Egypt and Greece."
Still, food allergy rates among children have risen in recent decades, the BBC reported, and some researchers suspect this is because of diet and pollution, among other factors.  
Diabetes
Diabetes dates back to 1500 B.C., though instances of childhood Type 1 diabetes started increasing in multiple countries around the late 1950s. Type 2 diabetes, meanwhile, was previously unheard of in children and teenagers, according to Johns Hopkins Medicine but is increasingly being diagnosed in young people. Many public health experts say childhood obesity is the culprit. 
Cancer
Cancer did not skip the baby boomer generation when they were children. There are well-documented accounts of cases in the 1940s. 
According to the National Cancer Institute, incidence of childhood cancer has been rising slightly in recent decades. (Survival rates have also increased by 18 to 27%, depending on the age of affected children and teens, from the mid-1970s to the 2010s.) 
Speech delay
Speech pathology as a field has grown over the years, but language delay is not a new condition. Before 1940, according to a 1990 dissertation on the development of speech pathology in the United States, nine states recognized speech delays legislatively, and in 1925, four universities had awarded 20 degrees to graduate students with theses focusing on the scientific aspects of speech. 
"Speech and its defects have been treated or mistreated for centuries by a variety of professions," the paper says. "Records describing defective speech and its treatment have been traced back to the fifth century B.C."
Colic
Colic, or intense and frequent fussiness in infants, also isn't new. Opium was once used to treat excessive crying, and in the 1800s, it was an ingredient in a syrup used to quiet babies. 
Ear Tubes
Ear tubes, developed to relieve infection in the middle ear, were first used in the late 1890s and reinvented in the 1950s, the Virginian-Pilot reported.
In 2007, NPR warned that while about 500,000 children have ear tubes implanted surgically every year, experts think about one-third don't need them. 
Hand, Foot and Mouth Disease (HFMD)
HFMD was first reported in New Zealand in 1957, and the first recognized outbreak happened in Singapore in 1970. It's a common and usually mild childhood illness. 
Eczema 
The term atopic dermatitis — better known as eczema — dates back to 1933, but "despite its recent introduction into our medical lexicon, historical precursors of atopic dermatitis date back to at least as early as 69-140 CE," according to a 2017 paper on its history. That was during the Roman Empire, well before baby boomers were born. 
A 2003 study found that the rate of children who suffer eczema had tripled since the 1970s, though the reason was unclear, according to the Guardian. "Improvements in hygiene may mean that there are fewer chances for babies to develop immunity to the condition, and genetics, environment and diet may also be factors," the paper said.  
Respiratory Syncytial Virus (RSV)
RSV, a common respiratory virus that can be dangerous for infants and older adults, was first discovered in 1956 "and has since been recognized as one of the most common causes of childhood illness," the CDC says. In the United States, hospitalization rates have risen during previous decades, according to a 2016 history of the disease. 
Our ruling
This post wrongly suggests that baby boomers only suffered measles, mumps and chickenpox while children today endure a slew of new ailments. While cases of some of these diseases and disorders are more prevalent now than they were in children born in the 1940s to the mid-1960s, these are not new illnesses. 
Some people commenting on the post also connected the supposed new medical problems to vaccines, but there's no credible evidence to support that. Meanwhile, vaccines have reduced cases of measles, mumps and chickenpox among children today. 
We rate this post Mostly False.
Facebook post, May 18, 2022
Centers for Disease Control and Prevention, Chickenpox Vaccine Saves Lives and Prevents Serious Illness Infographic, visited May 20, 2022
Scientific American, The Real Reasons Autism Rates Are Up in the U.S., March 3, 2017
Centers for Disease Control and Prevention, Sudden Unexpected Infant Death and Sudden Infant Death Syndrome, visited May 20, 2022
SIDS Sudden Infant and Early Childhood Death: The Past, the Present and the Future, May 2018
Centers for Disease Control and Prevention, Measles Vaccination, visited May 20, 2022
Centers for Disease Control and Prevention, Mumps Vaccination, visited May 20, 2022
Centers for Disease Control and Prevention, Chickenpox Vaccination: What Everyone Should Know, visited May 20, 2022
Dell Children's, Anti-Epileptic Drug Therapy,visited May 20, 2022
Pediatric Research, Child Neurology in the 20th Century, 2003
Epilepsy Society, The history of Epilepsy Society, visited May 20, 2022
Stat News, There's no autism epidemic. But there is an autism diagnosis epidemic, Feb. 10, 2022
Smithsonian Magazine, The Early History of Autism in America, January 2016
National Cancer Institute, Cancer in Children and Adolescents, visited May 20, 2022
St. Baldrick's Foundation, The History of Childhood Cancer Research, visited May 20, 2022
BBC, Why the world is becoming more allergic to food, Sept. 13, 2019
Johns Hopkins Medicine, Diabetes in Children, visited May 20, 2022
Centers for Disease Control and Prevention, Diabetes, visited May 20, 2022
American Diabetes Association, ​​The Rise of Childhood Type 1 Diabetes in the 20th Century, Dec. 1, 2002
National Library of Medicine, First cases of type 2 diabetes found in white UK teenagers, March 2, 2002
National Library of Medicine, The History of Diabetes Mellitus, August 2013
National Geographic, A brief history of allergies, Dec. 3, 2018
Clinical and Vaccine Immunology, Brief History and Characterization of Enhanced Respiratory Syncytial Virus Disease, March 7, 2016
CDC, RSV, visited May 20, 2022
The Guardian, Child eczema 'has tripled since 1970s', Dec. 23, 2003
National Library of Medicine, The history of atopic dermatitis, July 2017
National Library of Medicine, Epidemic Hand, Foot and Mouth Disease Caused by Human Enterovirus 71, Singapore, January 2003
The Virginian-Pilot, FACTS PARENTS SHOULD KNOW ABOUT EAR TUBE SURGERY, Aug. 2, 1994
NPR, Ear Tubes in Children May Be Over-Prescribed, Feb. 22, 2007
National Library of Medicine, Lethal Lullabies: A History of Opium Use in Infants, February 2016
Mayo Clinic, Colic, visited May 20, 2022
Browse the Truth-O-Meter
More by Ciara O'Rourke
Support independent fact-checking.
Become a member!
In a world of wild talk and fake news, help us stand up for the facts.