Stand up for the facts!
Our only agenda is to publish the truth so you can be an informed participant in democracy.
We need your help.
I would like to contribute
Says his policy is that "health insurance should always cover preexisting conditions. For anyone. Period."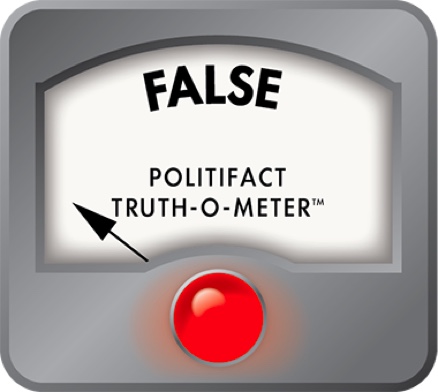 Georgia Sen. Perdue's record on preexisting conditions doesn't match his promises
If Your Time is short
Perdue has voted to do away with Obamacare and the protections it provides.

His bill to provide similar protections contains loopholes for insurance companies.

He weighed in on the side of extended short-term plans, which can legally deny coverage based on preexisting conditions.
Health insurance has emerged as a defining issue in the Georgia Senate race, and Republican incumbent Sen. David Perdue declared that there is one angle where he can't be attacked.
"I've always believed in protections for Americans with preexisting conditions. Period," Perdue tweeted Aug. 18. "Anyone who says otherwise just isn't telling the truth."
The campaign ad attached to the tweet adds, "Health insurance should always cover preexisting conditions. For anyone. Period."
That is a sweeping policy — guaranteed coverage for anyone, with no penalty for a preexisting condition.
If that's Perdue's position now, it doesn't jibe with his record as a lawmaker.
He's voted to repeal the Affordable Care Act — Obamacare — and a bill he cosponsored to guarantee coverage fails to match the ironclad protections under that law. 
Comparing protections: Obamacare vs the Protect Act
Perdue makes no bones about opposing the ACA, which contains several interlocking provisions that protect people with preexisting conditions. He voted to repeal it in 2015 and backed the Senate's failed repeal-and-replace effort in 2017. 
Perdue's campaign said that it's possible to be against Obamacare, and in favor of patient protections. It said, "Perdue co-sponsored legislation to ensure preexisting conditions are covered at no additional cost to those patients."
That bill, called the Protect Act, never came to a vote in the Senate and doesn't match the ACA's guarantees. 
The current law blocks insurers from using any eligibility rule, list of covered services or pricing to deny anyone coverage. The Protect Act does say that insurance companies can't deny coverage based on "any preexisting condition." But it gives a carrier the option to deny certain coverage, if "it will not have the capacity to deliver services adequately." Since the bill doesn't define what that clause means, it leaves open the possibility that carriers could use it to drop coverage of certain expensive diseases from all of their policies.
To Allison Hoffman, a law professor at the University of Pennsylvania, that's a big loophole.
"Insurers could exclude someone's preexisting conditions from coverage, even if they offered her a policy," Hoffman told us in 2018 when the bill was first introduced. "That fact alone sinks any claims that this law offers preexisting condition protection."
Rodney Whitlock, a health policy expert who worked for Republicans in Congress, told us concerns about loopholes are reasonable.
"Insurers will use the rules available to them to take in more in premiums than they pay out in claims," Whitlock said in 2018. "If you see a loophole and think insurers will use it, that's probably true."
Hoffman notes that the Protect Act's language against insurers discriminating based on genetic information also concerns her. The bill says carriers "shall not request, require, or purchase genetic information with respect to any individual prior to such individual's enrollment."
But the bill says information collected incidentally can be used by insurers. That could happen, for example, when an employee inadvertently reveals details on a questionnaire, despite being told not to include information that can be linked back to their DNA. Insurers can't use that information for setting premiums, but Hoffman says it could shape the list of covered maladies.
"If an insurer comes across genetic information incidentally, it seems to me that they could exclude any related conditions," Hoffman warned. "This loophole could be huge considering the amount of incidental collection and how broadly it is construed."
The bill has other holes: for instance, permitting insurers to charge women more than men.
Perdue and short-term plans
Perdue's stance on short-term health insurance plans also raises issues. 
These plans offer limited coverage that's intended to tide people over when they're between jobs. They don't need to follow the strict rules of the ACA. They don't have to cover the package of essential benefits under the law and they can exclude coverage for preexisting conditions. Under the ACA, they were limited to 90 days' coverage.
The Trump administration extended that to 364 days, with the option to renew them for up to three years.
Perdue voted against a 2018 resolution to oppose Trump's expansion of short-term plans. The measure failed by one vote.
The Perdue campaign said that Obamacare isn't the only way to take care of people.
"The best way to protect those with preexisting conditions, lower costs for all Georgians, and expand access to coverage is through free market solutions," the campaign said in a statement.
The campaign noted that many counties have only one insurance company offering coverage. It argues that if more companies found it profitable to move into those areas, competition would improve the options for consumers.
Our ruling
Perdue said that his policy is that "health insurance should always cover preexisting conditions. For anyone. Period."
Perdue opposes the Affordable Care Act and weighed in on the side of short-term health plans that lack some of the ACA's strong protections for people with preexisting conditions. Perdue's bill to maintain those protections contains loopholes that insurance companies could use to avoid covering certain conditions.
Perdue's promise is sweeping and absolute. The policies he has backed offer some limited protections, but don't match that promise.
We rate this claim False.
David Perdue, tweet, Aug. 18, 2020
Perdue for Senate, statement, Sept. 1, 2020
U.S. Congress, Protect Act, April 10, 2019
U.S. Congress, S.Amdt.2328 to S.Amdt.2327 (which amends S.Amdt.2266), July 27, 2015
U.S. Senate, Roll call vote McConnell Amdt. No. 667, July 28, 2017
U.S. Federal Register, Code of Federal Regulations, Title 29, Labor, Pt. 1927-End, Oct. 25, 2010
PolitiFact, Better than other plans or better than nothing? Trump's claim about 'affordable' options, Feb. 10, 2020
PolitiFact, Pre-existing conditions: Does any GOP proposal match the ACA?, Oct. 17, 2018
PolitiFact, Arizona Sen. McSally makes health care pledge that contradicts past votes, policy positions, June 25, 2020
PolitiFact, Cunningham says Tills voted to 'take away' coverage for pre-existing conditions, March 2, 2020
Email exchange, Allison Hoffman, professor of law, University of Pennsylvania School of Law, Sept. 2, 2020
Interview, John Burke, spokesman, Perdue for Senate, Sept. 1, 2020
Browse the Truth-O-Meter
More by Jon Greenberg
Support independent fact-checking.
Become a member!
In a world of wild talk and fake news, help us stand up for the facts.