Stand up for the facts!
Our only agenda is to publish the truth so you can be an informed participant in democracy.
We need your help.
I would like to contribute
Says some of the names that may be purged from voter roll are people who have died.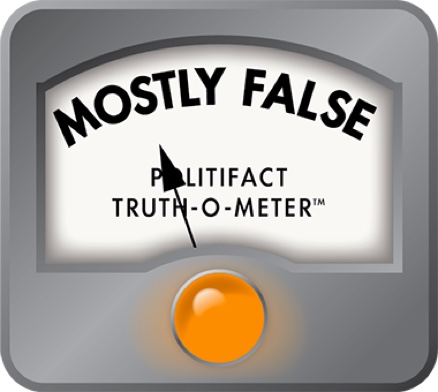 Are dead people among the names in Wisconsin voter roll purge?
The debate over whether to purge more than 200,000 names from the Wisconsin voter roll continues to bounce around the Wisconsin court system.
An Ozaukee County judge has repeatedly ordered the names be removed by the Wisconsin Elections Commission, but the latest order was stayed by an appeals court.
With the matter in limbo, two members of the divided Elections Commission took to the airwaves to make their cases. The six-member board is evenly split between Republican and Democratic appointees, leading to a series of deadlocked votes on the next steps.
Asked if there was any middle ground, Republican appointee Bob Spindell said the voter roll needs to be updated.
"These are people that are probably alive, but they've moved, I'm sure some have died," Spindell said in the Jan. 19, 2020, appearance on WISN-TV's 'UpFront' program. "This could be a very close (2020 presidential) election, and we don't have any room for having huge numbers of people on the voting rolls that should not be there." 
So, in framing his argument, Spindell is saying the fact dead people may be among the 230,000 is a primary reason to move ahead with the full purge. 
Democratic appointee Ann Jacobs, appearing with Spindell, objected immediately, saying the list had already been culled for people who had died. 
Let's sort this out.
The background
This controversy dates to October 2019, when the Elections Commission sent mailers to 230,000 people saying it believed they may have moved, asking them to update their voter registration or confirm if they lived at the same address. The commission planned to remove people from the roll in 2021 if the resident took no action.
But three voters — represented by Wisconsin Institute for Law & Liberty — filed a lawsuit arguing the state had to remove the names from the roll faster. Ozaukee County Judge Paul Malloy agreed and ordered the names be stricken from the voter roll.
When the commission twice deadlocked on whether to immediately remove the names — all Republicans for, all Democrats against — Malloy found the Democratic members in contempt and fined them each $250 per day until names are removed. An appeals court then stayed both the fines and the order to remove the names.
To be sure, anyone removed from the roll would still be able to vote by re-registering ahead of the election or even at the polls on Election Day. Doing so would require providing proof of residence, however, which critics say creates an unfair burden and would lead to people being unable to vote if they couldn't provide the documents in time.
Does the list include dead people?
The Elections Commission maintains a statewide voter registration system, which municipal clerks use to manage their local voter rolls. Clerks enter new voter registrations and are responsible for activating and deactivating local voters.
Here's how it works for people who have died:
The county coroner issues a death certificate, which is then sent to the state Department of Health Services. Once a month, DHS sends a file to the state Elections Commission with a list of people who have died, and the commission then alerts municipal clerks to verify the deaths and deactivate the voters, said Reid Magney, spokesman for the Elections Commission. (These updates are made more frequently as elections get close.)
Clerks can also on their own deactivate voters who have died based on information from family members, obituaries or other reliable sources.
Municipal clerks also update voters lists for a variety of other reasons, including when someone has registered to vote in another state, been convicted of a felony, been declared incompetent by a court or moved, Magney said.
In October, the commission used various data sources to flag 232,000 people they believed may have moved, which would require them to re-register at their new address before voting again. The names came from a database already culled through the normal process for people known to have died, registered elsewhere, etc.
But several months have passed since then.
As of the week Spindell made his claim, 21,802 people who received the mailers in October had been deactivated by their municipal clerk, Magney said. That included 934 deactivated due to death.
Which people are we talking about?
Spindell's reference on "UpFront" didn't clarify if he was referring to the original mailing list or the current list with some names removed.
In an interview with PolitiFact Wisconsin, he said he was referring to dead people who had since been removed through the process Magney described.
But his phrasing was in the present tense, saying "these are people." And he raised the issue of dead voters during a discussion of what to do with the people who remain at risk of having their names removed from the voter roll — in other words those who are still on the list.
Anyone known to have died wouldn't be on the list anymore, since the normal process is set up to address that situation and it has continued during the legal battle. The only dead people on the list are those who have died since the latest regular update, and their names would be removed through the processes already in place.
Our ruling
Spindell said the controversial list of names up for purging from the voter roll includes people who have died.
But people who died were removed before the original inactive voters list was created in October, and others who have died since then have been removed as part of the ongoing monthly updates.
That doesn't line up with Spindell's present-tense claim that names at risk of removal include people who have died.
So there's an element of truth, but it ignores critical facts that would give a different impression. That's our definition of Mostly False.
WISN-TV, 'UPFRONT' recap: Baldwin hopes for fair, honest impeachment trial, Jan. 19, 2020
Bob Spindell, interview, Jan. 21, 2020
Email exchange with Reid Magney, spokesman for the Wisconsin Elections Commission, Jan. 21-29, 2020
Milwaukee Journal Sentinel, Appeals court blocks purge of Wisconsin voter rolls for the time being, Jan. 13, 2020
Browse the Truth-O-Meter
More by Eric Litke
Support independent fact-checking.
Become a member!
In a world of wild talk and fake news, help us stand up for the facts.