Get PolitiFact in your inbox.
"There have been 44 plans submitted affecting 90 school districts. And the Scott administration has rejected all of them."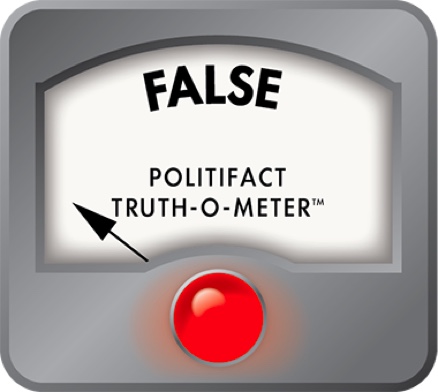 Did Vermont's governor dismiss all school merger appeals?
Vermont is now in the final phase of implementing Act 46, a law requiring school boards to consolidate to form larger districts. The mergers are meant to encourage schools to share resources and save money. The state has some of the highest per-pupil costs in the country, and before this reform, it had the smallest ratio of school-board members to students.
The process has been contentious, and debate over the mergers has spilled over to the gubernatorial race. 
Democratic gubernatorial nominee Christine Hallquist has accused Republican Gov. Phil Scott of being heavy-handed in his efforts to contain education spending in his first term. She hammered that theme home earlier this month, accusing the Scott administration of rejecting all alternative governance proposals for districts that have refused to merge.
"There have been 44 plans submitted affecting 90 school districts. And the Scott administration has rejected all of them. We would definitely have a more flexible approach," she said at a press conference on October 10 in Burlington. She repeated a version of that claim later that day in a debate with Scott held in Rutland.
That made us wonder – did Scott really say no to every district that asked for a reprieve under the consolidation law? 
We reached out to the Hallquist campaign, which pointed to a report by Vermonters for Schools and Community, which claimed "communities seeking approval for an alternative governance structure had a right to have their good faith effort be given a good faith evaluation. Instead, all were rejected."  
The Secretary of Education has, as required by the law, submitted a recommended plan to the State Board for unmerged districts. And that's the plan attacked in the Vermonters for Schools and Community report cited by the Hallquist campaign.
But the Scott administration has no power to reject or approve alternative structures. The Vermont State Board of Education has the final say over districts that have not voluntarily merged. Moreover, in multiple instances, Scott's secretary of the Agency of Education agreed with districts which submitted alternative governance proposals that they should retain their current structures. 
Take Hartland and Weathersfield in the Upper Valley, for instance. The neighboring K-8 districts asked the state to allow them to remain single-town, stand-alone districts. In the agency's proposed plan, then-interim Secretary Heather Bouchey wrote that while a merger between the two districts was legally possible, it wouldn't make much sense to consolidate the two since each town had little in common and tuitioned their children to different high schools. 
"Because there does not appear to be any commitment of the communities to create a new definition of 'us,' there is scant likelihood that they will realize the potential opportunities of a larger, more flexible unified structure," Bouchey wrote. 
In nearly half of all cases, the secretary recommended that the State Board do precisely what districts had asked for in their proposals.
So why did the report argue that the alternative proposals were all rejected? 
The Hallquist campaign said that Margaret MacLean, an education consultant and activist with Vermonters for Schools and Community, was their point person on Act 46. 
Here's how MacLean explained, earlier this summer, why the group claims all AGS proposals were rejected: "The secretary recommended forced merger or no action. She recommended zero for approval," she wrote in an email to VTDigger. 
MacLean's general argument is that a fair appraisal of AGS proposals by the state would have included a rubric for vetting whether districts had shown they could meet the goals of the law – like cost-efficiency and equity – without merging, and then made recommendations accordingly.
While the group is free to argue with how the secretary decided to make her recommendations, it isn't fair to say the agency "rejected" all alternative proposals. In 21 cases, the secretary agreed with districts who submitted alternative governance proposals asking to keep their governance structures as-is. 
Our ruling
Christine Hallquist accused Gov. Phil Scott of rejecting all alternative governance proposals under Act 46. 
But that statement was based on misleading rhetoric by anti-merger advocates. And in 21 cases, the Secretary of Education agreed with districts who submitted alternative proposals that they could retain their existing structure, and did not recommend forced mergers to the State Board.
We rate this claim as False.
Update
Following the publication of this fact-check, Christine Hallquist send out a press release retracting her statement, thanking VTDigger reporter Lola Duffort for the article and celebrating the role of the press in political discourse. 
"I appreciate when the press holds both me and Governor Scott accountable when we make mistakes, as they should. This makes us better and serves the Vermont public," she said. 
"Governor Scott and his administration have been very heavy handed on public schools, but Duffort is absolutely correct that he did not, as I stated, reject every Act 46 Alternative Governance proposal. I apologize and retract this claim. In this, as in all matters of policy, I am open to new information and new evidence that will serve to better any proposals I put forward."
Email correspondence with Margaret MacLean, Sept. 14, 2018
Email correspondence with Christine For Vermont communications director David Glidden, Oct. 10 - 17, 2018
Vermont Agency of Education, proposed statewide plan under Act 46, June 1, 2018
Vermont Agency of Education, Table of Decision points on Secretary's proposed plan, Sept. 20, 2018
Report by Vermonters for Schools and Community, "Unfair and Unwise," Aug. 2018
Browse the Truth-O-Meter
More by Lola Duffort
Support independent fact-checking.
Become a member!
In a world of wild talk and fake news, help us stand up for the facts.