Stand up for the facts!
Our only agenda is to publish the truth so you can be an informed participant in democracy.
We need your help.
I would like to contribute
Maggie Hassan "raised tuition, making it the highest in America."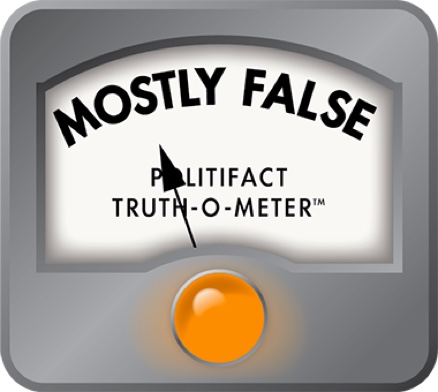 Did Maggie Hassan raise tuition, making New Hampshire the highest in the country?
Democratic Gov. Maggie Hassan has made college affordability a central part of her campaign for U.S. Senate, and she often notes that New Hampshire's university system froze tuition for the first time in 25 years under her administration in stump speeches.
But Republicans are now trying to use Hassan's higher education record against her as she tries to unseat U.S. Sen. Kelly Ayotte, a Republican, in the November election.
A few days ago, we fact-checked a claim, made in a National Republican Senatorial Committee television ad, that Hassan had skipped out on most University System of New Hampshire meetings. We found that claim to be Mostly True.
That ad also included the claim that Hassan had "raised tuition, making it the highest in America." Our readers asked us: is that true? PolitiFact decided to take a look.
We reached out to the NRSC, which pointed to an executive order issued by Gov. Hassan in November of 2014. That order rescinded $3 million in state funding for the USNH, which oversees the University of New Hampshire, Keene State College, Plymouth State College, and Granite State College. The take-back came in the midst of a budget crunch and was applied during the fiscal year ending in 2015, or the 2014-15 school year.
That one-time $3 million take-back didn't result in an immediate tuition increase. University leaders looked to the following state budget for enough funding to continue an ongoing tuition freeze.
Among the things The NRSC pointed to were comments made by UNH president Mark Huddleston in an Associated Press article saying that tuition was a "straight-line function of how New Hampshire invests."
So let's look at how New Hampshire funds higher education through the state budget.
During the 2009-10 and 2010-11 school years, the university system received $100 million annually from the state. But a Legislature led by then-House Speaker Bill O'Brien, a Republican, slashed funding basically in half, allocating $51 million and $54 million for the 2011-12 and 2012-13 school years. After the cuts, the university system announced a nearly 10 percent increase in tuition. Hassan then took office in 2013 and oversaw a partial restoration in funding, with the university system receiving $69 million and $84 million in the state budget for the following two school years. In return, USNH trustees agreed to a two-year tuition freeze covering the 2013-14 and 2014-15 academic years.
In September 2014, USNH leaders promised to continue that freeze for another two years if the Legislature and governor approved a budget that included $100 million in state aid to the system in fiscal year 2016 and $105 million in fiscal year 2017, restoring it to pre-O'Brien levels.
After the $3 million take-back was announced in November 2014, the USNH did not change its budget request -- suggesting it didn't play a very important role.
So what happened during the budget process?
Hassan proposed USNH receive $87 million in 2016 and $94 million in 2017. USNH responded with a statement saying the proposed budget was "insufficient to continue the tuition freeze."
University system leaders later scaled back their request, asking for $90 million in 2016 and $95 million in 2017. A Republican-controlled House ultimately approved a budget that provided $19 million less than Hassan had requested -- $81 million in both 2016 and 2017. That's when the university system announced it would be raising tuition.
In other words, during Hassan's first budget, funding was restored enough for the university system to freeze tuition for two years. In the following budget years, state aid fell short of what USNH leaders said they needed to continue a freeze.
It is also important to note that while state aid plays an important role in setting tuition, it is not the Legislature nor the Governor who set tuition rates for the USNH. It is the Board of Trustees.
As governor, Hassan sits on that board, and, like governors before her, has missed most of the trustees' meetings. Perhaps symbolically, the one meeting on June 28, 2013 that she participated in, she made the motion to freeze tuition at the university system. But had she attended other meetings and voted against raising tuition on June 26, 2015, when the board approved the hikes, she still wouldn't have been able to swing the vote the other way.
And while USNH leaders like to say that state aid in practice determines tuition rates, there's probably some wiggle room.
"The loss of state appropriations does not fully explain the increases to the cost of public higher education in New Hampshire. Between 2003 and 2011, average tuition rates within the University System rose nearly 40 percent – even with tuition rates adjusted for inflation ... During the same time period, state appropriations per full-time equivalent student decreased by less than 12 percent," according to A New Hampshire Center for Public Policy Studies report from 2014 analyzed public higher education spending in New Hampshire.
Highest in the nation?
The NRSC also pointed to a College Board report that said New Hampshire had the highest in-state tuition for four-year institutions in the country in the 2015-2016 year.
That's correct, but New Hampshire's public college affordability crisis predates Hassan's tenure as governor. When she took office in January 2013, the Granite State already had the highest in-state tuition in the country for four-year schools, according to the College Board.
The television ad also doesn't specify that it is referring to four-year colleges. Under Hassan, two-year community colleges have frozen tuition for several years running. Community colleges in New Hampshire are also not the most expensive in the country. During the 2014-2015 and 2015-2016 school years, that distinction belonged to Vermont, according to the College Board.
All of these things are correct: Hassan did make a one-time $3 million rescission from the university system for the 2014-15 year, New Hampshire did have the highest tuition rate in the country for public four-year schools in 2015-2016, and tuition did rise under Hassan's tenure.
But these things do not add up to Hassan raising tuition. While the governor played an important role in setting the budget that heavily influenced tuition rates, she was one among many players, and the University System is the one that sets tuition rates, not the governor.
Our ruling
The National Senatorial Committee says Maggie Hassan "raised tuition, making it the highest in America."
For starters, in-state tuition in New Hampshire for four-year colleges has been the highest in America for years, but it was that way before Hassan took office.
As for Hassan's role as governor, of the two budgets she crafted, one gave the university system enough money to freeze tuition, according to USNH leaders, and the other one didn't.
Additionally, the state budget does not dictate tuition rates, the board of trustees does. In addition, the Republican-controlled Legislature pared down what Hassan offered in her budget proposal.
The statement contains an element of truth, but ignores critical facts. We rate it Mostly False.
Correspondence with Alleigh Marre, National Republican Senatorial Committee, Sept. 28-29, 2016.
Correspondence with Aaron Jacobs, Maggie Hassan for Senate campaign, Sept. 28-29, 2016.
Correspondence with Tiffany Eddy, USNH spokeswoman, Sept. 29-30, 2016.
"Trends in College Pricing" reports from the College Board for 2012, 2013, 2014, and 2015.
University System of New Hampshire press release, dated Feb. 12, 2015.
University System of New Hampshire press release, dated June 29, 2015.
University System of New Hampshire press release, dated Sept. 15, 2014.
USNH Charter, accessed Sept. 30, 2016.
Governor's budget proposal for the 2016-17 biennium.
New Hampshire Center for Public Policy Studies, March 2014.
University System of New Hampshire Board of Trustee minutes for June 26, 2015.
Concord Monitor, "New Hampshire's community colleges freeze tuition." June 2, 2016.
Browse the Truth-O-Meter
More by Lola Duffort
Support independent fact-checking.
Become a member!
In a world of wild talk and fake news, help us stand up for the facts.