Get PolitiFact in your inbox.
On using the Common Core standards for English and math instruction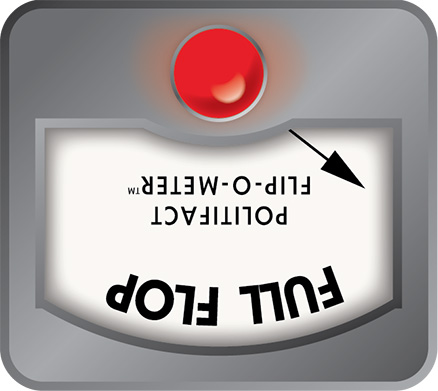 Holtz turned around on Common Core standards
Two candidates in the Feb. 21, 2017 primary election for state superintendent of public instruction are in a race to replace.
Replace the Common Core academic standards, that is.
Their stances have earned Lowell Holtz and John Humphries the label of "flip floppers" from the liberal advocacy group One Wisconsin Now.
We decided to turn to the Flip-O-Meter to determine if the challengers to incumbent Superintendent Tony Evers -- a Common Core supporter -- merit that label.
Adopted by many states, the kindergarten-to-12th grade standards were designed as a rigorous national effort that would base teaching on college and job-world needs and allow comparison of U.S. students to their international counterparts.
In Wisconsin most school districts, if not all, have adopted Common Core as the standards for English and math, said Thomas McCarthy, spokesman for the state Department of Public Instruction.
The Flip-O-Meter, of course, does not rate whether it's good policy or politics to switch a position. It simply measures consistency in positions over time.
Some argue a change demonstrates an openness to new facts or a willingness to compromise. Others say it is evidence of inconsistent principles or lack of backbone.
So, where does Holtz stand?
Holtz is a former Wisconsin principal of the year at Peshtigo Elementary School. He served 13 years as a school district administrator in the Palmyra, Beloit and Whitnall districts.
He was running Whitnall in 2010 when Evers determined to put Common Core in place in Wisconsin after the Council of Chief State School Officers and the National Governors Association Center for Best Practices led the drafting process.
In 2012, a CNI NOW newspaper story quoted Holtz saying he supported the standards. Holtz told the publication the standards concentrate on facts as related to real life rather than the traditional straight ahead factual approach.
In 2013, the same publication quoted Holtz this way:
"The change is absolutely in the best interests of the kids of Wisconsin. Raising the bar will make our kids more competitive not only at the state level but at the national level."
He called it a "fun, exciting time to be involved in education."
By July 2016, when he announced his bid, it was clear Holtz was taking a different tack. He stressed local control and said Common Core was not necessarily effective because each community is different.
The Beloit Daily News quoted Holtz as saying the Common Core must be fought.
"Happy to be part of a panel discussing Education Reform and the dangers of Common Core," he tweeted in November 2016.
Holtz explained the switch in a Feb. 6, 2017 blog post about his plan to work with the governor and legislators to wipe out Common Core if elected.
State and school leaders, he said, were misled through "high pressure marketing" to adopt Common Core at the risk of politicizing curriculum decisions.
His new position won support from conservatives including former state Rep. Don Pridemore, a Republican who ran unsuccessfully in 2013 for state school superintendent.
"Dr. Holtz will fight for local control and against Federal takeover programs like Common Core," Pridemore is quoted on Holtz's campaign web site.
Holtz campaign spokesman Brit Schiel acknowledged that Holtz's position has changed. He said it had evolved in line with Gov. Scott Walker's.
In January 2015, PolitiFact Wisconsin rated as a Half Flip Gov. Scott Walker's change in position to oppose Common Core.
During most of his first term, the governor showed tacit support. By mid-2013, he was hitting the pause button on further implementation of the standards. In mid-2014, Walker called for an outright repeal. But by January 2015, he was saying only that he didn't want school districts required to use Common Core.
Holtz, Schiel said, "grew uncomfortable with Common Core's inefficiencies, its one-size-fits-all approach to education, and the fact that the standards were coming from Washington, not from the local school boards."
Our rating
Holtz definitely was for Common Core before he was against it.
The change is stark.
This major reversal of position merits a Full Flop.
Interview with Tom McCarthy, spokesman, Department of Public Instruction, Feb. 10, 2017
Interview with Briton Schiel, spokesman, Holtz campaign, Feb. 12, 2017
Holtz campaign blog post, Holtz Outlines Plan to Immediately Eliminate Common Core in Wisconsin, Feb. 6, 2017
Beloit Daily News, "Ex Beloit Superintendent Will Run for State Position," July 12, 2016
One Wisconsin Now, press release, Jan. 30, 2017
One Wisconsin Now, press release, Feb. 10, 2017
CNI NOW, "Whitnall shares WKCE reality/Proficiency tumble is shared by other districts in state due to new higher standards," May 9, 2013
CNI NOW, "Whitnall gets a later start, but that wasn't an issue/Rather, early dismissal will cause some headaches, January 26, 2012
PolitiFact Wisconsin Flip-O-Meter item on Gov. Scott Walker, Jan. 16, 2015
PolitiFact Wisconsin, Truth-O-Meter item on Sondy Pope claim, Oct. 24, 2013
Browse the Truth-O-Meter
More by Dave Umhoefer
Support independent fact-checking.
Become a member!
In a world of wild talk and fake news, help us stand up for the facts.