Stand up for the facts!
Our only agenda is to publish the truth so you can be an informed participant in democracy.
We need your help.
I would like to contribute
"No president in history has imposed larger personal lifestyle costs on the taxpayer than Donald Trump."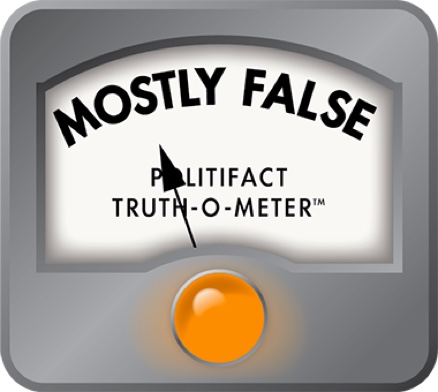 Are Trump's travels imposing historic costs on taxpayers, as David Frum said?
Following news that President Donald Trump's packed travel schedule and large family have depleted the Secret Service's annual funds, conservative pundit David Frum declared the costs incurred by the president unprecedented.
"No president in history has imposed larger personal lifestyle costs on the taxpayer than Donald Trump," he wrote on Twitter.
In an interview, Frum clarified that "personal lifestyle costs" excluded work trips, such as the G20 conference in Hamburg, Germany, or presidential residences where security costs are fixed, like the presidential retreat at Camp David.
The pricey personal trips Frum had in mind include weekend trips to Trump-owned golf resorts in Palm Beach, Fla., Sterling, Va., and Bedminster, N.J.
"The Florida/Bedminster costs are entirely volitional, as are the costs of Melania's decision to live apart from her husband for most of his first year in office. There is no public purpose to any of those decisions," Frum told PolitiFact.
As we've said before, it's hard to separate leisure and work when it comes to the presidency, particularly as Trump has hosted state visits at his resorts. That said, might Trump's leisure trips and residential circumstances amount to the costliest in presidential history?
It's too early to tell, as even the highest estimates of Trump's spending can't match former President Barack Obama's eight years in office.
Although Frum didn't include this qualifier, he might have meant at this point in Trump's presidency. Trump does seem on pace to outstrip previous presidential spending by the end of his term.
Trump has left the White House more often at this point in his presidency than other modern presidents, according to CBS White House correspondent Mark Knoller, and the cost of protecting Trump while he's away is not cheap.
Here's the important point to keep in mind: There are no definitive reports on the cost of Trump's travel, nor of any other president. The most comprehensive analyses exist on Trump and Obama's presidencies, and have been carried out by watchdog groups.
The best available data
The Government Accountability Office is the agency that traditionally computes costs for presidential travel, but its analysts have not calculated lifestyle costs for any president. Instead, they've looked into specific trips at Congress' request.
The latest report looked at the cost of a four-day vacation President Barack Obama took to Palm Beach in February 2013. The trip cost approximately $3.6 million, and has formed the basis of much speculation on the cost of Trump's travel.
Basing its estimates on that report, the liberal Center for American Progress' said that a trip to Mar-a-Lago costs taxpayers approximately $3.6 million, which we rated Half True.
It's not precise to stick that price tag on every presidential trip, as costs vary depending on the size of the vehicles used and where they're flown in from. That trip included a stop in Obama's hometown of Chicago, and costs for Air Force One travel were also almost $60,000 higher per hour at the time, according to Judicial Watch, a conservative-leaning organization that has sued both Democratic and Republican administrations for public records.
Using the $3.6 million estimate, the Center for American Progress placed Trump's personal travel costs through Aug. 3 at $32 million.
That's a bit under a third of what Judicial Watch calculated Obama spent on personal travel in his eight years in office ($100 million).
Judicial Watch offered a more conservative estimate for Trump.
The watchdog group calculated the costs of five of Trump's and three of Melania's Mar-a-Lago visits and Vice President Mike Pence's Super Bowl trip in February using Air Force hourly travel rates obtained through the Freedom of Information Act. Those added up to a total of $3.6 million.
That excludes, however, any of Trump's trips after March and security costs, as the Secret Service hasn't yet provided the data requested through the Freedom of Information Act. They also exclude other expenses, like $3.3 million in overtime costs Palm Beach County's presidential residence protection program incurred during Trump's visits.
An internal agency document obtained by the Washington Post in March gives a better estimate of the amount spent on security by the Trump administration.
The report said the Secret Service requested $60 million in additional funding for next year. $26.8 million would go to protecting Trump's family in Trump Tower and $33 million would fund travel costs. The Management and Budget Office had rejected the request.
More recently, Secret Service Director Randolph Alles told USA Today that more than 1,000 agents have already hit the federally mandated annual caps for salary and overtime allowances.
He attributed the dearth to both an unprecedented number of White House protectees -- Trump has 42, including his 18 family members, whereas Obama had 31 -- and efforts to secure Trump's multiple residences.
Alles is in conversation with lawmakers to raise the cap from $160,000 per year to $187,000, but even that would leave 130 veteran agents without full compensation for hundreds of hours of work.
Congress also had to approve compensation for 1,400 agents' thousands of hours of overtime that were earned above the limit in 2016.
In the absence of concrete cost figures, we compared the president and the vice president's collective travel, measured loosely by the number of days logged by Secret Service agents protecting the vice president and president when they traveled. More agents worked travel days protecting Obama and Vice President Joe Biden at the six-month mark than Trump: 534 travel days to 378 for Trump and Vice President Mike Pence.
But when we added the president and vice president's associated family members into the mix, agents had traveled 4,054 days protecting Trump to Obama's 1,621. That's in part because Trump has a larger family with adult children whose business ties take them all over the world.
The 567 personnel assigned to the Office of Protective Operation are projected to exceed the pay cap in 2017, which put them on track to equal the total overtime hours worked in 2016.
Our rating
Frum said "No president in history has imposed larger personal lifestyle costs on the taxpayer than Donald Trump."
It's too early to call Trump's personal travel itinerary the costliest in presidential history, as he's only a few months into the job. It's also a bold claim to make in the absence of definitive data on the costs of presidential travel, which is generally not disclosed.
Frum may nonetheless be onto something. Travel and security records we gathered suggest Trump is on pace to outstrip Obama's spending on security and transport costs. But it's still too soon to tell, and Frum's statement remains an exaggeration. We rate it Mostly False.
David Frum, Tweet, Aug. 21, 2017
Judicial Watch, Trump Administration Air Travel Costs $3.58 Million, July 14, 2017
Judicial Watch, Air Force One Costs for Two Trips: $1,281,420, May 4, 2017
PolitiFact, Is a 'working vacation' still a vacation?, Aug. 4, 2017
PolitiFact, How much do Donald Trump's trips to Mar-a-Lago cost?, April 18, 2017
GAO, Estimated Costs for a Specific Presidential Trip to Illinois and Florida, Oct. 2016
Washington Post, Secret Service asked for $60 million extra for Trump-era travel and protection, documents show, March 22, 2017
Washington Post, Trump family's elaborate lifestyle is a 'logistical nightmare' — at taxpayer expense, Feb. 16, 2017
USA Today, Exclusive: Secret Service depletes funds to pay agents because of Trump's frequent travel, large family, Aug. 21, 2017
Center for American Progress, Is Trump at Mar-a-Lago?, Aug. 3, 2017
Email interview with Terrence Clark, Center for American Progress Action Fund communications associate, Aug. 22, 2017
Email interview with Steven Cheung, White House spokesperson, Aug. 22, 2017
Email interview with Jennifer Werner, spokeswoman for Rep. Elijah Cummings, Aug. 22, 2017
Phone interview with Tom Fitton, president of Judicial Watch, Aug. 21, 2017
Email interview with David Frum, senior editor at The Atlantic, Aug. 21, 2017
Email interview with Brian Lepore, Director of Defense Capabilities and Management of the Government Accountability Office, Aug. 21, 2017
Phone interview with Barbara Perry, director of presidential studies at the University of Virginia's Miller Center, Aug. 22, 2017
Email interview with Mark Knoller, CBS News White House correspondent, Aug. 23, 2017
Email interview with Therese Barbera, public information officer at Palm Beach County Sheriff Office, Aug. 23, 2017
Browse the Truth-O-Meter
More by Manuela Tobias
Support independent fact-checking.
Become a member!
In a world of wild talk and fake news, help us stand up for the facts.