Stand up for the facts!
Our only agenda is to publish the truth so you can be an informed participant in democracy.
We need your help.
I would like to contribute
"(For) white working-class America, death rates among white men are up 20 percent."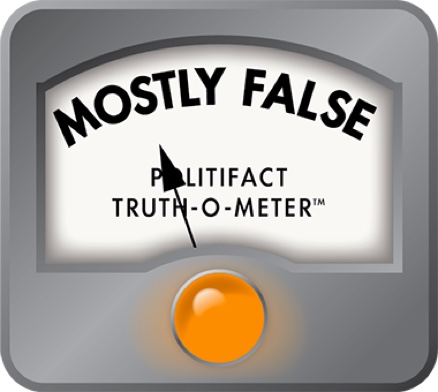 Death rates for white men up 20 percent, GOP strategist says
President Donald Trump's supporters continue to back him because they felt so besieged by the political landscape and life in general that it's literally killing them, a GOP strategist said on ABC's This Week.
Alex Castellanos, who has worked as a consultant for George W. Bush and Mitt Romney, said during an Aug. 20, 2017, discussion on the show that Trump's backers have stuck with him through controversies because they didn't see an alternative option. Democrats attacking Trump's response to violence in Charlottesville, Va., just fed into growing bitterness among his base over their dire socioeconomic situation, he said.
"What I think a lot of Trump supporters heard this week was, the Democrats are just painting us, Trump supporters, with a Nazi brush. We're all white supremacists. That's their excuse for why they lost the election," Castellanos said. "No. White working-class America, death rates among white men are up 20 percent. They're unemployed. Gwen Ifill said, 'no wonder they're resentful.'"
We wondered about his statistic that working-class white men are dying at a higher rate than before. It turns out that researchers have identified increasing mortality among the white working class, but it's not as high for men as the 20 percent number Castellanos cited.
Increased mortality rates
In response to our questions, Castellanos sent us two articles from the New York Times and the Guardian about a 2015 paper by husband-and-wife Princeton economists Angus Deaton and Anne Case. Their research showed that death rates for middle-aged, white Americans had been going up, while they had been going down for every other age, race and ethnic group. Those rates also had been falling in other countries.
This was a reversal of a years-long trend in which mortality rates had been steadily decreasing, meaning that Americans across many groups were living longer. From 1978 to 1998, white Americans were seeing mortality rates fall about 2 percent each year. So the fact that Case and Deaton found an increase was considered significant.
But Deaton told us the 20 percent number Castellanos cited for men was too high. (That's a number the Guardian reported, but it cites the increase as being for "the death rate for white Americans aged 45 to 54.")
"In our 2015 PNAS paper, we say that for all white non-Hispanics (men and women together), mortality rates for those aged 45 to 54 rose at half of one percent per year, which from 1998 to 2013 is 7.8 percent, not 20 percent, and certainly not 20 percent for men only," Deaton wrote via email. Case added that that was for all levels of education, not just people who didn't have a college degree.
Deaton and Case's study showed that mortality rates were climbing for white, non-Hispanic Americans aged 45 to 54 with a high school education or less. The research further showed that deaths were up from drug and alcohol poisonings, suicides, chronic liver diseases and cirrhosis. Mortality rates rose for all education groups, but "those with less education saw the most marked increases," the paper read.
It's important to note that overall mortality rates for African-Americans were still higher than whites. But African-Americans still recorded an overall drop in the same time period, not an increase.
Researchers were surprised by the Case and Deaton study in 2015. Dartmouth economists Ellen Meara and Jonathan Skinner said in an analysis that while most Americans' life expectancies had gone up in the face of the Great Recession and rising income inequality, the study's findings "dashed even this cautiously optimistic view of the past several decades."
"These trends are indeed concentrated among the least educated Americans who never attended college," Meara told PolitiFact. "Of note, the trends do not apply to current retirees, nor youth, both groups that have experienced mortality improvements in recent decades."
Others questioned the paper's results. Columbia University statistics professor Andrew Gelman argued that the situation wasn't as dire as it first appeared. He said that some statistical adjustments showed that middle-aged white women largely made up the difference in mortality rates, and the figures evened out when you combined men and women.
Deaton and Case addressed some of these doubts in a 2017 follow-up to their paper. While the 2015 data didn't focus on differences between men and women, their latest work did, along with adjusting their age groups.
"For non-Hispanic white men aged 30 to 59 without a four-year college degree, age-adjusted all-cause mortality rose by 7 percent from 1998 to 2015," Deaton said of the latest data.
Again they found that a lack of education was a major factor for increasing mortality rates, among other issues. (Gelman and Jonathan Auerbach, a Columbia doctoral student, again disputed their findings.)
"We propose a preliminary but plausible story in which cumulative disadvantage from one birth cohort to the next, in the labor market, in marriage and child outcomes, and in health, is triggered by progressively worsening labor market opportunities at the time of entry for whites with low levels of education," the 2017 paper read.
There's evidence that whites with less education on the lower end of the income spectrum didn't make up the bulk of Trump's voters. The Washington Post reported that his base is largely affluent Republicans, whether they have a college education or not.
Deaton said Castellanos was speaking too broadly, and the spirit of his comment misses what the research really says.
"To be fair, that mortality rates are going up at all is a big deal, and is a measure of the fact that bad things are happening to these people," he said.
Our ruling
Castellanos said that for the white working class, "death rates among white men are up 20 percent."
Research has shown that death rates are up for white men, which is a cause for concern because death rates have historically declined. But that research is not without controversy. Also, the researchers who documented the increase in death rates say it's not as alarmingly high as 20 percent just for white men. A more accurate estimate would be around 7 percent.
Castellanos has a point about increased death rates among whites, but he incorrectly cited figures from the study. We rate his statement Mostly False.
Alex Castellanos, comments on This Week, Aug. 20, 2017
Slate.com, "Is the Death Rate Really Increasing for Middle-Aged White Americans?," Nov. 11, 2015
Proceedings of the National Academy of Sciences, "Rising morbidity and mortality in midlife among white non-Hispanic Americans in the 21st century," Sept. 17, 2015
New York Times, "Death Rates Rising for Middle-Aged White Americans, Study Finds," Nov. 2, 2015
Proceedings of the National Academy of Sciences, "Losing ground at midlife in America," Nov. 10, 2015
The Guardian, "Financial despair, addiction and the rise of suicide in white America," Feb. 7, 2016
Proceedings of the National Academy of Sciences, "Increased mortality for white middle-aged Americans not fully explained by causes suggested," Feb. 8, 2016
Bloomberg, "'Deaths of Despair' Are Surging Among the White Working Class," March 23, 2017
NPR, "The Forces Driving Middle-Aged White People's 'Deaths Of Despair'," March 23, 2017
Slate.com, "Stop Saying White Mortality Is Rising," March 28, 2017
Brookings, "Mortality and morbidity in the 21st century," May 1, 2017
Washington Post, "It's time to bust the myth: Most Trump voters were not working class.," June 5, 2017
Interview with Alex Castellanos, Republican media consultant, Aug. 20, 2017
Interview with Angus Deaton, Princeton University Woodrow Wilson school senior scholar, Aug. 20, 2017
Interview with Anne Case, Princeton University economics and public affairs professor, Aug. 20, 2017
Interview with Ellen Meara, Dartmouth University economics professor, Aug. 20, 2017
Interview with Jonathan Skinner, Dartmouth University economics professor, Aug. 20, 2017
Browse the Truth-O-Meter
More by Joshua Gillin
Support independent fact-checking.
Become a member!
In a world of wild talk and fake news, help us stand up for the facts.