Stand up for the facts!
Our only agenda is to publish the truth so you can be an informed participant in democracy.
We need your help.
I would like to contribute
Says Rob Portman "even voted to allow people on the terrorism watch list to buy guns."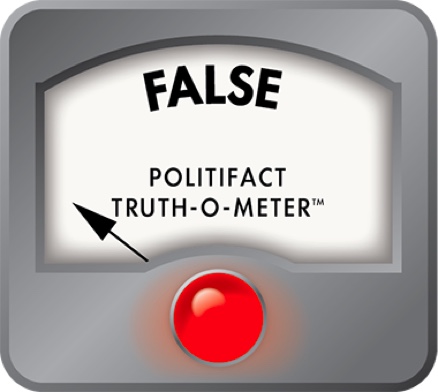 Ted Strickland's misleading claim about Portman voting to allow terrorists to buy guns
CORRECTION, 5:48p.m., September 29, 2016: Editor's note: A previous version of this story incorrectly described an amendment by Sen. Susan Collins. The story has been updated to reflect her as the author of that measure. Our rating on the claim did not change.
A new TV ad from Democratic Senate candidate Ted Strickland features a veteran of combat in Iraq and Afghanistan who says he carried a gun "so we wouldn't have to worry about terrorists using them here."
But Sen. Rob Portman, Strickland's Republican opponent, "is blocking commonsense laws to stop terrorists and criminals from getting guns. Sen. Portman said no to background checks on all purchases," the ad's soldier continues. "He even voted to allow people on the terrorism watch list to buy guns."
That last statement caught our attention. 
No, Portman did not vote to allow suspected terrorists to purchase guns. The attack obscures what really happened.
The ad cites Senate voting records from June 20 and 23. First, we'll consult the record.
Votes 106 and 109 were two of four votes on gun control measures considered by the Senate after the worst terrorist attack on U.S. soil since 9/11. On June 12, Omar Mateen, a man who had twice been investigated by the FBI for suspected terrorist ties, killed 49 people and wounded 53 at a gay nightclub in Orlando, Fla..
Vote 106 asked senators to vote to end the debate, or to keep debating, an amendment by Democratic Sen. Dianne Feinstein which would authorize the U.S. attorney general to deny requests to sell firearms to "known or suspected terrorists."
Portman voted "nay," a vote against bringing the issue up for passage or failure.
The week ahead of that vote, Portman told reporters in his weekly media conference call, "I do believe that you should not be able to buy a weapon when you're on the (terrorist) watch list."
Strickland's ad doesn't mention the other three votes taken that day, June 20, 2016, on the issue of suspected terrorists and gun sales. All four measures failed, largely along party lines.
Portman voted in favor of Republican Sen. Chuck Grassley's amendment to "address gun violence and improve the availability of records to the National Instant Criminal Background Check System."
He also voted in favor of Republican Sen. John Cornyn's proposal, an alternative to Feinstein's measure to prevent watchlisted terrorists from buying guns.
The main difference between the Feinstein amendment and the one proposed by Cornyn had to do with due process -- granting an avenue for an individual to appeal if they are wrongfully listed as a terror suspect and denied a gun purchase. The Republican amendment allowed authorities to detain a terrorism suspect who tries to obtain a firearm, and gave a judge 72 hours to determine whether there was enough proof to bar the gun sale.
Feinstein's amendment provided for an individual to appeal to the Justice Department if they felt they were wrongfully listed and barred from buying a gun. It did not have a three-day limit for the government to make its case.
Republicans argued that Cornyn's amendment, with a stronger check-and-balance requiring a court order, was necessary in light of well-known errors on federal no-fly and terrorist watch lists. Former Sen. Ted Kennedy is often cited as an example after he was erroneously stopped for extra airport security checks because "T. Kennedy" was an alias used by a terror suspect.
A motion to table a tweaked version of Feinstein's amendment, proposed by Republican Sen. Susan Collins of Maine -- the "Vote 109" referenced by Strickland's ad -- failed on June 23 with a 46-52 vote, short of the 60 votes required to advance. Portman voted "yea," or against the amendment, in line with all but eight Republicans.
Our ruling
Strickland's campaign ad said of Portman, "He even voted to allow people on the terrorism watch list to buy guns."
The ad distorts facts on many levels. People on the terrorism watch list could already buy guns before the votes in question.
Portman voted along party lines on the gun control measures that came up for Senate vote on June 20 and 23. He voted against Feinstein's amendment to enact a blanket ban on firearm purchases by terrorists or suspected terrorists. But he voted for the Republican version of the legislation, sponsored by Cornyn, that would ban a gun sale after a three-day period of judicial review to determine whether an individual was on a watch list for legitimate reasons.
The vote for Cornyn's legislation was literally a vote to stop terrorists from buying weapons — but the extra hurdles for the government were not supported by Democrats. We rate the ad's claim False.
https://www.sharethefacts.co/share/75c564aa-58eb-4640-9db2-99437d9cd9cd
Interview, Michawn Rich, spokesperson, Rob Portman for Ohio, Sept. 27, 2016
Press release, Strickland for Senate, Sept. 21, 2016
PolitiFact Florida, "Patrick Murphy attacks Marco Rubio for voting against gun ban for people on no-fly list," Sept. 22, 2015
FactCheck.org, "Ted Kennedy and the no-fly list myth," Dec. 8, 2015
U.S. Senate, Senate Amendment 4858 to H.R. 2578, June 23, 2016
U.S. Senate, On the Cloture Motion (Motion to Invoke Cloture on Amdt. No. 4720, June 20, 2016
U.S. Senate, On the Cloture Motion (Motion to Invoke Cloture on Amdt. No. 4749, June 20, 2016
U.S. Senate, On the Cloture Motion (Motion to Invoke Cloture on the Motion to Commit H.R. 2578 with instructions (Amdt. No. 4750), June 20, 2016
U.S. Senate, On the Cloture Motion (Motion to Invoke Cloture on Amdt. No. 4751, June 20, 2016
Congress.gov, H.R.5504, Introduced June 16, 2016
Cincinnati.com, "Portman struggles to explain position on banning suspected terrorists from buying guns," Jun. 15, 2016
Washington Post, "Senate votes down gun control proposals in wake of Orlando shootings," Jun. 20, 2016
Browse the Truth-O-Meter
More by Nadia Pflaum
Support independent fact-checking.
Become a member!
In a world of wild talk and fake news, help us stand up for the facts.