Stand up for the facts!
Our only agenda is to publish the truth so you can be an informed participant in democracy.
We need your help.
I would like to contribute
"On three occasions, judges had to stop Jason Kander from manipulating elections."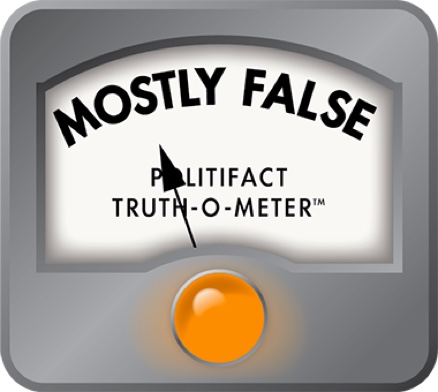 Roy Blunt wrong about Kander manipulating elections
Want a claim about the election being rigged? Missouri Republican Sen. Roy Blunt is accusing his Democratic opponent Jason Kander of trying to manipulate elections while Kander served as Missouri's secretary of state.
"On three occasions, judges had to stop Jason Kander from manipulating elections," Blunt's ad said. 
Manipulating elections sounds bad. But as we found, the reality is not nearly as simple  as Blunt makes it seem.
The ad cites three cases from the Missouri Western District Court of Appeals as evidence of the manipulation.
In January, Jim Boeving filed suit against Kander and challenged the wording of the measure on the ballot. As the secretary of state, Kander is tasked with crafting the summary statements of ballot measures.
This is the summary statement Kander filed:
"Shall the Missouri Constitution be amended to:
Increase taxes on cigarettes each year through 2020, at which point this additional tax will total 60 cents per pack of 20;
Create a fee paid by cigarette wholesalers of 67 cents per pack of 20 on certain cigarettes
Deposit funds generated by these taxes and fees into a newly established Early Childhood Health and Education Trust Fund?"
The appellate court determined that the second bullet point of Kander's statement was misleading. In his language, Kander doesn't mention that although the fee would begin at 67 cents, it would increase annually by 3 percent or more, depending on the rate of inflation.
"Nothing in the summary statement would . . . alert a voter to this mandatory, perpetual increase," the court said in its ruling.
The ad cites another case about ballot language, which was decided in November 2015.
The appeals court reviewed an initiative petition that sought to require in-home service providers receiving reimbursement from the state through MO HealthNet, Missouri's Medicaid provider, to pay a percentage of their revenue to the workers who provide the services. That compensation would be through wages and benefits.
The court determined Kander's ballot language to be insufficient because Kander did not reference MO HealthNet by name. The court also said Kander erred because he categorized "personal care attendants" as "employees" in his language.
The third case relates to the qualifications of a state House candidate.
In March 2014, Natalie Vowell filed a declaration with the secretary of state's office to run as a state House candidate in the 78th District in the August primary election. Kander's office initially approved the request. But in May, Kander's office sent a letter to Vowell questioning her ability to run.
In the letter, Kander said voter registration records indicated Vowell had not been a qualified Missouri voter in the two years leading to the election, as required by law. The letter said Vowell would not be on the ballot unless she provided documents proving she was a registered Missouri voter during those two years.
Vowell filed a Petition for Declaratory Judgment and Injunctive Relief and said Kander's office did not have the authority to evaluate a candidate's qualifications for office.
The trial court determined that Vowell was indeed ineligible to run for office and dismissed her petition.
But the appellate court said Vowell's eligibility was irrelevant. Instead, the case was a matter of whether the secretary of state had the authority to investigate the qualifications of candidates.  
The court said in its ruling that Missouri statutes do not grant the secretary of state the power to investigate. 
Kander's role was ministerial, the court said. He was only responsible for making sure the potential candidate's "paperwork is in proper order and was timely filed."
Blunt claims judges had to stop Kander from "manipulating" elections.
"Manipulating" is a strong word, especially when it is used to characterize the nuances and brevity of language the Missouri secretary of state must use to summarize lengthy legislation and constitutional amendments for voters.
We consulted experts who noted that crafting ballot language is part of Kander's job as the secretary of state.
Christopher Elmendorf, a law professor at the University of California Davis, said Kander "was exercising a governmental function that he had every right to exercise, though he may have  'crossed the line' between permissible and misleading ballot titles."
But Elmendorf said Kander's actions "are very different than accepting bribes, stuffing ballot boxes, or trying to prevent people from voting by threatening them or giving them misleading information about the location of polling places."
Richard Reuben, an MU law professor, said though it's possible Kander purposely tried to mislead voters, the court's rejection of his ballot language "does not necessarily imply ... malevolent intent."
"It would not be surprising for an opposing politician in a close race call to get hyperbolic in calling such error manipulation," Reuben said. "Such is the nature of politics."
Blunt claimed, "On three occasions, judges had to stop Jason Kander from manipulating elections."
This claim is misleading. Courts did object in three cases to decisions Kander made as secretary of state. But the specifics of those cases are much more nuanced than Blunt lets on. And the claim that Kander tried to manipulate the election is, at best, unproven.
We rate this claim Mostly False.
https://www.sharethefacts.co/share/7704484f-90ff-483b-8b6c-11a7b86cc5c4
Browse the Truth-O-Meter
More by Ellen Cagle
Support independent fact-checking.
Become a member!
In a world of wild talk and fake news, help us stand up for the facts.