Stand up for the facts!
Our only agenda is to publish the truth so you can be an informed participant in democracy.
We need your help.
I would like to contribute
Says Donald Trump promised to repeal Obamacare, build a wall, ban Muslims, and more.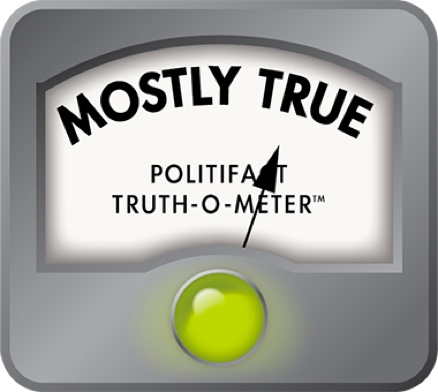 Hillary Clinton video lists 8 promises of Donald Trump presidency. Did he say that?
Even before Donald Trump's Republican rivals bowed out, Democratic presidential candidate Hillary Clinton posted a video warning about a potential Trump presidency.
The video opens with a clip of Trump at an event saying, "Everything I say I'm going to do folks, I do."
It then lists eight steps Trump has said he will take. As the text of each one appears on the screen, audio of Trump plays in the background. We'll go through in order and assess whether Trump really has made each promise.
We asked the Trump campaign if any of these promises were misstated, or if they weren't actually promises. We did not hear back.
'Get rid of gun-free zones on schools on his first day'
At a campaign event in Burlington, Vt., on Jan. 7, 2016, Trump said that the number of victims in San Bernardino, Calif., and in Paris would have been much lower if the people in those places had been armed. He lamented the deaths of five soldiers in a shooting rampage in Chattanooga, Tenn.
"I will get rid of gun-free zones on schools, and — you have to — and on military bases," Trump said. "My first day, it gets signed, okay? My first day. There's no more gun-free zones."
The Clinton campaign also cited an interview with Trump on the Outdoor Channel Jan. 21, 2016, in which he said, "I'm going to get rid of gun-free zones on military bases. I'm also going to do it in schools."
Trump has said little recently about gun-free zones, but the issue resurfaced when a petition emerged that would allow delegates to the Republican National Convention to carry guns. On March 28, 2016, ABC reporter Jonathan Karl asked Trump if he would support that. Trump said he would consider the petition, but the Secret Service ruled out allowing guns at the conventions as a security risk.
'Defund Planned Parenthood'
Trump's stance on funding Planned Parenthood has shifted somewhat over time. In August 2015, he told conservative radio host Hugh Hewitt that it would be worth shutting down the government to cut off tax dollars going to Planned Parenthood. But he has also praised the organization for providing regular care to women of limited means.
In March, Trump said, "Millions of women have been helped by Planned Parenthood," and then continued "but we're not going to allow, and we're not going to fund, as long as you have the abortion going on at Planned Parenthood."
Trump's overarching position on taxpayer funding for Planned Parenthood is that he supports defunding Planned Parenthood so long as the organization continues to perform abortions.
'Repeal Obamacare'
There doesn't seem to be any ambiguity on this one. On his campaign website, Trump says "On day one of the Trump Administration, we will ask Congress to immediately deliver a full repeal of Obamacare."
'Build a great great wall'
Trump has made building a wall along the border with Mexico his signature initiative, and he hasn't wavered. He has said it many times. In the course of interviews with the New York Times published May 4, 2016, he said within his first 100 days the wall would be designed, and there would be bilateral talks with Mexico, presumably on how they would pay for it -- another promise Trump has made.
Establish 'a deportation force'
There is no question that Trump called for teams to remove an estimated 11 million people who are in the country without authorization. The term itself goes back to an interview Trump gave on MSNBC in November 2015 when he said "You're going to have a deportation force. And you're going to do it humanely."
We couldn't find Trump promoting this again, although in the Feb. 25, 2016, Republican debate, he didn't back away from the phrase. CNN moderator Wolf Blitzer teed up a question saying, "Mr. Trump, you've called for a deportation force to remove the 11 million undocumented immigrants from the United States."
Trump prefaced his answer with a cut at his rivals for supporting amnesty and then said, "We either have a country, or we don't have a country. We have at least 11 million people in this country that came in illegally. They will go out."
Trump has definitely committed to expanding the number of immigration and border control agents and to removing 11 million people. He hasn't said if he would create a new deportation unit. While he might not be touting the same phrase, the result remains the same.
'Ban Muslims from entering the country'
Immediately after the shootings by Muslim fundamentalists in San Bernardino in December 2015, the Trump campaign issued a statement saying, "Donald Trump is calling for a total and complete shutdown of Muslims entering the United States until our country's representatives can figure out what is going on."
Within a few days, Trump said certain people would be exempted, including American citizens who are Muslim, foreign leaders, and athletes headed to competitions. However, according to the New York Times, within his first 100 days "the immigration ban on Muslims would be in place."
That puts the ban firmly in the promise zone.
'Kill the spouses and children of our enemies'
Trump said this during an interview on Fox and Friends, Dec. 2, 2015.
"The other thing with the terrorists is you have to take out their families, when you get these terrorists, you have to take out their families," Trump said.
In an interview with Fox News' Bill O'Reilly, Trump seemed to dial down this threat. O'Reilly asked him if he would have killed members of the bin Laden family. Trump said "I don't want to be so bold. I want to tell you they would suffer."
Trump was pressed on this at the Republican debate in Las Vegas on Dec. 15, 2015. Asked how this policy would set the United States apart from ISIS, Trump said, "We have to be much tougher."
Trump finished his answer with, "I would be very, very firm with families. Frankly, that will make people think because they may not care much about their lives, but they do care, believe it or not, about their families' lives."
While this could be a death threat, it isn't quite as clear as his original statement. Clearly, he wants to make family members suffer, but he doesn't say how much.
Restore waterboarding and 'go further'
In the Republican debate right before the New Hampshire primary, Trump said, "I would bring back waterboarding and I'd bring back a hell of a lot worse than waterboarding."
Trump stood by his waterboarding policy on March 22, 2016, telling CNN's Wolf Blitzer he would "go further."
Trump has also said that "torture works."
The only caveat that Trump offered during his CNN interview is that he would listen to military officials' advice on the use of interrogation methods.
Whether a Trump administration would ever use waterboarding, he has promised to keep it on the table.
Our ruling
A Clinton campaign video listed eight steps Trump has promised to take as president. Five of those are firmly on the Trump agenda. That includes repealing Obamacare, building a wall along the Mexican border, deporting illegal immigrants, banning Muslims at the border, and restoring waterboarding and other torture techniques.
On eliminating gun-free zones on school grounds, he hasn't repeated it recently, but we saw no evidence he had changed his stance.
There might be some debate over his plan to defund Planned Parenthood, because he links that to continued abortions. However, there is no indication that the group plans to stop providing that service, so a President Trump would need to cut funding if he wanted to keep his promise.
The one exaggeration in the video is his threat to kill the families of terrorists. Trump seems to have backed off that promise. He has said he would make them suffer, not necessarily kill them.
The video might miss a couple of nuances, but it is generally accurate. We rate the collective package Mostly True.
https://www.sharethefacts.co/share/a27d6e08-b5ec-40bb-aeb2-e15557be8d62
Hillary for America, tweet, May 3, 2016
PolitiFact, Do Donald Trump, Hillary Clinton agree on Planned Parenthood funding?, May 1, 2016
Trump for President, Healthcare reform to make America great again, Accessed May 4, 2016
CNBC, Donald Trump: Mexico going to pay for wall, Oct. 28, 2015
Breitbart, Donald Trump: We will have a "deportation force.", Nov. 11, 2015
PolitiFact, Geneva Conventions bar Donald Trump's idea of killing terrorists' families, as Rand Paul says, Dec. 17, 2015
CNN, "Donald Trump on terrorists: 'Take out their families,' " Dec. 3, 2015
Trump campaign, "Donald J. Trump Statement on Preventing Muslim Immigration," Dec. 7, 2015
Donald Trump, tweet, Jan. 2, 2016
Washington Post, Donald Trump explains how his ban on Muslims entering the U.S. would work, Dec. 8, 2016
Washington Post, Trump says 'torture works,' backs waterboarding and 'much worse', Feb. 17, 2016
Washington Post, What Donald Trump wants to do to America, May 4, 2016
New York Times, 'President Trump?' Here's How He Says It Would Look, May 4, 2016
ABC News, Good Morning America, March 28, 2016, accessed via Nexis
CNN, Republican presidential debate in Houston, Texas, Feb. 25, 2016
New York Times, Republican presidential debate in Manchester, N.H., Feb. 6, 2016
Email interview, Josh Schwerin, spokesman, Hillary for America, May 4, 2016
Browse the Truth-O-Meter
More by Jon Greenberg
Support independent fact-checking.
Become a member!
In a world of wild talk and fake news, help us stand up for the facts.