Stand up for the facts!
Our only agenda is to publish the truth so you can be an informed participant in democracy.
We need your help.
I would like to contribute
North Carolina has "one of the fastest growing populations as well as the fastest growing economy in the country."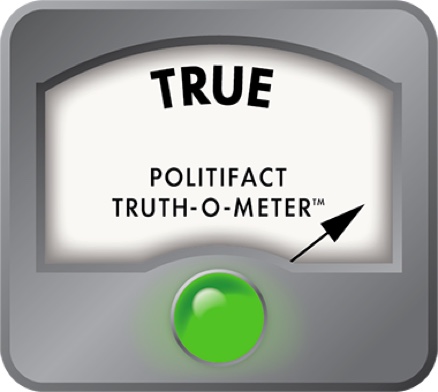 North Carolina has had the country's fastest-growing economy since 2013
Quarterly GDP numbers aren't the sexiest item in political news, but when the latest state-level updates were released Thursday – for the third quarter of 2015, which ended Sept. 30 – Gov. Pat McCrory trumpeted them on both his official and campaign websites and social media pages.
McCrory has dubbed his re-election campaign the "Carolina Comeback," trying to focus on good economic news. He said these numbers show North Carolina is squarely on the upswing.
A state's GDP, or gross domestic product, is the total of all goods and services it produces. And McCrory said that since he took office, no state has increased its gross domestic product faster than North Carolina.
He credited the state's cuts to the income tax rate and unemployment benefits, and the outsourcing of economic development efforts. He also clarified that he was talking about the numbers since January 2013.
"We have delivered $4.4 billion in tax relief, fixed our broken unemployment insurance system and reformed our economic development strategy to strengthen North Carolina's economy and put more people back to work," McCrory said in a statement. "These efforts have positioned North Carolina as one of the fastest growing populations as well as (the) fastest growing economy in the country."
Economies are subject to a number of influences. For this fact check, we won't attempt to say what has or hasn't been responsible for the state's economic growth.
Instead, we will look just at whether it's true that North Carolina has "one of the fastest growing populations as well as fastest growing economy in the country," as McCrory claimed.
Population growth
Between July 1, 2013 – shortly after McCrory took office – and July 1, 2015, North Carolina added about 194,000 people for a total population of 10,043,000, according to the U.S. Census Bureau.
That's close to a 2 percent growth rate and slightly better than the national average over that period.
From 2013 to 2014 and from 2014 to 2015, five states added more people than North Carolina. Both years, North Carolina was the ninth largest state.
North Carolina isn't adding people at the country's fastest rate, or by the largest amounts. But it has a better-than-average growth rate, and it's on pace to continue closing the gap with larger states.
McCrory is correct that North Carolina has "one of the fastest growing populations."
Economic growth
This question is a little trickier. Has North Carolina had the fastest-growing economy in the country under Pat McCrory's administration?
There are many ways to measure economic strength, and North Carolina is not the best in every measure, according to the U.S. Department of Commerce's Bureau of Economic Analysis.
For instance, in 2015, the state was 13th in total income and 39th in per-capita income. From 2013 to 2015 North Carolina also had the 19th-fastest growth in per-capita income and the 11th-fastest growth in total income. North Carolina's unemployment and underemployment rates are also both above the national average, according to the Bureau of Labor Statistics.
But McCrory specifically referenced GDP growth. For that reason, and because GDP is generally considered the most comprehensive measure of an economy's strength, we'll look only at GDP growth for the sake of this fact check.
And on that, McCrory is right that North Carolina is No. 1. Between the first quarter of 2013 and the third quarter of 2015 (the most recent data we have), no state's economic output grew as fast as North Carolina's 13.4 percent rate.
Florida and California came close, at 13.3 and 13.2 percent GDP growth, respectively. The average for both the Southeast and the United States as a whole was 9.9 percent.
Because economists love to do math, there are other ways of defining the same data over the same period. That 13.4 percent rate specifically refers to current (non-inflation-adjusted) dollars.
The U.S. Bureau of Economic Analysis also measures GDP's compound growth rate in current dollars and chained dollars. Chaining is a process that adjusts for inflation, but by using different methods from the more common Consumer Price Index.
In that measure, North Carolina tied for first in current dollar amounts and tied for seventh in chained dollar amounts.
It's also worth noting that right now we're partway through the second quarter of 2016, so the data are lagging behind real time by nearly six months. So while we don't know who currently has the fastest-growing economy, the data does show that North Carolina's growth hasn't been as dominant recently.
Looking just from Jan. 1 to Sept. 30, 2015 – the most recent numbers available – North Carolina's GDP grew by 2.8 percent. That's lower than 10 other states and tied with another seven. It's good, but not the best.
Our ruling
McCrory is right that North Carolina has "one of the fastest growing populations."
As for the economy, North Carolina did have the fastest-growing GDP in the country between the first quarter of 2013, when McCrory took office, and the third quarter of 2015. The pace has slowed recently, but that doesn't change the truth of the statement.
We rate this claim True.
Browse the Truth-O-Meter
More by Will Doran
Support independent fact-checking.
Become a member!
In a world of wild talk and fake news, help us stand up for the facts.