Stand up for the facts!
Our only agenda is to publish the truth so you can be an informed participant in democracy.
We need your help.
I would like to contribute
"80 percent of North Carolinians are for the living wage"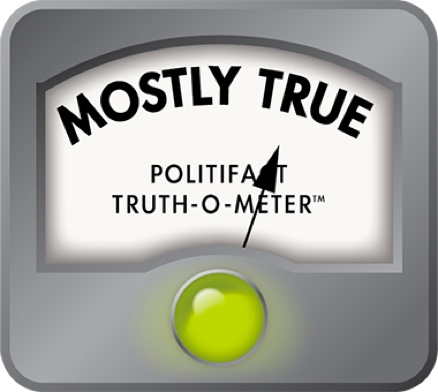 N.C. NAACP president says 80 percent think the minimum wage should be $10 or more
In the rallies against North Carolina's new LGBT law, commonly known as HB2, protesters have represented not just gay and transgender activists. Also present Monday for the rallies outside the legislature were Latino activists and supporters of the Black Lives Matter and Rise Up for $15 movements.
The law doesn't just ban transgender people from using the bathroom of the gender they identify with. It also bans local governments – cities and counties – from raising the minimum wage that businesses within their boundaries would have to pay workers.
Rev. William Barber, president of the N.C. NAACP, said the crowds of protesters were more diverse than just LGBT activists because of the wage issue.
And in a speech just days before Monday's protests, he said the bathroom issue was actually a Trojan Horse, of sorts, for what he deems the real intent of the law – stopping cities from raising the minimum wage, as such cities as Seattle and Los Angeles have recently done.
"Eighty percent of North Carolinians are for the living wage," Barber said. "So if North Carolina's legislature and the governor had just put on the table a straight bill to make a prohibition against living wages, they would have been going against 80 percent of North Carolinians."
A higher minimum wage is often opposed by Republican politicians. But if Barber was right, a higher minimum wage is a true bipartisan issue – something that 4 out of 5 people support in a state where 4 out of 10 are Democrats.
What is a living wage?
Polling on this issue is all over the place. There are many ways to ask the question. Some polls give a specific number they test for approval; some let the respondents choose a number; some simply ask whether the minimum wage should be higher; some ask who should have the power to make that decision.
But first, perhaps we should define "living wage," the phrase Barber used in place of "higher minimum wage." It's not just a political catchphrase; there are actual ways of calculating it.
In 2004, an MIT professor of economic geography and regional planning created what she called the Living Wage Calculator. Accounting for location-specific factors such as the cost of food, childcare, housing, transportation and taxes, the tool determines the "living wage" as well as "poverty wage" for states, counties and metro areas. It gives numbers in both wage categories for single adults or couples, and households with zero to three children.
It also assumes full-time employment of 2,080 work hours per year (40 hours a week for 52 weeks). For the purposes of this report, we'll look at the wage for a single person with no children.
Right now the federal minimum wage is $7.25 an hour, although some states and cities have gone higher. North Carolina has not, and as Barber accurately said, the state has now forbidden any individual city or county from raising it.
In Wake and Mecklenburg counties – the two largest in North Carolina – the Living Wage Calculator says a living wage would be right about $11 an hour.
The state average is $10.53, and 13 of 14 metropolitan areas are above $10.
A person working full time for $10.53 an hour would make $21,902.40 a year. At the current minimum wage of $7.25 an hour, that same person would make $15,080 a year – a difference of more than $6,800.
Recent polling
Now that we know what a living wage is, we can look to see whether Barber is right about 80 percent support.
The topic isn't surveyed much at the state level, but luckily two polls have tackled this topic in the last month.
They're from the left-leaning Public Policy Polling and the more centrist Elon University Poll. A spokesman for the state's main right-leaning polling firm, The Civitas Institute, said there's no record of Civitas ever having polled people on the topic of minimum wage.
Public Policy Polling found that 76 percent of North Carolinians support a minimum wage of at least $10 an hour. That isn't an exact confirmation of Barber's claim, since it's slightly lower than 80 percent and the living wage is $10.53, not $10, but it's pretty close.
However, the Elon poll found less support for a $10 or higher minimum wage, 65 percent. It also arrived at that number differently than PPP.
PPP gave five choices, asking people to say if they thought there shouldn't be a minimum wage, if it should remain $7.25, or if it should increase to $10, $12 or $15.
Elon asked people to name whatever they thought the minimum wage should be. A plurality (27 percent) said $10. In total, 65 percent said $10 or higher.
That's certainly less than the 80 percent claim Barber made or the 76 percent that PPP found. But complicating matters, Elon also found less support than PPP for keeping the current minimum wage.
The difference is that many in the Elon Poll (23 percent) named a number between $7.26 and $9.99 – an option that PPP didn't give.
So while the Elon poll found only 65 percent support for wages that could be called a living wage under the MIT definition, it did find 88 percent support for raising the minimum wage at least a little.
Political breakdown
Barber framed his claim in the context of the state's Republican leaders trying to avoid blowback for putting restrictions on a higher minimum wage. So we decided to look at how Republicans feel about the subject.
Just like they phrased their questions differently, PPP and Elon also asked about party affiliations differently.
PPP found that 63 percent of people who voted for Mitt Romney in 2012 also support at least a $10 minimum wage, as do 92 percent of Barack Obama voters and 65 percent of others.
The Elon poll found that 46 percent of self-identified Republicans support a $10 or higher minimum wage, compared with 86 percent of Democrats and with 62 percent of others.
Our ruling
It's impossible to say for certain that a full 80 percent of North Carolinians want a living wage in North Carolina, like Barber said. But it does appear that a vast majority support the idea, including about half of Republicans and nearly all Democrats.
One recent poll found 76 percent support for a $10 or higher minimum wage. With a margin of error of 3.4 points, Barber's 80 percent claim would be well within reason if this was the only recent poll. But another recent poll found just 65 percent support. The average of the two polls is 70.5 percent.
We rate this claim Mostly True.
Moral Monday video, April 23, 2016, "HB2: What Do Bathrooms Have to Do With Living Wages?"
The Living Wage Calculator: North Carolina counties and metro areas
The Living Wage Calculator: History, formulae and sources
NC Voter registration statistics, as of April 2016 http://enr.ncsbe.gov/voter_stats/results.aspx?date=04-23-2016
Phone interview with William Barber, NC NAACP president
Email interview with Jason Husser, Elon professor and Elon Poll assistant director
Email interview with James Tynen, Civitas Institute communications director
Elon University Poll, April 10-15, 2016, minimum wage question on pg. 11
Public Policy Polling, March 18-20, 2016, minimum wage question no. 32
Browse the Truth-O-Meter
More by Will Doran
Support independent fact-checking.
Become a member!
In a world of wild talk and fake news, help us stand up for the facts.