Get PolitiFact in your inbox.
"In 40 years, 23,000 chemicals came on the market and only four were regulated."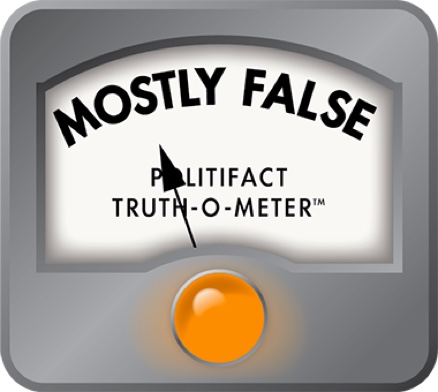 Whitehouse has mixed up the facts on regulated chemicals
U.S. Sen. Sheldon Whitehouse recently joined Hasbro executives at their downtown headquarters to push a bill to regulate thousands of chemicals, including hazardous substances that pose a risk to children.
From behind a blue podium that was as brightly colored and as plastic as a child's toy, Whitehouse made this claim:
"In 40 years, 23,000 chemicals came on the market and only four were regulated."
This certainly sounded like the Wild West of unregulated chemicals to us: 22,996 chemicals on the market and only four run-ins with regulators?
It was clear early on that our fact-checking of the statement would pivot on the definition of "regulated."
Our dictionary tells us that to "regulate" is "to control or direct by a rule."
Whitehouse's go-to expert on chemicals, Richard A. Denison, a lead senior scientist for the Environmental Defense Fund, was at the event and provided some immediate clarification after the senator spoke.
The EPA blocked four chemicals from the marketplace after the passage of the Toxic Substances Control Act in 1976. That, Denison said, was the regulation Whitehouse was talking about.
So almost 23,000 other chemicals went unregulated?
That didn't line up with a 2010 report from the U.S. Environmental Protection Agency, Office of Inspector General. Through September 2008, according to the report, EPA "regulated 1,432 chemicals by means of Consent Orders."
The consent-order process, which involves negotiations with manufacturers, is quite different from the process that EPA used to block those four chemicals. But it's a form of government regulation nevertheless — the outcome of a process in which manufacturers of a new chemical must, by rule, file a notice with the government and receive the EPA's approval.
We contacted Whitehouse spokesman Seth Larson for clarification. Larson told us that Whitehouse had been "speaking off the cuff."  Larson asked us to consider a somewhat similar statement made in two news releases issued to publicize the Hasbro event.
"In almost 40 years," says the news release. "TSCA has restricted just five chemicals of the more than 80,000 that are in commerce — and even failed to ban asbestos."
The five chemicals referenced in the release are different from the four substances that Whitehouse referred to at the Hasbro podium. The five chemicals were among 62,000 chemicals already in existence in 1976, while the four substances were among chemicals created after the law was passed, according to Denison.
Our research into the restriction of "just five" substances took us right back to the more than 1,400 chemicals that OIG says EPA regulated through the consent-order process set forth in the 1976 law.
The agency, according to its website, can establish conditions for safe use via a "consent order," with the manufacturer agreeing to: toxicity testing, warnings, worker protections, "restrictions" on use and releases to "water, air and land."
But Denison says the orders are negotiated case by case, behind closed doors, and the terms can remain secret or are heavily redacted in the few instances they become public.
Still, the 1,400 chemicals have been regulated or restricted in some way. And the EPA even refers to certain negotiated requirements as "restrictions."
Denison, in a later email, referred us to a collection of comments that high-level EPA officials have made regarding the five particular chemicals Whitehouse cited in the news releases.
We noticed that in each case, the EPA officials had qualified their remarks in ways that Whitehouse didn't.
However, from a broader perspective, none of this analysis undercuts Whitehouse's basic argument that the 1976 law isn't protecting the public and it needs an overhaul.
While many companies have agreed to restrictions under EPA pressure, the overall regulatory environment is extremely lax. Regulators don't know the toxicity of many chemicals in the marketplace.
"It is important to note that almost 90 percent of pre-manufacture notices submitted to EPA complete the review process without being restricted or regulated in any way," the agency says on its website.
More than 60 senators have signed on as supporters of the legislation backed by Whitehouse.
Hasbro's chief executive, Brian Goldner, says Hasbro is on a mission "to make the world a better place for children and their families, and this reform will be a victory."
Our Ruling
Whitehouse's spokesman said the senator used the wrong verb at Hasbro. He asked us to test a different statement that uses a different verb and refers to different facts.
We did.
In both cases, we found evidence that the number of regulated or restricted chemicals was far greater than the tiny number that Whitehouse and his office referred to in their various statements.
Cheryl Hogue, an assistant managing editor at Chemical & Engineering News, agrees that EPA's regulatory authority is greatly limited by the 1976 law.
But she also told us,"Every new chemical that comes on the market has to give a notice to EPA…Is that regulation?," she asked. "A lot of chemical companies would call that regulation."
The 1976 law is weak, and it looks like Congress might make it tougher.
But Whitehouse used the wrong verb and he mixed up the facts to make his case for change when he claimed that "only four" of 23,000 chemicals "were regulated."
For these reasons, we rate his claim Mostly False.
Whitehouse.senate.gov, "Sen. Whitehouse and Hasbro Celebrate Progress on Toxic Chemicals Law," Oct. 14, 2015.
ProvidenceJournal.com, "Sen. Whitehouse praises toxic-chemicals protection bill," Oct. 15, 2014.
EPW.Senate.gov, "Toxic Substances Control Act," Dec. 31, 2002, accessed Oct. 16, 2015
U.S. Environmental Protection Agency, Office of the Inspector General, "EPA Needs a Coordinated Plan to Oversee Its Toxic Substances Control Act Responsibilities," Feb. 17, 2010
EPA.gov, "EPA Actions to Reduce Risk for New Chemicals under TSCA," updated Sept. 29, 2015, accessed Oct. 22, 2015
James Jones, assistant administrator, Office of Chemical Safety and Pollution Prevention, U.S. Environmental Protection Agency, "Testimony before committees in the U.S. House of Representatives," April 14, 2015
Browse the Truth-O-Meter
More by Mark Reynolds
Support independent fact-checking.
Become a member!
In a world of wild talk and fake news, help us stand up for the facts.