Stand up for the facts!
Our only agenda is to publish the truth so you can be an informed participant in democracy.
We need your help.
I would like to contribute
Says Mike Huckabee appeared in diabetes infomercials to endorse "cures and treatments that no health agency supports."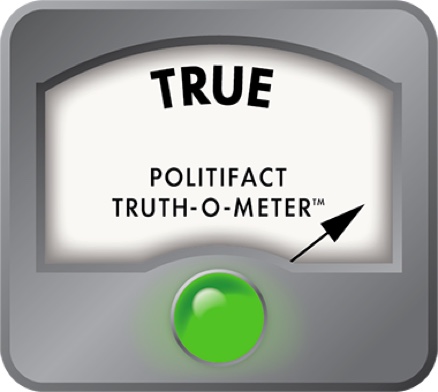 Mike Huckabee and the diabetes cure he endorsed that 'no health agency supports'
Republican presidential candidate Mike Huckabee is distancing himself from the unusual ways he earned money before announcing his White House run May 5, but journalists aren't letting the former Arkansas governor off the hook.
Huckabee, who shed about 100 pounds after being diagnosed with Type 2 diabetes, filmed TV and radio infomercials advertising a program to "reverse" diabetes in February and March. Huckabee also lent his email list to carry ads about a looming food shortage and a cancer cure found in the Bible.
CBS' Face the Nation host Bob Schieffer tried to pin Huckabee down on his business dealings during a May 10 interview that followed a critical column about "Huckabee's Hucksterism" by National Journal's Ron Fournier.
Huckabee got testy as he explained the program he endorsed is more about healthy eating than dietary supplements.
A bit later, Schieffer moved on to Fournier during a pundit panel discussion for a response.
"As you know, there was more to that, and I really like the way you kind of put him on his heels and he had to filibuster you," Fournier said. "He -- his endorsing -- the infomercials that are endorsing cures and treatments that no health agency supports. He's linking cancer to cures to the Bible verse."
In other words, he said, not very presidential behavior.
PunditFact wanted to dig into Fournier's claim about Huckabee's past. Did he shill for a shoddy diabetes "cure" that "no health agency supports"?
'Diabetes Solution Kit'
Fournier's column references a March New York Times story about Huckabee's "highly unconventional income streams." In a since-deleted video (though you can see one on the Daily Mail), Huckabee encouraged viewers to buy the Diabetes Solution Kit made by the South Dakota company Barton Publishing.
In the video, Huckabee promises diabetes can be reversed ("I should know because I did it") and condemns "mainstream" treatment methods of insulin injections and prescriptions.
"Prescription drugs aren't going to cure you," Huckabee tells viewers. "They're only going to keep you a loyal pill-popping, finger-pricking, insulin shooting customer so Big Pharma and the mainstream medical community can rake in over $100 billion a year annually."
After explaining how he used "the same techniques" outlined in the Diabetes Solution Kit, Huckabee asks viewers to "sit tight, because in a moment a free presentation is coming up that'll show you everything you need to know about the Diabetes Solution Kit so you can discover all the natural secrets that are backed by real science that really work."
That free presentation lasts more than 30 minutes, kicking off with a spokesman named Lon showing a picture of cinnamon rolls that "contain a real ingredient that reverses diabetes" and going on to berate insulin, diabetes pills and other injectables as treatments. (We sat through it so you don't have to.)
The kit turns out to be booklets offering tips for eating, exercise, and yes, formulating dietary supplements — for the low, low price of $19.97.
"We don't sell pills," said Barton Publishing chief marketing officer Marty Fahncke. "We sell books that do, in fact, teach people how to reverse their diabetes."
However, the video discusses at length the "Double C Diabetes Remedy" of cinnamon and chromium picolinate, which is described as a "weird, spice, kitchen cabinet cure" that "will allow you to live life just like when you didn't have diabetes at all." Lon the narrator calls this precise combination of cinnamon and chromium picolinate a "cornerstone" of the system.
Huckabee's campaign did not return an email seeking comment for this story. Huckabee told Schieffer that he is no longer doing the infomercials as a presidential candidate.
The Barton Publishing press release about Huckabee's endorsement deal says he was "given just 10 years to live" by a doctor who diagnosed him with Type 2 diabetes in 2004.
This contradicts Huckabee's own account of his diagnosis as documented by the media. According to the Associated Press, Huckabee was diagnosed with adult-onset diabetes in 2002. He lost 50 pounds within about two months after following a diet created by the University of Arkansas for Medical Sciences. By 2004, he had lost 100 pounds through healthy eating and fitness. 
Newspaper accounts contain no mention of a cinnamon and chromium compound helping Huckabee through, and Huckabee is careful in the video to avoid saying he followed the Diabetes Solution Kit.
The closest he gets is saying the he "used the same techniques to lose 110 pounds of fat, get my own blood sugar under control, and completely reverse my Type 2 diabetes."
Position of diabetes associations
So that's the diabetes solution Huckabee was being paid to promote. The question is: Do health agencies say it works?
The New York Times story describes the American Diabetes Association and Canadian Diabetes Association as warning that dietary and herbal supplements "are ineffective for treating diabetes," linking to a page of only the American group's website.
The ADA's Diabetes.org page is slightly more nuanced than outright calling the supplements ineffective, but nowhere does it signal support for herbal remedies: "It is best to get vitamins and minerals from the foods you eat. In fact, research has not been able to prove that dietary or herbal supplements (including omega-3 supplements, cinnamon, and other herbs) help to manage diabetes."
The organization cites a National Health Interview Survey that acknowledges use of herbal therapy or dietary supplements among one-fifth or one-third, respectively, of people with diabetes, especially in minority ethnic groups.
The Canadian Diabetes Association was more straight-forward: It "does not support the use of the dietary supplements advertised in these infomercials."
Fahncke of Barton Publishing sent PunditFact links to various Web pages of the Centers for Disease Control and Prevention, American Diabetes Association, Mayo Clinic, and a journal called Nutrition Research. The links either talk about the importance of a healthy diet to control diabetes (and don't mention herbal supplements at all) or discuss small studies in China and Pakistan that showed cinnamon supplements might reduce risk factors in patients with Type 2 diabetes.
Still, none of the links offer strong support for the cinnamon-chromium mixture recommended in the Diabetes Solution Kit — much less the endorsement of a reputable health agency.
Other expert opinions
Other endocrinologists we contacted were more blunt: The promised kitchen cabinet remedy does not work.
"There is no scientific support for herbal treatments in the care of diabetes," said Dr. Domenico Accili, Columbia University professor medicine and director of the Columbia University Diabetes and Endocrinology Research Center. "The concoction of cinnamon and chromium has been sold for many years, and it's pure quackery."
Dr. Jeffrey Mechanick, a past president of the American Association of Clinical Endocrinologists and attending physician in the endocrinology, diabetes and bone disease division of New York's Mount Sinai Hospital, said even though chromium and cinnamon are "associated with salutary effects on glucose and insulin physiology in animals and in vitro," there are insufficient clinical data to back up a recommendation for the product.
Even though consuming either the spice cinnamon or mineral chromium picolinate is inherently low risk, Mechanick said, there are several reasons to avoid the combined product, including insufficient regulation and a lack of strong science.
"The philosophy of using (dietary supplements and nutraceuticals) to manage diabetes instead of proven lifestyle and pharmacologic therapies is harmful," he said.
Food and Drug Administration spokesman Eric Pahon said people who "rely on products which have not been reviewed by FDA for safety and efficacy" — e.g. Diabetes Solution Kit's cinnamon and chromium picolinate recommendation — "may place themselves at increased risk of poorly controlled diabetes and other risks."
Our ruling
Fournier said "no health agencies support" the "cures and treatments" that Huckabee endorsed in an infomercial promising diabetes reversal.
Health groups and physicians that specialize in diabetes told us they do not support the approach to "reversing diabetes" outlined in the Diabetes Solution Kit that Huckabee used to endorse.
We rate Fournier's claim True.
CBS News, "Ron Fournier: Mike Huckabee's ethics could make Clintons blush," May 10, 2015 (and show transcript)
The New York Times, "Huckabee pursues unconventional ways to fund a campaign," March 15, 2015
National Journal, "Huckabee's Hucksterism vs. Clintons' Cash," May 8, 2015
Daily Mail, "Mike Huckabee ducks questions about dodgy herbal diabetes 'solution' he hawked in infomercial this year for 'five-figure monthly amount' – but says he wasn't paid 'nearly enough' for it," May 8, 2015
Interview with Ron Fournier, National Journal political columnist, May 10, 2015
Interview with Rachael Bishop, American Diabetes Association spokeswoman, May 12, 2015
Email interview with Krista Lamb, Canadian Diabetes Association spokeswoman, May 12, 2015
Email interview with Amy Reither, National Institute of Diabetes and Digestive and Kidney Diseases spokeswoman, May 12, 2015
Interview with Marty Fahncke, Barton Publishing chief marketing officer, May 12, 2015
Interview with Eric Pahon, Food and Drug Administration spokesman, May 12, 2015
Email interview with Dr. Domenico Accili, Columbia University professor medicine and director of the Columbia University Diabetes and Endocrinology Research Center in New York City, May 12, 2015
Email with Joy Batteh-Freiha, American Association of Clinical Endocrinologists spokeswoman, May 13, 2015
Browse the Truth-O-Meter
More by Katie Sanders
Support independent fact-checking.
Become a member!
In a world of wild talk and fake news, help us stand up for the facts.