Stand up for the facts!
Our only agenda is to publish the truth so you can be an informed participant in democracy.
We need your help.
I would like to contribute
Western Europeans "can fly in the United States without even having a visa."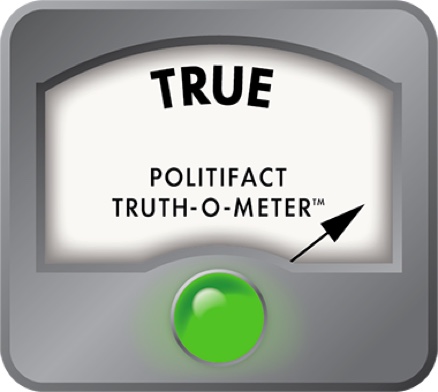 McCaul: Western Europeans can fly to U.S. without a visa
The slayings in France have raised awareness that terrorist threats can spring up on European soil. And if terrorists can emerge there among people holding European passports, they could come here.
Rep. Michael McCaul, R-Texas, highlighted that risk during an interview on CBS News' Face the Nation on Sunday. McCaul worried about jihadists who, like one of the killers in France, trained with terrorists in Yemen and returned to France. McCaul said tracking them is pivotal.
"Western Europe, again, is more lenient in their travel restrictions," McCaul said. "And we have a visa waiver-free system where they can fly in the United States without even having a visa. We need to look at all sorts of things like that."
We decided to take a closer look at McCaul's claim that Europeans can fly to America without a visa.
A quick peek at the State Department website shows that McCaul has it right. Tourists from 28 European nations do not need a visa for visits that last no longer than three months. However, they do need to complete an online application, and in some cases, U.S. officials will deny them entry.
The application covers the basics of name, address, passport number, employment status and so forth. The Department of Homeland Security recently added a couple of questions to that application precisely because it would help authorities spot travelers who bear a closer look. People now need to report if they have a second passport for another country or have ever traveled under another name. Experts we reached suggested these details do less to uncover suspicious individuals themselves and are more aimed at avoiding false positives in the system, which wastes precious resources.
If McCaul is correct about the visa waiver for Europeans, then the next question is, how big a gap does this represent in border security?
Assessing the risk from Europe
A report from the Henry Jackson Society, a London-based group that favors a strong military to support liberal democracies, examined the number of al-Qaida-related incidents in the United States that had a European connection. It found that since 2003, there has been only one case, that of the so-called "underwear bomber" in 2009. The authors looked at whether perpetrators in the United States had any terrorist training.
"Since 2005, individuals charged were less likely to have terrorist training or combat experience; less likely to be linked to al-Qaida or another Designated Terrorist Organisation; and, subsequently, less likely of carrying out an attack that could lead to mass casualties," the authors wrote.
They concluded that the European and American counterterrorism strategy had been effective in reducing the threat of an al-Qaida-related attack in the United States, although the Boston Marathon bombing showed that the risk was ongoing.
That report came out in 2013. The security experts we reached generally echoed its findings, but they also noted that the number of Europeans who have gone to the Middle East in pursuit of jihad has climbed sharply.
"The jihadists now have a lot of people with western passports," said Brian Jenkins, a RAND Corporation advisor and a former member of the White House Commission on Aviation Safety and Security. "It is a potential vulnerability."
But Jenkins also described the current methods that might catch the would-be terrorist.
A number of security filters
Jenkins walked through the example of a French citizen who went to Yemen.
"The minute they went to Yemen, the intelligence services there are cooperative," Jenkins said. "We'd likely spot them on the way in and on the way out. Also, the European intelligence agencies would have a chance of picking them up, and that info would be shared with us."
Jenkins spoke of the lists the United States maintains, beyond the no-fly list of suspicious individuals. He said there are other databases. For many years, American security agencies have used airline data known as the Passenger Name Record. It provides information on how and where a reservation was made and how it was paid for. The PNR data is assessed before someone boards a plane and while they are en route.
"I wouldn't say that there is racial or ethnic profiling here, but we have pretty good profiles of tourists and what they look like," Jenkins said. "If there are anomalies, that person gets looked at."
Should the person land in the United States, Jenkins said the track record of domestic counterterrorism has been pretty good. A Saudi citizen was caught in Dallas when he tried to link up with radical Islamic sympathizers.
In Jenkins' view, the greater risk for Americans comes from people who already live here.
"When we look at the terror attacks in the United States since 9-11, the overwhelming number are homegrown," Jenkins said.
William Braniff is executive director of the National Consortium for the Study of Terrorism and Responses to Terrorism at the University of Maryland. Braniff said there are two ways to assess how effective the current strategy has been.
"At best, it does prevent known terrorists from entering the country," Braniff said. "At worst, it may serve as a deterrent. Attacking in Europe may be perceived as less risky but of similar reward than risking the flight to the United States."
Braniff cautioned, however, that the proliferation of databases and security filters comes with its own drawbacks.
"When you get to 50,000 names, countless transliterations, and then bury them among the millions of names of air travelers coming to or from the U.S., implementation can become unwieldy," Braniff said.
Both Braniff and Jenkins noted that efforts to tighten entry rules for Europeans would have to be balanced against the strong economic benefits of tourism and business that the current system allows.
Our ruling
McCaul said that Western Europeans can fly to America without a visa. That is accurate. However, while a visa is not required, European travelers must fill out an application. This is the start of a digital record that allows officials to sift through a variety of databases that can flag suspicious people.
To date, the experts we contacted and the research we read spoke to a set of strategies that have so far been effective at reducing the risk of European terrorists entering the country.
We rate the claim True.
CBS News, Face the Nation, Jan. 11, 2015
U.S. State Department, Visa Waiver Program
U.S. Department of Homeland Security, Statement by Secretary Johnson on Security Enhancements to the Visa Waiver Program, Nov. 3, 2014
Henry Jackson Society, The European angle to the U.S. terror threat, June 2013
U.S. Department of Homeland Security, Electronic System for Travel Authorization
Homeland Security News Wire, U.S. introduces new security measures to screen Western-passport travelers, Nov. 5, 2014
Washington Post, U.S. to step up screening of European and other visitors who don't need visas, Nov. 3, 2014
Associated Press, New US restrictions for European, other travelers, Nov. 4, 2014
Photo: Darren Kulp, via Flickr Creative Commons license
Email interview, William Braniff, executive director of the National Consortium for the Study of Terrorism and Responses to Terrorism, University of Maryland, Jan. 11, 2015
Interview, Brian Michael Jenkins, senior advisor to the president of the RAND Corporation and director of the National Transportation Security Center at the Mineta Transportation Institute, Jan. 11, 2015
Browse the Truth-O-Meter
More by Jon Greenberg
Support independent fact-checking.
Become a member!
In a world of wild talk and fake news, help us stand up for the facts.