Stand up for the facts!
Our only agenda is to publish the truth so you can be an informed participant in democracy.
We need your help.
I would like to contribute
"Hillary Clinton's State Department sent three comedians to India on the 'Make Chai, Not War' tour."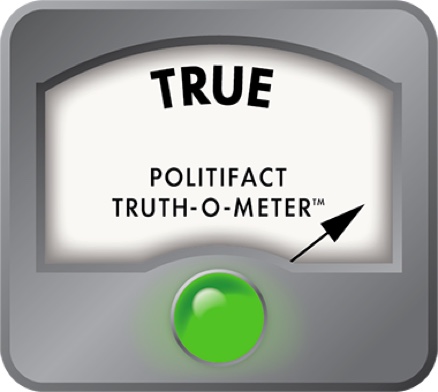 Did State Department really send three comedians to India on 'Make Chai, Not War' tour?
When Kentucky Sen. Rand Paul took to the stage in New Hampshire to woo voters at a Republican presidential summit, he took aim at Democrat Hillary Clinton.
The pair have both formally declared their intentions to run for the country's highest office.
Paul went after Clinton's time as Secretary of State between 2009 and 2013, criticizing several purchases and investments the department made during her tenure.
"Hillary Clinton's State Department sent three comedians to India on the 'Make Chai, Not War,' " he quipped, garnering laughter from the audience.
It's not the first time he's dropped that line, and it grabbed our attention.
The U.S. State Department pointed to a press conference in December 2011, when a spokeswoman answered questions about the comedy tour. The press conference drew some laughter from reporters, as noted in the transcript.
The department sent three Indian-American comedians, who were part of a show called "Make Chai, not War" on the seven-city tour through India as part of a "regular global cultural exchange program," former state department spokeswoman Victoria Nuland told reporters during the 2011 daily press briefing.
While the title of the show was intentionally a joke, the purpose of the tour was more serious.  The trip was intended to stem religious prejudice and encourage tolerance.
The trio of comics traveled India from Jan. 4 to Jan. 17, 2012. In addition to comedy shows, Nuland said, they held audience discussions focused on issues of religious tolerance, ran workshops and did interviews with the press.
The full tour cost about $100,000, and the U.S. Embassy in New Delhi sponsored it with a $88,000 grant, Nuland said.
"The reason we decided to support this tour is because among the things that they are known for is their talk about religious tolerance, about the importance of breaking down prejudices, and about the positive experiences they had growing up as Indian Americans in the United States," Nuland said at the press conference according to the transcript.
But the state department can't claim credit for the tour's catchy title.
One of the three comics, Rajiv Satyal, launched the Make Chai, Not War show in 2007 to create a platform for other Indian-American comedians, according to a National Public Radio story published before the group embarked to India.
The show's Indian tour came about after U.S. Embassy cultural attache Michael Macy saw one of the comics, Azhar Usman, perform in London, according to NPR.
When Macy switched to a post in New Delhi, he brought the comic to India for a solo tour, which paved the way to the "Make Chai, Not War" India tour, according to NPR.
Stand-up comedy is an American art form, that is "all about celebration of free speech," Usman said Thursday.
"Comedy has a very unique ability to allow people to have very difficult conversations that society may otherwise ignore," he said. "To me it was a huge win."
Dating back to the 1940s, Secretaries of State have signed off on cultural exchange programs around the world. The current state department budget contains about about $100 million for Citizen Exchange Program, which includes cultural exchanges like the one to India.
It's not the first time Paul has invoked the "Make Chai Not War" tour to make a point.
He brought it up while grilling Clinton at a 2013 U.S. Senate hearing about attacks on a diplomatic outpost in Benghazi, Libya.
"I can understand that maybe you're not aware that your department spent $100,000 on three comedians who went to India on a promotional tour called "Make Chai Not War," Paul said, according to a Wall Street Journal transcript of the exchange.
Paul mentioned it again during a later hearing with Clinton's replacement, former Mass. Senator John Kerry, according to the Washington Post.
For the record, Paul's claim didn't cite money or motive.
Our ruling
Paul said "Hillary Clinton's State Department sent three comedians to India on the 'Make Chai Not War tour."
The State Department, while under the leadership of Clinton, did send three Indian-American comics to India in early 2012 as part of a regular cultural exchange program intended to stem religious prejudices and encourage tolerance. The State Department didn't come up with the name, but the show was indeed called "Make Chai Not War."
We rate this claim True.
U.S. Department of State, Daily Press Briefing, Dec. 29, 2011
National Public Radio, State Department sends "Chai" Comedy Tour to India, Jan. 4, 2012
Wall Street Journal, Excerpts: Heated Exchanges at Benghazi Hearing, Jan. 23, 2013
Washington Post, Kerry: 'When did the comedians go to India?', April 8, 2014
Email interview with Eleanor May, Press Secretary Rand Paul for President, April 20, 2015
Phone interview with Azhar Usman, April 23, 2015
C-SPAN, Senator Rand Paul (R-KY) at the New Hampshire Republican Leadership Summit, April 18, 2015
U.S. Department of State, Former Secretary of State Hillary Rodham Clinton: 2009 to 2013
Browse the Truth-O-Meter
More by Allie Morris
Support independent fact-checking.
Become a member!
In a world of wild talk and fake news, help us stand up for the facts.