Stand up for the facts!
Our only agenda is to publish the truth so you can be an informed participant in democracy.
We need your help.
I would like to contribute
Says Sen. Jeanne Shaheen's "wealth has surged while in public office."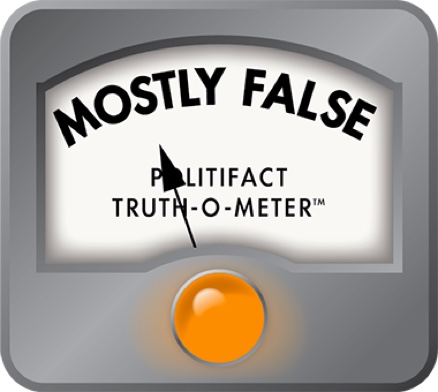 Conservative group says Jeanne Shaheen's wealth has 'surged' since '08 election
Sen. Jeanne Shaheen, D-N.H., insists an ad running against her is so blatantly false that her campaign asked a station to take it down. Meanwhile, the makers of the ad, the conservative group Ending Spending Action Fund, told us the ad is "100 percent accurate."
Sounds like a job for PolitiFact.
The ad, a 60-second spot, claims that New Hampshire families are struggling, but "Shaheen's wealth has surged while in public office." The ad goes on to say that "news reports raise questions about Shaheen's family profiting from her votes in Congress, a shady stock deal and a conflict of interest."
The ad concludes: "The Shaheen family gets richer. New Hampshire families get the bill."
Shaheen's Republican opponent will be determined in a primary on Sept. 9 and the odds on favorite is former Sen. Scott Brown.
Has Shaheen's wealth surged in office?
Shaheen's worth
Brian Baker, president of Ending Spending, emailed us the backup for the ad. He also told us that the despite Shaheen's protests, the ad continues to run in New Hamsphire, though it was tweaked to add a citation at the request of one television station.
The evidence for this claim comes from OpenSecrets.org, a website run by the campaign finance watchdog group Center for Responsive Politics.
OpenSecrets.org estimates a candidate's net worth using financial disclosure reports. But it's not an exact science. The forms don't require candidates to list their actual holdings, but rather check a range of values for every job, bank account, investment or asset they hold, as well as their debts. For example, Shaheen marked down in 2008 that she has between $15,001 and $50,000 in a Ocean National Bank checking account.
According to OpenSecrets.org, in 2008 when Shaheen was elected to the U.S. Senate, her net worth was $3.4 million. This is calculated by finding the mean of her total assets, which ranged from $2.94 million and $6.08 million, and subtracting the mean of her total liabilities, ranging from $650,000 to $1.5 million. Many of her assets are listed as shared with her husband, Bill Shaheen, with whom she files taxes jointly.
Using the same methodology, OpenSecrets.org estimated Shaheen's networth in 2012 was $5.4 million. Ending Spending compared the 2008 numbers with 2012 and came up with a $2 million increase.
This is already problematic. Shaheen filed her disclosure forms for 2013 in May. So Ending Spending is not using the most up-to-date figures.
Those figures show Shaheen's net worth is $2.7 million, or $700,000 less than what it was in 2008.
How did we get that? Shaheen's 2013 form indicates that both the low and high end of her total assets are up from 2008, ranging from $3.75 million to $7.89 million. But her liabilities were up, too: between $2.03 million and $4.2 million.
A lot of the added liabilities are for mortgages. In 2008, Shaheen had four mortgages and a promissory note. By 2013, she had 10 mortgages and two promissory notes.
It's important to stress that we don't know where her assets fall in the range. The 2013 values overlap quite a bit with the figures reported in 2008. In that respect, it's possible her assets haven't gone up at all.
But it's fair to say that since 2008, the Shaheens have acquired stakes in several commercial and residential real estate properties, and the number of investments and financial ventures listed have increased.
When the average voter's net worth falls, it's typically not because they are taking out multiple loans and purchasing more real estate property while their investments expand.
Baker said only Shaheen's assets should be taken into consideration, not her debts. However, traditionally, wealth is measured by looking at both assets and liabilities to calculate net worth.
There's another way we can look at Shaheen's finances. In June, her campaign allowed members of the media to view eight years of tax returns. They paint a mixed picture, according to news reports, and show Shaheen's income since taking office is flat and tied to her Senate salary, while her husband's ventures have gone up and down.
The Telegraph in Nashua, N.H., reported that the couples' highest income year came in 2012 — when Shaheen earned $580,000 between her Senate salary and her husband's law firm. But Bill Shaheen's business partnerships have also lost nearly $1 million over the past five years, the Telegraph found. For example, in 2010, the Shaheens reported $522,000 in income, but also $300,000 in losses resulting in a gross adjusted income of $186,000, according to the Concord Monitor.
In 2013, the couple made about $505,000, the Monitor reported, which is close to their average annual pre-tax salary of $474,000 during the eight years released.
Profiting from votes?
The ad also insinuates that Shaheen's wealth is somehow tied to her congressional action. All of the evidence from Ending Spending comes back to a June Boston Globe article largely focused on stock options her husband owned in Ultrawave Labs — stock options the campaign says were never exercised.
The Globe reported that Shaheen's husband had stock options in the company in 2009 valued between $1,000 and $15,000. Around the same time, Ultrawave Labs — a company "developing new imaging technology to detect breast cancer," according to the article — received about $78,000 in stimulus money.
Shaheen voted for the stimulus — along with every other Democrat (except a sick Sen. Ted Kennedy). The money for Ultrawave came through the National Science Foundation, and was not specifically earmarked by Shaheen, as FactCheck.org noted in their own analysis of the ad.
The ad says Shaheen "failed to properly report" the stock. What it doesn't tell you is the stock options were "misreported" only because Shaheen failed to show it had already expired, her campaign said. According to the forms, in 2013 the stocks were valued between $0 and $1,000.
The Globe also notes that Ultrawave Labs has lobbied Congress and the Defense Department to allocate more money for breast cancer research. During her time in Congress, Shaheen has pushed legislation to do the same, at one point supporting a program that would fund breast cancer research through the military (Shaheen sits on the Armed Services Committee).
The law firm Shaheen's husband works at, Shaheen & Gordon, also sought to help clients get stimulus money by creating a "stimulus opportunities team," according to the Globe. The firm told the Globe it had no clients and was "short-lived."
The Globe quoted a good-government group that's critical of the Shaheens business practices, and it's certainly worthwhile for voters to consider these findings at the ballot box. However, the points raised in the story don't seem to prove the central premise of the ad that Shaheen's wealth has surged as a result of her congressional action.
Our ruling
The Ending Spending Action Fund ad claims "Shaheen's wealth has surged while in public office."
By one measure, Shaheen's net worth has actually gone down since she took office. Though she and her husband have listed more assets, investments and financial ventures than in 2008, they also have considerably more debt from more mortgages.
Her tax returns, filed jointly with her husband, have shown wide fluctuations in income since 2006, making it hard to discern whether her wealth "surged." Her 2013 income was just slightly higher than her average earnings during the past eight years.
Ending Spending pointed to a story that has raised questions about the business practices of Shaheen's husband and their relation to her votes in Congress. However, the findings of the story don't indicate a surge in wealth by the family.
The statement contains an element of truth but ignores critical facts that would give a different impression. We rate it Mostly False.
Ending Spending Action Fund, "Cronyism," Aug. 25, 2014
Email and phone interview with Brian Baker, president of Ending Spending, Aug. 28-29, 2014
Email and phone interview with Harrell Kirstein, spokesman for Sen. Jeanne Shaheen, Aug. 28-29, 2014
FactCheck.org, "Scandalous Ad in New Hampshire Race," Aug. 28, 2014
Letter from Jonathan Berkon, lawyer for Shaheen campaign, to New Hampshire station managers, Aug. 26, 2014
Letter from William McGinley, lawyer for Ending Spending, to New Hampshire station managers, Aug. 27, 2014
Financial Disclosures for Sen. Jeanne Shaheen, 2008
Financial Disclosures for Sen. Jeanne Shaheen, 2009
Financial Disclosures for Sen. Jeanne Shaheen, 2010
Financial Disclosures for Sen. Jeanne Shaheen, 2011
Financial Disclosures for Sen. Jeanne Shaheen, 2012
Financial Disclosures for Sen. Jeanne Shaheen, 2013
OpenSecrets.org, Personal Finances: Jeanne Shaheen, accessed Aug. 28, 2014
Boston Globe, "Shaheen support, ties to breast cancer research scrutinized," June 24, 2014
New Hampshire Union Leader, "Shaheen vote on stimulus funding raises questions," June 25, 2014
United States Senate, U.S. Senate Roll Call Votes 111th Congress - 1st Session No. 64, Feb. 13, 2009
Telegraph, "Shaheen releases family tax returns," June 25, 2014 accessed via Nexis Aug. 29, 2014
New Hampshire Public Radio, "Shaheen Releases Eight Years Of Federal Tax Returns," June 24, 2014
Concord Monitor, "Shaheen releases tax return documents," June 25, 2014
Associated Press via WMUR, "Shaheen releases tax returns in Senate race," June 24, 2014
Browse the Truth-O-Meter
More by Steve Contorno
Support independent fact-checking.
Become a member!
In a world of wild talk and fake news, help us stand up for the facts.