Stand up for the facts!
Our only agenda is to publish the truth so you can be an informed participant in democracy.
We need your help.
I would like to contribute
"The Kochs stand to make around $100 billion if the government approves the Keystone XL pipeline."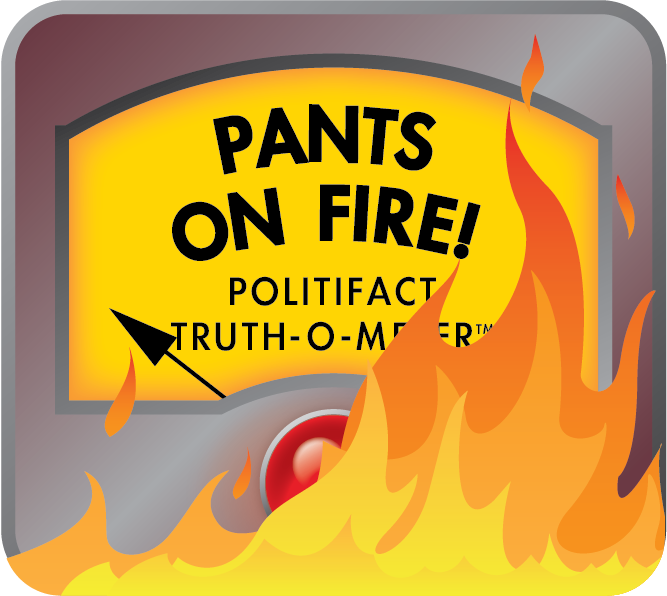 No, the Kochs won't make $100 billion from the Keystone XL pipeline
Opponents of the Keystone XL pipeline are stoking fear about the project by connecting it to two of the biggest bogeymen in politics: Charles and David Koch.
The claim goes that the Koch brothers stand to make $100 billion if the pipeline gets built. The figure, which would effectively double the Kochs' net worth, has bounced around liberal news organizations and was repeated this month by progressive radio talk show and TV host Thom Hartmann on his RT show.
Take it with a block of salt, a PunditFact analysis finds.
The $100 billion estimate is far from a neutral analyst's prediction, based instead on the far-out calculations of a group that wants the pipeline, and the Koch brothers, to fail. Here's what you need to know.
Keystone and Kochs in context
First, let's put $100 billion in perspective. That's an enormous sum, half as much as Facebook's value, about the same as the Dominican Republic's GDP and approximately equal to the Kochs' combined, reported net worth.
If the brothers had a sure windfall on their hands, you might think they would be actively promoting the pipeline, or at least be positioned to pounce by reserving space in it or actively drilling in the area. (Map via TransCanada.)
But the Kochs have repeatedly told reporters and Democratic lawmakers that the company has no involvement in the pipeline and is not a proposed customer. For the record, "we are supportive of it," Koch Industries spokesman Rob Tappan told PunditFact. Pipeline builder TransCanada has also tried swatting down Koch connections, saying Koch Industries has "absolutely nothing" to do with the pipeline.
Koch Industries is, however, a major player in the Canadian oil market. The Washington Post identified the company in April 2014 as the largest foreign leaseholder of acres of Canadian oil sands.
An Alberta Energy spokesman told us the agency could not confirm the Post's analysis of Koch-leased lands -- estimated to be between 1.12 million to 1.47 million acres -- because "organizations like Koch can change and occasionally restructure."
Even so, the considerable amount of land leased by the Kochs does not automatically signal that the Kochs will get a sure $100 billion payout, or any payout. Many of the Koch land-leases, the Post reported, came before Keystone was ever proposed, the company has not reserved space in the pipeline as is typical, and the pipeline route would not run near Koch-owned refineries.
How you get $100 billion
The origin of the Keystone = $100 billion for the Kochs line stems from a 2013 report from the International Forum on Globalization. While that group may sound neutral, it in fact opposes "free market" institutions such as the World Trade Organization, International Monetary Fund and North American Free Trade Agreement. The group also makes no secret of its opposition to the pipeline and Koch Industries. It produced an October 2013 report, "The Billionaires' Carbon Bomb: Koch brothers and Keystone XL."
Experts we consulted were struck by the report's bias, with chapters devoted to victims of "Koch greed" and the Kochs' vast web of nonprofit spending for political aims, as well as its calculation that the Keystone XL pipeline carries "$100 billion in potential profits" for the Kochs. Experts in energy, economics and business called the methodology behind the figure "absurd" and "puzzling."
In PunditFact terminology, that would be Pants on Fire.
In an email, International Forum on Globalization executive director Victor Menotti (notable for his arrest during anti-WTO protests in 1999) said his group kept the methodology "simple to give people a credible idea of what Koch has at stake with Keystone."
The group came up with two different numbers -- experts didn't vouch for either -- and multiplied them together to come up with Kochs' potential profits.
The group assumed that the land leased by Koch would contain 15 billion barrels of "profitable-to-produce" Canadian tar sands oil, a guesstimate extrapolated from one documented 2006 sale of a 374,000-acre parcel with 47 billion barrels of oil mixture (more details on page 8 of the IFG report).

The group assumed a $15 gross production per barrel due to Keystone XL.
Multiply one by the other and you get $90 billion. Round it up by $10 billion and you get headlines.
Counting the ways
We consulted four experts in energy economics and the petroleum industry to review the forum's report and offer their analysis. They pointed out 10 significant flaws.
1. Price of oil is down: When the report was released, oil prices were about $100 a barrel. They've since fallen to about $75 a barrel, a drop that cuts into the report's estimated profit of $15 per barrel. Menotti acknowledges this and said his group is working on an update that accounts for the drop in the price of oil since the summer.
2. Not realistic: The amount of oil the group says the Kochs will pump through the pipeline (15-16 billion barrels) is "enough to fill Keystone XL to capacity for about 80 years if you assume that all the oil is shipped as diluted bitumen," said Andrew Leach, a professor of energy policy at the University of Alberta School of Business.
3. Unlikely payoff: Leach said a better measure to understand the potential return for the Kochs is by looking at current lease sale prices. In Alberta, oil leases are running about $70 an acre. Multiply that by 2 million acres -- the high end of what the Kochs may have -- and you get $140 million. "It's pretty hard to believe that a pipeline would increase the value of an oil sands lease by three orders of magnitude," Leach said.
4. Development takes time: According to the Vancouver Observer, Koch has filed a development permit for one site, "but the time to develop all 2 million acres would be very long," Leach said. The weather and infrastructure costs present more of a challenge to produce in Alberta.
5. Keystone creates more competition: The pipeline would introduce more competition into refineries that have been bottlenecked with too much oil from Bakken and Midwestern crude at Cushing, Okla., pipelines, the experts said. If the pipeline is built, more Canadian oil sands could enter the market at Gulf Coast refineries to compete with oil brought in from the Middle East and Venezuela. "Competition doesn't usually lead to increased prices," said Anastasia Shcherbakova, a University of Texas Dallas clinical assistant professor in energy economics and energy finance.
6. Does not factor in taxes: The report does not factor in taxes or royalties that need to be paid to the Canadian government, another factor that eats into the assumption of $15 profit per barrel, said Detlef Hallermann, a Texas A&M University associate clinical finance professor who earned his doctoral degree in mineral economics.
7. Lack of discount rate: The usable oil substance will not be plied from below the surface all at once. Oil-sands mining is a long-term, high-cost investment, and the report does not go into how long the estimated 6 billion barrels would take to produce. Revenues generated over time should be calculated in present value, not nominal terms, to reflect how much it costs to bring the project online and maintain it, Shcherbakova said. "My understanding of the analysis ... is they're counting all $100 billion as if it's all coming to you today," Hallermann said.
8. The Kochs don't own the land: The Kochs are not the owners of these acres, they own the rights to explore the parcels themselves. Leases are held for a term, not for forever, said Terry McInturff, chairman of Texas Tech University's area of energy, economics and law.
9. Every acreage is not equal: The report assumes the geology of the leased land is uniform and will yield uniform amounts of oil. But that is not how it works in Alberta's boreal forests. "That would be too easy," Shcherbakova said.
10. Assumes no Keystone, no oil: Experts also noted that the report mistakenly assumes that other methods to transport crude oil sands would not happen if the pipeline is rejected.
Our ruling
The claim here is that the Koch brothers will turn a $100 billion profit if the Keystone XL pipeline is constructed, essentially doubling their net worth.
As we've shown, the Kochs hold oil leases in Canada. We're not ruling out that they could benefit in some ways from the Keystone XL pipeline. But trying to extrapolate their oil-sands leases into a specific profit figure is sheer folly. The authors of the report that tried to do so made so many assumptions and mistakes that experts deemed their analysis "absurd."
We rate it Pants on Fire!
Interview with Peter Murchland, Alberta Energy spokesman, Nov. 12, 2014
Interview with Anastasia Shcherbakova, University of Texas-Dallas professor of energy economics, Nov. 13, 2014
Interview with Rob Tappan, Koch Industries spokesman, Nov. 12, 2014
Interview with Thom Hartmann, Twitter, Nov. 13, 2014
Interview with Victor Menotti, International Forum on Globalization spokesman, Nov. 14, 2014
Interview with Detlef Hallermann, Texas A&M associate clinical professor in finance, Nov. 16, 2014
Interview with Terry McInturff, Texas Tech University department chairman of energy, economics and law, Nov. 16, 2014
Interview with Andrew Leach, University of Alberta School of Business professor, Nov. 17, 2014
KochFacts.com, letter to Rep. Henry Waxman, April 2014
MLive.com, "Letter: Koch Industries have absolutely nothing to do with Keystone XL," Oct. 30, 2013
Washington Post, "The biggest land owner in Canada's oil sands isn't Exxon Mobil or Chevron. It's the Koch brothers," March 20, 2014
Washington Post, "Does Koch Industries hold most Canadian oil sands leases? It's complicated," April 7, 2014
Reuters, "Koch brothers positioned to be big winners if Keystone XL pipeline is approved," Feb. 10, 2011
Browse the Truth-O-Meter
More by Katie Sanders
Support independent fact-checking.
Become a member!
In a world of wild talk and fake news, help us stand up for the facts.