Stand up for the facts!
Our only agenda is to publish the truth so you can be an informed participant in democracy.
We need your help.
I would like to contribute
I turned "a $110 million deficit into a $1.6 million surplus for our city."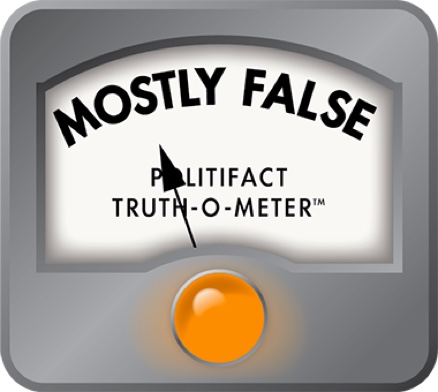 Providence Mayor Angel Taveras says he has turned Providence's $110 million deficit into a $1.6 million surplus
After Angel Taveras was sworn in as mayor of Providence on Jan. 3, 2011, he discovered that the city was facing big financial problems. Now that the Democrat is running for governor, he is boasting about how he brought that debt under control.
"I'm proud of my record as mayor, which includes turning a $110 million deficit into a $1.6 million surplus for our city," he said in a May 12, 2014, fundraising letter.
That's a lot of money saved in a city where the 2014 budget is $662 million. We know that the Taveras administration found substantial savings by getting concessions from the city's unions, closing some schools, making other cutbacks, and raising revenue through additional taxes, including increased payments from tax-exempt institutions.
But was the city really $110 million in the red and is it now $1.6 million in the black? Not exactly.
During his budget address on April 29, 2014, Taveras was more precise: "Last year, we finally eliminated the $110 million structural deficit and ended the year with a $1.6 million surplus," he said.
The key word here is "structural," and we suspect that most people don't even know what a "structural deficit" is. When cities and towns draft budgets and get audited, the term is usually nowhere to be found.
You have a "structural deficit" if you're going to lose money unless you increase your revenue or cut your spending, regardless of whether the economy is doing well or not, said Edward M. Mazze, former dean and current professor of business at the University of Rhode Island
In other words, if the tally of your projected expenses for the coming year -- food, electricity, mortgage, and the rest -- comes to $50,000 and your projected income is only $40,000 a year, you have a structural deficit of $10,000.
In January 2011, after it appeared the city was spending far more money than it was taking in, Taveras commissioned a report from a team of outside experts which concluded that, unless things changed, Providence would accumulate $109.9 million in new debt during the 2011-2012 fiscal year, the first full fiscal year of the Taveras administration. That was its projected structural deficit for the year.
The actual deficit for that year never got that high because his administration, in conjunction with the city's unions, moved quickly to bring down costs and raise revenue. (The structural deficit for the previous fiscal year, which began when David Cicilline was mayor, was estimated to be $69.6 million.)
How big did the actual deficit get under the Taveras administration?
The best numbers come from the city's annual audit. According to the report from the period ending June 30, 2012, the accumulated deficit from that year, combined with previous years, had grown to $11.4 million. That's a far cry from the $110 million deficit Taveras talks about in his fundraising letter.
And was there really a $1.6-million surplus?
Yes. It was in the 2013 fiscal year, which ended June 30, 2013. But because the debt, technically known as cumulative deficit, was so large to start with, the extra $1.6 million simply trimmed the debt to $9.8 million.
The cumulative deficit for the current fiscal year won't be released until December. The city is hoping to shrink it by another million dollars.
We asked city finance officials how they know that the $110 million structural deficit estimate was reasonable at the time.
The city's Administration Director, Michael D'Amico, said $110 million in changes were made based on the $110 million projection. If the projection had been inaccurate, the city would have seen a huge surplus, which it didn't.
When we asked the Taveras campaign why the term "structural deficit" was not used in the letter, spokeswoman Dawn Bergantino said "there wasn't any motive for not using the term in that email."
"We are pretty consistent in using the term 'structural deficit,' but in this instance we just didn't," she said. "No, the city didn't end up $110 million in the red. But had he not taken action to close that deficit, it would have."
Our ruling
In a fundraising letter, Angel Taveras said he turned "a $110 million deficit into a $1.6 million surplus for our city."
The average reader would get the impression that the city was $110 million in debt but now has an extra $1.6 million.
The threat of a $110 million deficit was real, but the city's actual debt never accumulated to anything close to that amount. To their credit, Taveras, his staff and the city's unions engineered a major turnaround in the city's finances that prevented that from happening.
The $1.6 million surplus was also real, but only for that year. And by then the city was so deep in debt, its general fund was still $9.8 million in the hole. And if the city hits its target this year, it will still be roughly $8.8 million in the red when the fiscal year ends June 30.
Although Taveras accurately characterized the potential deficit in his budget speech, the campaign letter that initially caught our attention gives the false impression that (a.) the city was $110 million in debt when it wasn't and (b.) it's not in debt anymore, which it is.
The campaign fundraising letter oversimplifies and overreaches to the point of being deceptive.
Because the statement contains some element of truth but ignores critical facts that would give a different impression, we rate it Mostly False.
(If you have a claim you'd like PolitiFact Rhode Island to check, email us at [email protected]. And follow us on Twitter: @politifactri.)
ProvidenceRI.com, "Finance reports and audits" page, and "Report of the Municipal Finances Review Panel -- February 2011," City of Providence Finance Department, all accessed May 13-16, 2014
Interviews, Michael D'Amico, director of administration, and David Ortiz, spokesman, City of Providence, May 14 and 22, 2014, and Lawrence J. Mancini, finance director, City of Providence, May 14, 2014
Emails, Matthew M. Clarkin, Jr., internal auditor, City of Providence, May 16, 2014
Interview and emails, Dawn Bergantino, spokeswoman, Angel Taveras campaign, May 13-15, 2014
Interview, Edward M. Mazze, professor of business, University of Rhode Island, May 21, 2014
Browse the Truth-O-Meter
More by C. Eugene Emery Jr.
Support independent fact-checking.
Become a member!
In a world of wild talk and fake news, help us stand up for the facts.