Stand up for the facts!
Our only agenda is to publish the truth so you can be an informed participant in democracy.
We need your help.
I would like to contribute
"PolitiFact Texas gave" a David Dewhurst TV ad "a 'Pants-on-Fire' rating as an outrageous lie."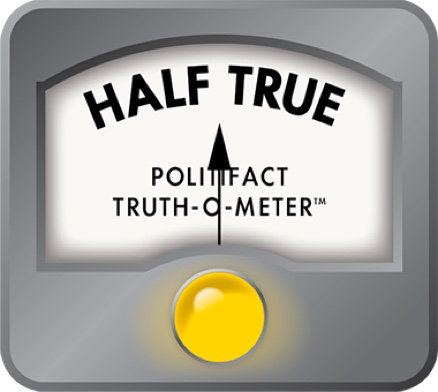 Dan Patrick incorrectly says Pants on Fire slapped on entire David Dewhurst ad
In TV spots and a voter mailer, state Sen. Dan Patrick declares the Texas Truth-O-Meter found his opponent's latest TV ad, hammering Patrick's past financial troubles, to be a lie.
That's curious because we haven't rated a full ad from anyone lately, including the anti-Patrick ad launched in April 2014 by Lt. Gov. David Dewhurst after Patrick led Dewhurst in the March primary for the Republican lieutenant governor nomination; the two face a May 27 runoff.
For this fact check, we're reviewing a statement in a Patrick campaign mailer brought to our attention by a reader as well as Dewhurst campaign spokeswoman Eliza Vielma.
The front side of the mailer shows Dewhurst with his hand half-raised, like a stop sign, and these words in red: "Bankruptcy, unpaid taxes, tax liens, unpaid debts, lawsuits." The other side shows a frowning Dewhurst with the word "lie" stamped on his forehead next to a depiction of the Politifact Truth-O-Meter, its arrow pointed at our most severe rating, Pants on Fire; flames dance around it.
"David Dewhurst's latest personal attack is a lie," the mailer's text says. "Desperate and lagging in the polls, David Dewhurst has resorted to outright lies in an attempt to malign his opponent. He has spent over $1 million on airing a TV ad he knows is a lie. PolitiFact Texas gave the (Dewhurst) television ad a 'Pants-on-Fire' rating as an outrageous lie," the mailer says. This entire statement is attributed to PolitiFact Texas and it's dated April 17, 2014.
Dewhurst's ad showed a woman sitting in an armchair suggesting Patrick's personal bankruptcy, which was filed in the 1980s and resolved in 1992, raises doubts about his being able to run the state honestly.  Key elements included a reporter asking Patrick in a debate about his walking away from over $800,000 in debts in the bankruptcy. The ad also referenced a Sept. 19, 2013, news story in the Dallas Morning News stating Patrick had numerous tax liens filed against him.
On April 17, we rated as Pants on Fire another claim in Dewhurst's ad--that Patrick changed his name to hide his debts. Patrick, who grew up as Dan Goeb, had gone by the name Dan Patrick as a broadcaster since the late 1970s but legally changed his name in 2003 in anticipation of running for public office--more than a decade after his personal bankruptcy case ended. Based on that time gap and an absence of other factual back-up, we found Dewhurst's name-change statement incorrect and ridiculous.
Dewhurst's ad also said Patrick was caught not paying taxes and pocketed employees' payroll taxes. On April 28, we rated this claim Half True. Government agencies had filed liens against Patrick for unpaid taxes in the 1980s. But we saw no proof Patrick pocketed employees' payroll taxes.
Logan Spence, Patrick's campaign manager, stood by Patrick saying we found the entire Dewhurt ad a Pants on Fire lie. PolitiFact Texas "judged one attack as a pants-on-fire lie and the other attack as only half true," Spence said by email. "On the whole, it is completely accurate to say that the ad is a lie because it intentionally distorts the truth."
Our ruling
Patrick said "PolitiFact Texas gave" the Dewhurst TV ad "a 'Pants-on-Fire' rating as an outrageous lie."
We didn't rate the overall ad emphasizing Patrick's past financial difficulties. Rather, we rated one of its claims Pants on Fire and another claim Half True.
We rate Patrick's statement, which overstates our findings, as Half True.
---
HALF TRUE – The statement is partially accurate but leaves out important details or takes things out of context.
Click here for more on the six PolitiFact ratings and how we select facts to check.
Truth-O-Meter article, "David Dewhurst lofts ridiculous unsupported claim about Dan Patrick legally changing his name to hide debts," PolitiFact Texas, April 17, 2014
Truth-O-Meter article, "Dewhurst correct government acted on Patrick not paying taxes, but records inconclusive on his 'pocketing' employees' payroll taxes," PolitiFact Texas, April 28, 2014
News story, "Lieutenant governor candidate Dan Patrick knows struggles of going broke," Dallas Morning News, Sept. 19, 2013
Email, Logan Spence, campaign manager, Dan Patrick campaign, April 29, 2014
Browse the Truth-O-Meter
More by W. Gardner Selby
Support independent fact-checking.
Become a member!
In a world of wild talk and fake news, help us stand up for the facts.