Stand up for the facts!
Our only agenda is to publish the truth so you can be an informed participant in democracy.
We need your help.
I would like to contribute
Unemployment in Texas has risen over two percentage points with Rick Perry as governor.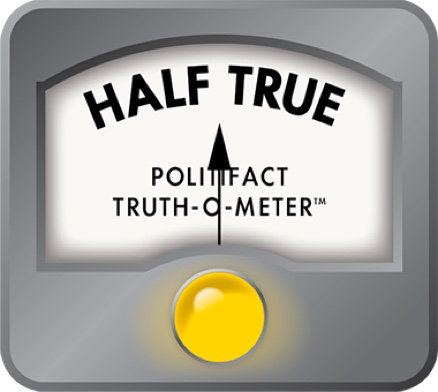 Garden State Democrat compares Texas jobless rates for two months to deliver incomplete picture of joblessness on Rick Perry's watch
A New Jersey Democrat recently proclaimed similarities between the Republican governors of the Garden State and Texas, saying Chris Christie and Rick Perry both have hurt women, families and their respective state's economy.
John Currie, who chairs the New Jersey Democratic State Committee, aired his criticisms in a Sept. 9, 2013, guest post on a blog, the Austin-based, pro-Democratic Burnt Orange Report.
Noting that Christie was making a Texas political fundraising trip, Currie took Perry to task for fresh abortion restrictions he signed into law as well as cuts in public school spending approved in 2011. Currie also touched on the state's high ranking in residents paid the minimum wage; in August 2011, we rated such a claim as True.
But the Currie claim that drew the Texas Truth-O-Meter had to do with more Texans being jobless than before Perry became governor.
Currie wrote: "After over a decade in office, the unemployment rate in Texas has risen by over two (percentage) points," according to the U.S. Bureau of Labor Statistics. "When he (Perry) took office in January 2001, the unemployment rate there was 4.2 percent. As of this summer, it is 6.5 percent."
Perry, governor since late 2000, has long touted Texas' job gains.
Along those lines, we've quoted Pia Orrenius, a senior economist for the Federal Reserve branch in Dallas, as saying that some of the favorable economic factors in Texas are its booming Gulf ports and its surging trade with Mexico and China. Orrenius also ranks among experts who have told us that job gains and losses in a state aren't controlled by whoever is governor. Orrenius said in June 2011: "Long before Rick Perry (became governor), we were talking about the great Texas economy."
Still, did joblessness get worse on Perry's watch?
To our inquiry, Cheryl Abbot, a BLS regional economist, emailed charts showing that the Texas unemployment rate was 4.2 percent in January 2001, Perry's first full month as governor. The state's jobless rate was 6.5 percent in July 2013, the latest month for which the bureau calculated a rate before Currie's article appeared. There's a 2.3 percentage point difference.
A refresher: The unemployment rate, based on government surveys, reflects the estimated share of adults hunting for work who say they are unemployed. In January 2001, by this measure, nearly 443,000 Texas adults in the state workforce of nearly 10.5 million were jobless, according to the bureau. In June 2013, the latest month for which the bureau had comparable figures, 831,850 adults were unemployed in the workforce of nearly 12.8 million, the bureau says.
According to the government surveys, nearly 12 million Texans had jobs in June 2013 compared with 10 million in January 2001.
There are other substantive wrinkles to consider.
For instance, the Texas jobless rate didn't steadily surge from the New Jerseyan's cited 4.2 percent to 6.5 percent. Instead, according to the bureau, the rate essentially went up, then down, then up, then down, then up.
Specifically, the rate rose to 6.9 percent as of June and July 2003; decreased to 4.3 percent for April through September 2007; increased to 8.3 percent in February and March 2010; and then fell or decreased most months from April 2010 to December 2012 when it was 6.2 percent. In 2013, it went from 6.3 percent in January to 6.5 percent in May through July.
Other aspects: The Texas unemployment rate exceeded the national jobless rate for the first 70-plus months of Perry's governorship, according to the bureau, but the rate has trailed the national rate since January 2007, or for 79 months. The national rate was 7.4 percent in July 2013, the bureau says.
Abbot, asked to elaborate on the changes, replied: "For the most part, Texas (and all other states) followed the national pattern as far as unemployment rates are concerned. When the economy was doing well, unemployment rates were low and when the economy was doing poorly, jobless rates were high. Where the state differences manifest themselves is in the specific timing of upturns and downturns and the magnitude of change in their unemployment rates," she wrote. "Some states entered the" latest "recession later than others."
By telephone, Bernard "Bud" Weinstein, a Southern Methodist University economist, said he prefers to judge economies by federal surveys of employers indicating how many individuals are on payrolls rather than depending on household surveys behind the unemployment rates.
"How many people are bringing home regular paychecks?" Weinstein said.
At our request, BLS economist James B. Howard Jr. emailed a chart reflecting results of the payroll surveys. It indicated that more than 9.5 million individuals were on Texas payrolls in January 2001, while nearly 11.2 million were on payrolls in July 2013, the difference being 17 percent. Nationally, according to the bureau, the nation had about 3 percent more individuals on payrolls in July 2013 (136 million people) compared to January 2001 (133 million).
Weinstein said too that it remains questionable how much a governor controls economic conditions, which would include unemployment. Many other individuals and factors come into play, he said, of late including the financial collapse on Wall Street, the housing bust and credit difficulties.
"Economies are global," Weinstein said.
Our ruling
Currie said unemployment has risen more than two percentage points during Perry's governorship.
This is supported by cherry-picking the latest available Texas jobless rate, 6.5 percent for July 2013, and comparing it to the 4.2 percent rate in January 2001, Perry's first full month as governor.
But this delivers an incomplete picture given that the state's jobless rate bounced around through the 12-plus years. One can also note, for instance, that the 2013 monthly rates have been lower than the Perry-era high of 8.3 percent in early 2010. Also, the Texas rate has trailed the national rate for more than six years.
Finally, it's not reasonable to blame (or credit) a governor for a state's unemployment rate. How an economy fares is not determined by the state's chief elected official.
We rate this claim as Half True.
------------------------------------------------------------------------------------------
HALF TRUE – The statement is partially accurate but leaves out important details or takes things out of context.
Click here for more on the six PolitiFact ratings and how we select facts to check.
Emails, Cheryl Abbot, regional economist, U.S. Bureau of Labor Statistics, and James B. Howard Jr., economist, Economic Analysis & Information, BLS, Sept. 13 and 16, 2013
Charts showing unemployment rates Texas, New Jersey and the United States (received by email from Abbot, BLS, Sept. 13, 2013)
Charts, "Employment, Hours, and Earnings from the Current Employment Statistics Survey," BLS (received from Howard, BLS, Sept. 16, 2013)
Telephone interview, Bernard "Bud" Weinstein, associate director, the Maguire Energy Institute, Southern Methodist University, Dallas, Sept. 16, 2013
Browse the Truth-O-Meter
More by W. Gardner Selby
Support independent fact-checking.
Become a member!
In a world of wild talk and fake news, help us stand up for the facts.