Stand up for the facts!
Our only agenda is to publish the truth so you can be an informed participant in democracy.
We need your help.
I would like to contribute
Fewer Democrats were on the Georgia general election ballot in 2012 than in more than 100 years.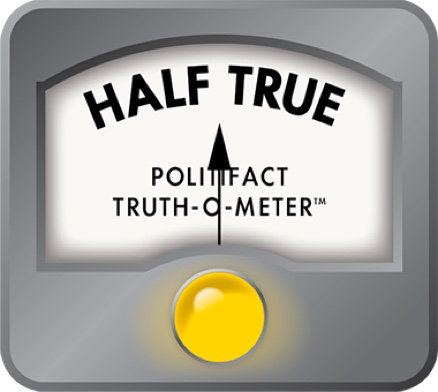 Ballot claim hard to prove over 100 years
You can't win if you don't play.
That mantra holds true for the lottery and for politics, or so says one Georgia politico.
Bryan Long, executive director of the group Better Georgia, expressed this sentiment to the head of Georgia's Democratic Party, Mike Berlon, last month during an Atlanta Press Club event.
With retiring U.S. Sen. Saxby Chambliss' seat up for grabs, Berlon would rather the party support a single candidate for an uncontested primary. That doesn't sit too well with some of the party's leaders, who chided Berlon for not putting up Democratic candidates to run in some key 2012 state races.
"When we ran the numbers, we saw fewer Democrats on the ballot in this last election than in more than 100 years," Long said. "If your goal was to increase the turnout in all these counties, I'm not sure how by having fewer Democrats run would meet that goal."
One hundred years is a long time and a lot of races to count. We decided to check out Long's claim and see whether old state ballots contained more Democratic candidates.
Long left a public relations job to start Better Georgia, an affiliate of the ProgressNow network. Employees of the left-leaning group call themselves political troublemakers and highlight GOP policies with which they disagree. For full disclosure, Long is a former Atlanta Journal-Constitution reporter who has also reported for CNN.
We first saw the exchange between Long and Berlon reported on the AJC's Political Insider blog. Long also provided us with his full quote from the event.
He also provided his research of the past seven statewide elections, from 2000 to 2012, with data compiled from the Georgia secretary of state's website. Long's chart showed the total number of Democrats on the general election ballot for the state House and Senate for those years.
We reviewed his provided numbers on the state website and found that within a few candidates in some years, Long's data were mostly accurate.
Year        House        Senate        Total Democratic candidates
2012        86        26        112
2010        118        34        152
2008        99        35        134
2006        110        36        146
2004        123        43        166
2002        132        42        174
2000        133        42        175
"Even with the state's increasing diversity, the number of Democratic candidates has decreased," Long told us. "Demographics don't win elections. It's about putting candidates on the field to challenge for those seats."
Long did not provide 100-year data to support his claim. He based his statement on the decreasing number of Democrats on the ballot (with a minor exception in 2010) since 2002, when Sonny Perdue was elected governor.
"Before that (2002) it's an assumption because the Democrats were in control of everything," Long said. "The Democrats were the majority party."
But the pure numbers don't really mean anything in terms of candidates, Berlon told us. "It's problematic to run a candidate in every race when you are the party not in power," he said. "... We've been targeting races we think we can win because we have a limited amount of resources."
We went further with our research, reviewing the numbers as far back as 1988, the earliest data available on the secretary of state's elections website. Those figures -- with the exception of 1994 and 1992, which were not available online -- showed that Democratic ballot representation didn't fall below the 171 candidates in 1998.
But Long's comment went back 100 years, and around here we aim to be totally accurate, so we also went back 100 years -- at least we tried to.
We pored over all the volumes of the Georgia Official and Statistical Register from 1923 to 1990 for more information. The register included ballot information for 1980-1990, 1970-1974 and 1966. State legislative data for all other years was not included, and elections officials were researching whether the information was available elsewhere.
For the years that were available, the Democratic candidates on the state ballots numbered in the 200s, up to 256 candidates in 1966.
Until 2002, Democrats held about 60 percent of the state's legislative seats, said University of Georgia political science professor Charles Bullock, who tracks state political trends. In the 1980s Democrats held about 80 percent of the General Assembly's seats.
But it's not uncommon for the minority party to have a harder time recruiting candidates, Bullock said.
So does Long's claim pass the test of time?
He said that Georgia's 2012 general election ballot included fewer Democratic candidates for the state House and Senate than in the past 100 years.
State elections data that are available for the previous 46 years confirm Long's claim. Data before this point were not readily available to check. And there is a 42-year gap when information is not available.
Long's overall point that 2012 was a light year for Democrats is correct. But he overreaches when he tries to stretch those numbers back a century. A lot of context -- and years -- are missing from his statement.
We rated his claim Half True.
The Atlanta Journal-Constitution, Political Insider, "Fellow Dems condemn Mike Berlon's primary-clearing plans," Jim Galloway, April 24, 2013
Telephone interview, email exchange, Bryan Long, executive director, Better Georgia, May 17, 2013
Better Georgia website, http://bettergeorgia.com/staff/
Phone interview, Mike Berlon, chairman, Democratic Party of Georgia, May 20, 2013
Email exchange, Charles Bullock, political science professor, University of Georgia, May 20, 2013
Georgia Secretary of State's Office, Elections Division, election results and statistics, 1998-2012
Georgia Official and Statistical Register, 1923-1990

The Atlanta Journal-Constitution, "Emerging force in Georgia politics likes to needle ruling party,"
Greg Bluestein, April 19, 2013
Browse the Truth-O-Meter
More by Janel Davis
Support independent fact-checking.
Become a member!
In a world of wild talk and fake news, help us stand up for the facts.