Stand up for the facts!
Our only agenda is to publish the truth so you can be an informed participant in democracy.
We need your help.
I would like to contribute
Georgia "spends in the top 10 nationally on education, yet, most of our education metrics hover in the bottom five."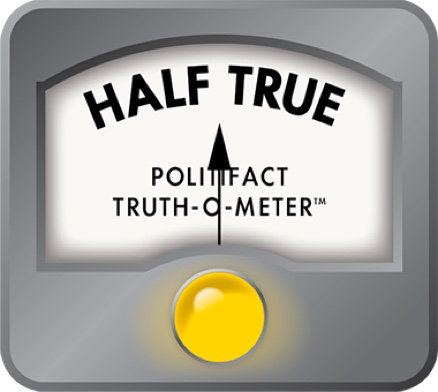 Ex-DeKalb school official says state's spending, results don't match
Since Nancy Jester's departure from the DeKalb County school board, she has kept busy. She hosts a radio show focused on education. And she's still a fixture on the DeKalb education scene, with an active website and blog about the district's issues and all things education related.
Earlier this month, Jester took her ideas to The Marietta Daily Journal for an op-ed about the controversial Common Core national education standards.
"Our state spends in the top 10 nationally on education, yet, most of our education metrics hover in the bottom five. We have to admit that we need a change in leadership on educational issues in Georgia," Jester said. "… Georgia has a long road ahead but Common Core is not a path to prosperity."
It is important to note that Georgia was the ninth most populous state in the nation, at the last census count in 2010. And the Peach State also had the eighth most K-12 students in the country. So, having a lot of students would equal more education spending.
We wanted to determine whether Jester was correct on the state's education finances and student achievement, so we hit the books for answers.
Jester, who is considering a run for state school superintendent, told us she got her information from 2010 census reports.
We reviewed the Census Bureau's public education finance report for that year, which included public school spending data by state. Using the aggregate spending figure -- including money from federal, state and local sources -- Jester was correct. Georgia spent the 10th most on education in fiscal 2010, at $15.7 billion. California, New York, Texas, Illinois, New Jersey, Florida, Pennsylvania, Ohio and Michigan spent more than Georgia.
A census researcher also led us to the 2011 education finance report for more recent figures. Again, on aggregate spending, Georgia ranked 10th, with the same states from the previous year rounding out the other top positions.
Jester's claim is based on overall education spending, but Georgia's rank drops substantially in those years, to 33rd and 35th respectively, when per-pupil spending is considered, according to census reports. When adjusted for regional costs of living, Georgia ranked worse at 38th nationally for per-pupil spending in 2012.
We next turned to education metrics. Jester didn't mention specific benchmarks, but generally ACT and SAT scores, and graduation rates are used to measure state performance through student achievement.
We checked the U.S. Department of Education's state-by-state graduation rates for the 2010-2011 school year (the most recent available). Georgia's four-year graduation rate was 67 percent that year, lower than every state except Nevada and New Mexico.
The low rate that year was partly attributed to the DOE's new four-year calculation, implemented nationally for the first time, and based on how many ninth-graders graduate with a standard diploma within four years. Before the new calculation, some states included students in their graduation rates who took longer to receive their diplomas. Under the old calculation, Georgia had an 81 percent graduation rate in the 2009-2010 school year.
We then looked at ACT scores. In 2013, about 51 percent of Georgia graduates took the ACT, combining for a state composite score of 20.7, out of a possible score of 36. (The national average composite score for that year was 20.9.) Georgia's scores were not in the bottom five among other states this year, nor in 2012 when the state's students also achieved a 20.7 composite score.
We also examined Georgia's scores on the other popular college admissions test, the SAT, administered by the College Board. On that test, Georgia's average score from 2012 to 2013 was flat, at 1452 out of 2400 possible points. The state score was below the national SAT average score of 1498 for both years.
The Commonwealth Foundation, a free-market think tank in Pennsylvania, compiled SAT data for 2013, which listed Georgia as 45th in the nation based on its scores. Georgia is considered a high-participation state for the SAT, with 75 percent of students taking the test this year. The Peach State ranked just above the bottom five in that list, but close enough to support Jester's claim.
We also considered the Education Weekly's annual Quality Counts reports that focuses on state efforts in education. This year, Georgia ranked seventh among states with a B- rating of 81.0 out of a possible 100 points. (The 2013 national average was a C+, 76.9 rating.) Georgia received the same rank and letter grade in 2012.
The report tracks six areas of policy and performance. Georgia received A's in the areas of Transitions and Alignment and Standards, Assessments, and Accountability. But received C's in the areas of K-12 Achievement, Chance for Success and School Finance.
So does Jester's claim earn a passing grade?
She is correct that Georgia spends in the top 10 nationally for public K-12 spending. But Georgia is also in the top 10 nationally for the number of K-12 students in the state, so a high level of spending is expected. It is also important to note that Georgia's ranking drops significantly, to the bottom third of all states, for per-pupil spending.
National results of college readiness exams and graduation rates ranked Georgia among the bottom in most reports. Georgia did rank in the top 10 states nationally in a survey touted by state education officials. But even in that report, Georgia scored low marks in key areas, including student achievement.
Jester's statement is partially accurate but leaves out important details about education funding that could give the reader a different impression.
We rate Jester's claim Half True.
The Marietta Daily Journal, "Georgia has a long way to go, but Common Core is no path to prosperity," Nancy Jester, Oct. 10, 2013
Email response, Nancy Jester, Oct. 14, 2013
NancyWhatsUpWithThat blog, "The more you know -- where Georgia ranks in education," Nancy Jester, Nov. 5, 2012
U.S. Census Bureau, Public Education Finances 2010, Governments Division report, Mark Dixon, issued June 2012; and Public Education Finances 2011, issued May 2013
Phone interview, U.S. Census Bureau researcher, Governments Division, Educational Finance and Special Statistics Branch, Oct. 18, 2013
The Atlanta Journal-Constitution, "DeKalb school board members formally removed, as eyes turn to Supreme Court," Greg Bluestein and Ty Tagami, Aug. 2, 2013
Dunwoody Patch, "Dunwoody's Nancy Jester resigns from DeKalb school board," Tim Darnell, March 6, 2013
WABE, 90.1, "Jester considers run for state superintendent," Martha Dalton, Oct. 18, 2013
ACT.org, state reports, 2013 national and state SAT scores; 2012 scores
U.S. Department of Education, ED Data Express, Regulatory Cohort Graduate Rate - All Students 2010-11 By State
Georgia Public Broadcasting, "Meet Georgia's new graduation rate," Jeanne Bonner, April 10, 2012
Commonwealth Foundation for Public Policy Initiatives, SAT scores by state 2013, Jessica Barnett, Oct. 10, 2013
The Atlanta Journal-Constitution, Get Schooled blog, "Georgia earns a 7th place ranking…," Maureen Downey, Jan. 12, 2012
Education Week, Quality Counts 2013 report, issued Jan. 10, 2013; Quality Counts 2012 report, issued Jan. 12, 2013
Browse the Truth-O-Meter
More by Janel Davis
Support independent fact-checking.
Become a member!
In a world of wild talk and fake news, help us stand up for the facts.