Get PolitiFact in your inbox.
Says "At age 76 when you most need it, you are not eligible for cancer treatment" under Affordable Care Act.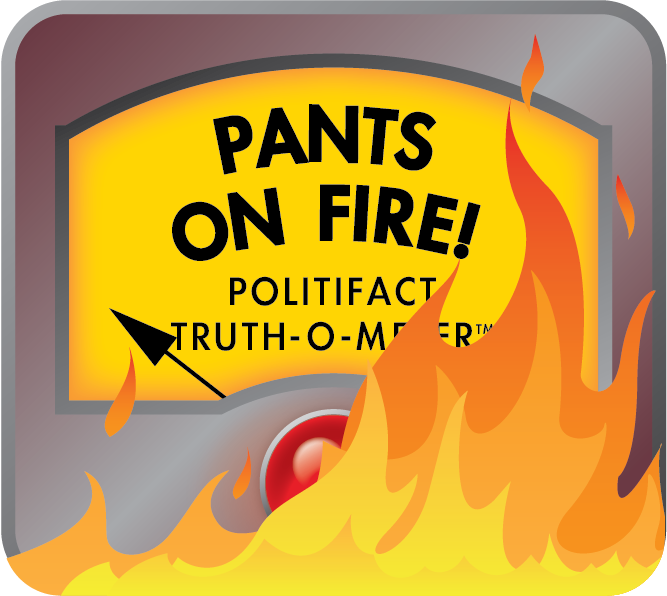 Will seniors be denied cancer treatment under Obamacare?
According to a chain email making the rounds, people over 75 years old will be denied cancer treatment under the Affordable Care Act, also known as Obamacare, after President Barack Obama.
The email also states that vitamin B12 shots won't be covered under Medicare because of Obamacare. Also, your primary care physician will have to admit you into a hospital -- as opposed to, oh let's say, an emergency care doctor -- or Medicare won't pay for it, again, because of Obamacare.
Here's a portion of the chain email, which a reader in Northeast Portland forwarded to PolitiFact Oregon, with a plea for more information. She said it came from a friend:
"Your hospital Medicare admittance has just changed under Obama Care. You must be admitted by your primary Physician in order for Medicare to pay for it! If you are admitted by an emergency room doctor it is treated as outpatient care where hospital costs are not covered. This is only the tip of the iceberg for Obama Care. Just wait to see what happens in 2013 & 2014! … (ellipses)
Please for the sake of many good people, please... pass this on. We all need to be informed.
YOU ARE NOT GOING TO LIKE THIS...
At age 76 when you most need it, you are not eligible for cancer treatment page  272."
The email goes on with a long list of other claims as assessed by a Judge David Kithil of Marble Falls, Texas. PolitiFact Oregon hopped to it.
And we learned very quickly -- through the power of the Internet -- that a version of this chain email has been kicking around since 2009, based on H.R. 3200, a 2009 bill that did not become law. Many of the claims have been debunked. In fact, FactCheck.org found just four of the 48 claims in the original email to be accurate. PolitiFact ruled two statements to be Pants on Fire. The chain email has morphed over the years, with new assertions added.
As for the cancer-related statement, the email cites page 272 of H.R. 3200 to back up its assertion that seniors at 76 are not eligible for cancer treatment. Later, the email specifies that under Section 1145 of H.R. 3200, "cancer hospital will ration care according to the patient's age."
Neither statement is accurate. There is no rationing, based on age or otherwise, on cancer treatment under the Patient Protection and Affordable Care Act signed into law in March 2010. Likewise, there is no rationing or cut-off age in 2009's H.R. 3200.
H.R. 3200 contained a section on "treatment of certain cancer hospitals." But the American Nurses Association described the section as  "the opposite of rationing. The section allows Medicare to pay cancer hospitals more if they are incurring higher costs." FactCheck.org agrees with the nurses group. And again, the bill never became law.
"All medically necessary treatment is covered by Medicare. Including cancer treatments, regardless of age," said Katherine Fitzpatrick with the Medicare Rights Center in Washington, D.C. and in New York.
Yet, none of the debunking seems to matter, because four years later, the email lives on via the forward button. The Internet is unstoppable. What, we wondered, did the Texas judge think of his undying notoriety?
"I wish it would die. I can't control it," David Kithil told PolitiFact Oregon. "I don't know how something like that goes viral like that."
The former judge said he wrote a letter to his local newspaper in 2009, protesting the initial version of the health care act. The letter was published in the River Cities Daily Tribune, circulation 5,000. Somehow, he said, the letter was republished online. Kithil wants readers to disregard his letter as it is outdated and based on legislation that did not become law.
"I've had calls from all over the country, 300 to 400 calls over three or four years on this," he said. He pleads with the callers, "Don't pass it on. It's not accurate anymore. Trash it."
He says he still has problems with the Affordable Care Act, but that's neither here nor there.
Both the Medicare Rights Center and AARP, the national organization for seniors, verified that hospital admittance has to do with billing under parts A or B of Medicare, the government health plan for seniors 65 and older. The Affordable Care Act reduces Medicare payments to hospitals with readmissions within 30 days for certain conditions, such as pneumonia, but that's not based on who admits the patient.
Also, a spokesman for the Centers for Medicare and Medicaid says Medicare has never covered vitamin B12 shots as a preventive benefit. Again, this isn't related to the Affordable Care Act.
Older patients diagnosed with cancer need not worry that treatment will be rationed or denied under the Affordable Care Act. The claim is based on an inaccurate reading of a bill that went nowhere. We don't know where or how the specific age of 76 was added -- Kithil said he doesn't remember including a specific age in his letter.
But we do know enough to rule this widely debunked and ridiculous-on-its-face statement a Pants on Fire.
Healthcare.gov, The Affordable Care Act, Section by Section (accessed June 3, 2013)
TruthorFiction.com, Warnings about HB-3200: Affordable Healthcare Act or Obamacare-Fiction! (accessed June 3, 2013)
The Washington Post, Fact Checker, "A judge's letter on health care and an email gone viral," Jan. 21, 2011
Phillyburbs.com, "Old misinformation about the Affordable Care Act doesn't die... it just gets recycled," Sept. 12, 2011
FactCheck.org, "Twenty-six Lies About H.R. 3200," Aug. 28, 2009
H.R. 3200, July 14, 2009
American Nurses Association, "H.R. 3200: Facts to Help Dispel House Health Care Reform Bill Myths," (accessed June 4, 2013)
Forbes, "Will Obamacare Really Prohibit Active Medical Intervention At Age 70?" Jan. 13, 2012
ConsumerReports.org, "Will Obamacare deny seniors cancer care?" Feb. 13, 2013
Snopes.com, Judge Dread, updated Feb. 13, 2013
PolitiFact, "E-mail 'analysis' of health bill needs a check-up," July 30, 2009
Centers for Medicare and Medicaid Services, "Readmissions Reduction Program" (accessed June 7, 2013)
Emails from Scott Palmer, Oregon Nurses Association, June 4, 2013
Interview with David Kithil, June 4, 2013
Emails from Allyson Funk, spokeswoman AARP, June 6-7, 2013
Emails from Katherine Fitzpatrick, Medicare Rights Center, June 6, 2013
Emails from Don McLeod, spokesman, Centers for Medicare & Medicaid Services, June 7, 2013
Browse the Truth-O-Meter
More by Janie Har
Support independent fact-checking.
Become a member!
In a world of wild talk and fake news, help us stand up for the facts.