Stand up for the facts!
Our only agenda is to publish the truth so you can be an informed participant in democracy.
We need your help.
I would like to contribute
The national debt of $16 trillion, is "enough to buy both the Cleveland Indians and Cincinnati Reds 1,918 times."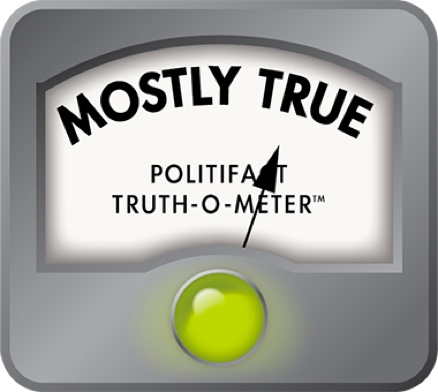 Rob Portman says national debt is enough to buy Indians, Reds baseball franchises more than 1,900 times
"A billion here, a billion there," goes a quip about federal spending that's often attributed to the late Sen. Everett Dirksen, "and pretty soon you're talking real money."

Pretty soon, or eventually, you're talking trillions -- which is what the national debt reached in the 1980s, according to the U.S. Treasury Department.

On Sept. 4, 2012, the accumulated debt topped $16 trillion.

Looking to put perspective on the size of what he called "a dangerous milestone," Sen. Rob Portman released a list of things the money could do.

For example, he said, it's "enough to buy both the Cleveland Indians and Cincinnati Reds 1,918 times."

As fans of baseball, as well as fact checking, PolitiFact Ohio decided to see if Portman's quip was fair or foul.

We checked with his staff, and they referred us to Forbes, which is famous for its money-related lists. Among them is its compilation of Major League Baseball team values. We dug in.

The Indians were ranked 26th of the 30 teams -- below Toronto and above Kansas City, Pittsburgh, Tampa Bay and Oakland -- with a value of $410 million.

The Reds were ranked 24th, with a current value of $424 million.

At the top end, by the way, were the Yankees at $1.8 billion, followed by the Dodgers at $1.4 billion and the Red Sox at $1 billion.

With pencil and paper in hand, we checked the math.

With a combined value of $834 million, by our calculation, the Tribe and the Reds could be bought 19,184 times for $16 trillion -- 10 times more than Portman's release claimed. Unless, of course, the Dolan family and Bob Castellini, owners of the Indians and the Reds, respectively,  held out for more.

While we were at it, we wondered how football would rate, because Forbes also compiled a list of NFL team values.

They ranked the Cleveland Browns 21st of the 32 franchises at $987 million, which Forbes called "the present value of the transaction" in which Jimmy Haslam is buying the team from Randy Lerner for $1.05 billion.

The Cincinnati Bengals were 26th, at $871 million.

Sixteen trillion would cover the $1.858 billion combined price of the Browns and Bengals 8,611 times.

With that, let's check the score.

Portman's staff readily acknowledged their their baseball calculation error when we pointed out the lowball estimate. Somewhere in the proccess they dropped a zero. (For the record, 16 trillion has 12 zeroes, which was more than our pocket calculator could handle.)

But Portman's point was that $16 trillion is a whopping amount of money, and on that count he is accurate

Whether it matches the value of the two baseball franchises 1,918 times or 19,184 times, it's still a whopping amount of money. Correcting the math error only makes that point more forcefully.

Another way to look at it is he was correct in saying that you could, theoretically, buy the Indians and the Reds 1,980 times with $16 trillion -- but you'd still have $14.3 trillion left to play with.

That's additional information that provides clarification.

On the Truth-O-Meter, his claim rates Mostly True.
Sen. Portman, "$16 Trillion Debt by the Numbers," Sept. 6, 2012

Email with Portman press secretary Caitlin Dunn, Sept. 6 and 11, 2012

U.S. Treasury Dept., Public Debt Reports

The Dirksen Center, "A Billion Here, A Billion There..." 2006

Forbes, "MLB team values," March 2012

Forbes, "NFL team values," August 2012
Browse the Truth-O-Meter
More by Tom Feran
Support independent fact-checking.
Become a member!
In a world of wild talk and fake news, help us stand up for the facts.