Stand up for the facts!
Our only agenda is to publish the truth so you can be an informed participant in democracy.
We need your help.
I would like to contribute
Says Connie Mack voted to redefine "rape" as "forcible rape."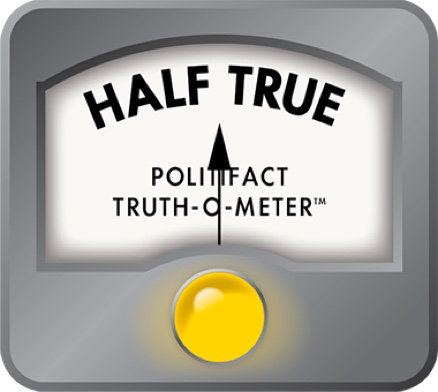 Nelson ties Mack to 'forcible rape' measure
The allegiance of female voters was in play during Wednesday's U.S. Senate debate. Sen. Bill Nelson attacked U.S. Rep. Connie Mack IV, R-Fort Myers, for his views on violence against women.

"Mack voted to redefine rape as forcible rape," Nelson said. "So I think it's pretty clear where he is standing on women's issues."

Mack shot back: "What he just said is not true, and we cannot let it stand. Senator, you need to do a better job of explaining your own record, because you're really messing up my record."

We are checking whether Nelson got it right. Did Mack vote to define rape as forcible rape?

Federal funding for abortion

Nelson based his claim on the role Mack played in co-sponsoring a House bill that aimed to block any possible way that federal dollars might underwrite the cost of an abortion. For many years, lawmakers have barred the use of money for abortion through the Medicaid program and at military hospitals and in other programs. There are long-standing exceptions, though, for rape, incest or the life of the mother.

This bill Mack co-sponsored, the No Taxpayer Funding for Abortion Act, sought to restrict abortion even further. It said medical bills related to an abortion would not qualify as a health expense when people file their income taxes. It blocked any federal subsidy for insurance policies that include abortion services.

The bill's most controversial clause, though, focused on rape. It added an important qualification to the traditional exception: The new language said federal funds could only be used in cases of  "forcible rape."

The bill never defined the term "forcible," and it drew a wave of criticism. Women's organizations accused the bill's sponsors of trying to redefine rape. They said rape by its very nature is an act of force. They questioned whether the new term would exclude cases when the victim is unconscious due to alcohol or drugs, or cases of statutory rape. (Statutory rape includes consensual sexual relations when an individual is not old enough to legally consent.)

The controversy led Republicans on the House Judiciary Committee to drop the word "forcible." The bill then passed in the House but was never taken up by the Senate.

So the main purpose of the legislation was not redefining rape, but limiting the use of federal funds to pay for abortion.

Vote vs. co-sponsoring

The version of the bill that Mack voted on did not have the clause on forcible rape. When Nelson claimed that Mack had voted for that measure, he was wrong.

"The senator misspoke," said Dan McLaughlin, Nelson's communications director. "He knew that Mack was a co-sponsor, but it came out wrong."

Indeed, Mack co-sponsored the bill on January 24, 2011, four days after it was introduced. Mack put his name behind the bill long before the forcible rape language was removed.

Still, the forcible rape language has become an issue in this year's campaign. Paul Ryan, the vice presidential nominee who also was a co-sponsor of the bill, answered questions from Fox News about the matter on Aug. 27, 2012.

"Well, look, all these bills were bills to stop taxpayer financing of abortion," Ryan said. "Most Americans agree with us, including pro-choice Americans that we shouldn't use hard-working taxpayer dollars to finance abortion. Rape is rape period.

"This is language, stock language used for lots of different bills, bills I didn't author. And that language was removed to be very clear, and I agree with that, removing that language, so we are very clear. Rape is rape. Period. End of story."

So that's how Ryan felt about the matter, but what about Mack?

We asked the Mack campaign several times how he felt about the "forcible rape" language but did not receive a response. So we don't know whether Mack supported removing the wording or not. (Editor's note: After we published this report, we received a comment from the Mack campaign. We have included it below our ruling.)

Our ruling

Nelson said that Mack voted to redefine rape as forcible rape.

The bill in question was intended to limit federal funding for abortion. As part of that, the bill did originally aim to limit that funding from "rape" to cases of "forcible rape." Redefining rape, though, was not its primary purpose. And, this part of the bill was so controversial it was struck from the bill before it came to a vote. So Nelson was wrong to say Mack voted on the language.

Still, Mack was an early co-sponsor when the bill did include language on forcible rape. We asked the Mack campaign multiple times if Mack supported or opposed the removal of that language. We did not receive a response. So we don't know if Mack supported or opposed removal of the language that was in the bill when he co-sponsored it.

We rate the statement Half True.
Editor's note: After we published this report, the Mack campaign provided us with this response: "Congressman Mack strongly supported the removal of the term 'forcible' rape from the bill before it came up for consideration. Congressman Mack was one of 227 house co-sponsors on the bill which had the primary intent of providing greater protections against the use of federal taxpayer dollars to pay for abortions."
U.S. House of Representatives, No Taxpayer Funding for Abortion Act - as introduced, January 20, 2011

Email exchange with Dan McLaughlin, communications director, Nelson for Senate, October 17, 2012

Email exchange with David James, communications director, Mack for Senate, October 17, 2012

Library of Congress, Bill summary and status, 112th Congress, HR 3, Cosponsors

U.S. House Judiciary Committee, Manager's amendment, Feb. 28, 2011

Washington Post, 'Forcible rape' cut from antiabortion bill after backlash from women's groups, Feb. 3, 2011

PolitiFact New Jersey, Paul Ryan and Todd Akin co-sponsored bill limiting federal funding for abortions to victims of "forcible rape", August 22, 2012
PolitiFact Texas, PAC says, like Todd Akin and Paul Ryan, all Texas Republicans in U.S. House cosponsored bill trying to distinguish "forcible rape," Sept. 6, 2012

PolitiFact Wisconsin, Says House Republicans "tried to change the definition of rape," Sept. 4, 2012

Fox News, Interview with Paul Ryan, Aug. 27, 2012, accessed via Nexis
Browse the Truth-O-Meter
More by Jon Greenberg
Support independent fact-checking.
Become a member!
In a world of wild talk and fake news, help us stand up for the facts.