Stand up for the facts!
Our only agenda is to publish the truth so you can be an informed participant in democracy.
We need your help.
I would like to contribute
Says Ovide Lamontagne wants to eliminate kindergarten.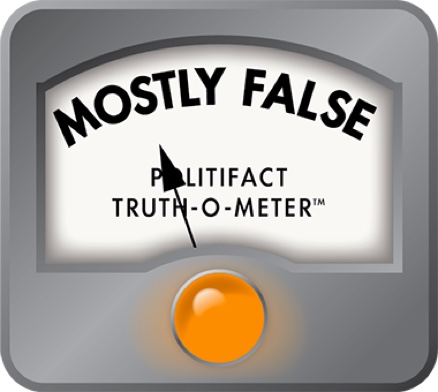 Does Ovide Lamontagne want to get rid of kindergarten?
New Hampshire voters have almost made it to the Election Day finish line -- signaling a final push for campaigns to flood mailboxes and front doors with mailers.

Among the shower of flyers, the New Hampshire Democratic Party recently labelled Republican gubernatorial candidate Ovide Lamontagne as "radically backward," with an ad that features a photo of a frowning first grader "already one year behind" his classmates because he didn't go to kindergarten.

"Ovide Lamontagne wants to eliminate kindergarten, which will leave our kids one year behind," the mailer states, scrawled in crooked font that looks like a struggling elementary school student could have written it.

Democrats have used lines like this throughout the campaign season to attack Republicans who oppose state-mandated kindergarten.

The New Hampshire Democratic Party mailer also cites examples from debates and media coverage that show Lamontagne's "radical agenda that will hurt our public schools."

But since the flyer clearly aims at Lamontagne's views on kindergarten, we'll stick to that.

New Hampshire democrats backed up the flyer by pointing to a debate between Lamontagne and Kevin Smith in August, prior to the Republican primary, to prove Lamontagne wants to "repeal the law ensuring all children can go to kindergarten."

At the time, Lamontagne, who served as chairman of the state's Board of Education, said kindergarten should not be state-mandated.

"I've always been for local control," Lamontagne said. ""The decision about whether or not to have kindergarten is a decision for the communities and school districts of our state, it is not
something that should be compelled, it's really not something that should be compelled by the state. … If you turnover that decision to the state, what other decisions are you going to turn over to the state -- or worse to the federal government?"

Press secretary for the state Democratic Party Collin Gately provided us additional back-up including endorsements from The Telegraph and the Concord Monitor for Lamontagne's opponent, Maggie Hassan and a Telegraph story about a Lamontagne-Hassan debate at Rivier University, quoting Lamontagne: "I support public kindergarten but those decisions should be made by parents and citizens at the local level, not mandated from Concord. Maggie thinks it should be mandated from Concord."

Lamontagne spokesman Tom Cronin told PolitiFact New Hampshire that Lamontagne, a former schoolteacher, has "no intention of trying to overturn the kindergarten mandate."

"He opposed the original kindergarten mandate years ago because he believed it was the prerogative of local school districts to decided whether or not to offer and fund public kindergarten," Cronin said.

If elected governor, Lamontagne could face whether to sign or veto a bill to repeal the state mandating kindergarten. During the 2011, session, state Rep. Jonathan Maltz, R-Hudson, proposed H.B. 631 to repeal the state mandate requiring districts to provide kindergarten programs.

The bill specifically addressed repealing SB 530, which provides kindergarten construction grants for districts that do not currently operate kindergarten programs, until every district in the state has a kindergarten program, according to Stephanie Rose, an Associate Policy Analyst with the Education Commission of the States.

But Maltz's bill didn't gain much traction from House Democrats or Republicans.

(It's worth noting, that some New Hampshire legislators oppose the mandate so vehemently they tried to correlate higher crime rates with towns that offer kindergarten).

There's still the question of whether repealing the state mandate would mean the elimination kindergarten for New Hampshire families.

Not quite, history tells us.

For decades, New Hampshire was the only state in the country that didn't require schools to offer public kindergarten. Even so, 140 New Hampshire towns-- more than 90 percent of New Hampshire districts -- already offered free public kindergarten.

Nashua, the second largest district in the state -- and where the Democrats' flyer was mailed -- was one of the communities to offer kindergarten without being required to.

"If the state were to repeal the kindergarten mandate I can tell you we would not be looking to eliminate that grade level," Nashua Superintendent Mark Conrad said. "I think it's well-recognized as an essential part of the public school system throughout the United States."

About a dozen districts, representing about 1,500 children, did not offer public kindergarten, until fall 2009, which is when the state officially required kindergarten to be part of an "adequate education." Those children either went to private kindergarten, to out-of-district schools or stayed home.

If the mandate was lifted, so could the number of public kindergarten programs in the state.  

"I also think it would be fair to say, without the mandate, over time, you might find some communities dropping (kindergarten) as they're pressed for costs that we're all facing in these tough economic times," Conrad added.

Our ruling

A dramatized New Hampshire Democratic Party flyer tries to make Lamontagne out as a kindergarten abolisher.

Lamontagne acknowledges he opposed state-mandated public kindergarten -- and still doesn't agree with it. But he has no plans to repeal it, which is a far cry from eliminating an entire school grade from public schools.

To say repealing the law would "eliminate kindergarten" and put a generation of New Hampshire students "one year behind" is over the top. But doing so would likely impact the families who can't afford to send their children to private or out-of-district schools for kindergarten.

We rate the statement Mostly False.
New Hampshire Democratic Party mailer, "Ovide Lamontagne wants to eliminate kindergarten," Oct. 2012.

YouTube, "Ovide Lamontagne and Kevin Smith Stand Against Statewide Kindergarten," Southern 9-12 debate, Aug. 31, 2012.

MaggieHassan.com, "Ovide Lamontagne Flip-Flops on Stimulus, Continues Pattern of Misleading Statements," Oct. 18, 2012.

Email exchange with NHDP Press Secretary Collin Gately, Oct. 31, 2012.

Email exchange with Tom Cronin, campaign manager for Ovide Lamontagne, Oct. 31, 2012.

Email exchange and phone interview with Stephanie Rose, associate policy analyst,
Education Commission of the States, Nov. 1, 2012.

The Telegraph, "Maggie Hassan for governor," Oct. 29, 2012.

The Concord Monitor, "Editorial: Hassan will move our state forward," Oct. 31, 2012.

The Telegraph, "Hassan, Lamontange square off at Rivier University," Sept. 28, 2012.

PolitiFact New Hampshire, "NH Democrats heap blame on Speaker Bill O'Brien and his Tea Party followers," July 16, 2012.

Education Week, "Dems Go on Attack Over Kindergarten in N.H. Governor's Race," Sept. 21, 2012.

Time, "Does Kindergarten Lead to Crime? Fact-Checking N.H. Legislator's 'Research,'" July 6, 2012.

The Concord Monitor, "Ending mandatory kindergarten proves a contentious idea," Feb. 9, 2011.

New Hampshire Department of Education, "Report of Districts Not Offering Public Kindergarten
As Of October 2, 2006," April 27, 2007.

U.S.A. Today, "Public kindergarten available everywhere but N.H. town," Feb. 5, 2009.

The Sun, "Pelham officials question mandatory kindergarten," Oct. 3, 2007.

Children's Voice, "New Hampshire Mandates Public Kindergarten," September/October 2009.

Browse the Truth-O-Meter
More by Maryalice Gill
Support independent fact-checking.
Become a member!
In a world of wild talk and fake news, help us stand up for the facts.