Stand up for the facts!
Our only agenda is to publish the truth so you can be an informed participant in democracy.
We need your help.
I would like to contribute
"One out of four of our young people say they are victims of this (dating) violence."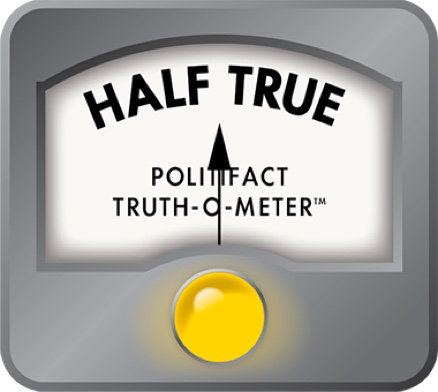 Rhode Island state Sen. Beatrice Lanzi says 1 in 4 young people are victims of dating violence
As part of the weekly Rhode Island Public Television show "A Lively Experiment," guests are often asked for their "outrage of the week."

On the Feb. 24 program, state Sen. Beatrice Lanzi focused on attitudes toward dating violence and cited reaction to the performance of singer Chris Brown at the 2012 Grammy Awards. In 2009, Brown pleaded guilty to brutally beating his then-girlfriend, Rihanna.

"After he performed, many women across the country took to social media and were making comments about dating violence in a joking way," Lanzi said.

We located some of those Tweets. People were sending out messages such as "I'd let Chris Brown beat me up anytime," "Chris Brown u can punch me in the face any time u want!!!!" and "Any girl that hates on Chris Brown is stupid. Do you realize that it would be an honour if he hit you?"

Said Lanzi: "One out of four of our young people say that they are victims of this violence. To me, it's outrageous."

One in four is 25 percent. We decided to check to see whether that was on the mark.

When we asked Lanzi for her source, she said she had actually understated the scope of the problem, and it was really one in three, which would be 33 percent.

She referred us to the website of the Lindsay Ann Burke Memorial Fund, based in North Kingstown, R.I., where the Teen Dating Violence Statistics page says "1 in 3 teens experience some kind of abuse in their romantic relationships."

The web page doesn't cite a specific reference, but Ann Burke, the organization's president, said it came from a 2001 study in the American Journal of Public Health by Carolyn Tucker Halpern at the University of North Carolina at Chapel Hill. It analyzed the responses of 7,267 adolescents who reported being in at least one exclusive heterosexual romantic relationship during the 1994-1995 school year.

"Overall, 32% of respondents reported experiencing any violence in a heterosexual romantic relationship occurring in the 18 months before the interview," the researchers reported. "Most violent behaviors were psychological, with swearing being most common. Twelve percent reported being the victim of physical violence. Approximately 10% of respondents reported having been pushed and 3% reported that something was thrown at them.

"The patterns of victimization indicate that about 1 in 5 adolescents reported only psychological violence and about 1 in 10 reported physical violence, usually accompanied by psychological violence," the report said.

Males were just as likely to be victims as females, but the females were more likely to have been injured.

There are a few caveats to the Halpern study. It only looked at heterosexual relationships so the findings do not apply to same-sex relationships or teens who were not dating at the time. In addition, it only asked about violence in the previous 18 months. Lanzi's comment suggest lifetime experience with dating violence. So the percentages would be higher.

But on a key issue -- how many young people had reported physical violence -- the study doesn't confirm Lanzi's statement. She said the incidence was 25 percent. The study found it was closer to 12 percent.

We consulted other, more recent, studies with their own strengths and limitations. Sample conclusions:

* 9.8 percent of students nationwide reported dating violence from their boyfriend or girlfriend (being hit, slapped or physically hurt on purpose). It only covered the previous year and didn't include verbal assault. (Results from the national Youth Risk Surveillance System from 2009.)

* Up to 35 percent of adolescent girls were victims of "interpersonal violence, according to a 2008 report by the National Council on Crime and Delinquency. That summary defines that as "physical, emotional or verbal abuse by one partner towards another in a dating relationship." Lanzi didn't say she was only talking about girls, but other surveys show that males experience similar levels of dating violence.

* 13 percent of 638 youth age 13 to 18 who had been in a relationship said in 2005 they had been repeatedly verbally abused, 11 percent said they had been punched, kicked, pushed, slapped or choked at one time, and 5 percent said they had been physically hurt, like a bruise or a punch. (Teenage Research Unlimited for Liz Claiborne)

And when the Rhode Island Department of Health surveyed high school students in 2011, it found that the incidence of dating violence -- defined as having been hit by a boyfriend or girlfriend -- had declined from 14 percent in 2007 to 8 percent in 2011. But those rates are only for the previous year, not whether they had ever been hit by a partner.

Our ruling

Beatrice Lanzi said "one out of four of our young people say they are victims" of dating violence, following a reference to singer Chris Brown, known for physically assaulting his once-girlfriend, Rihanna.

The studies we found, however, show that the risk of such physical attacks for teens isn't close to 1 in 4; it's more like 1 in 10.

As with most social science research, the numbers can vary depending, for example, on how broadly dating violence is defined and the timeframe examined.

A teen who is asked whether he or she has ever experienced dating violence may answer "no," but then respond with a "yes" if asked if she has ever been pushed in anger by a boyfriend or girlfriend.

What is clear is that to get to the types of numbers Lanzi is talking about, one must include all kinds of aggression, from physical attack to swearing at someone. In fact, when we talked to her, that was how she defined dating violence.

No matter what the definition, all relationship abuse is reprehensible. But because Lanzi's statement is partially accurate but leaves out important details, we rule it Half True.

(Get updates from PolitiFactRI on Twitter. To comment or offer your ruling, visit us on our PolitiFact Rhode Island Facebook page.)
YouTube.com, " A Lively Experiment 02-24-2012 WSBE DT-HD RI PBS_1.avi," Feb. 24, 2012, accessed Feb. 27, 2012

HuffingtonPost.com, "'Chris Brown Can Beat Me' Tweets Cause Controversy After 2012 Grammy Awards," Feb. 13, 2012, accessed Feb. 27, 2012

Interview and e-mail, Beatrice Lanzi, state senator, Feb. 28, 2012

Interview and e-mails, Ann Burke, president, Lindsay Ann Burke Memorial Fund, Feb. 28-29, 2012

Interview and e-mails, Marlene Roberti, director of policy and education, Day One, Feb. 28, 2012

LABMF.com, "Teen Dating Violence Statistics," accessed Feb. 28, 2012

NCBI.NLM.NIH.gov, "Partner Violence Among Adolescents in Opposite-Sex Romantic Relationships: Findings From the National Longitudinal Study of Adolescent Health," American Journal of Public Health, October 2001, accessed Feb. 28, 2012
NIJ.gov, "Teen Dating Violence: A Closer Look at Adolescent Romantic Relationships," Oct. 27, 2008, accessed Feb. 28, 2012

CDC.gov, "Youth Risk Behavior Surveillance — United States, 2009," Morbidity and Mortality Weekly Report, June 4, 2010, accessed Feb. 28, 2012

NCCD-CRC.org, "Interpersonal and Physical Dating Violence among Teens," September 2008, accessed Feb. 28, 2012

LoveIsNotAbuse.com, "Liz Claiborne Inc. Omnibuzz Topline Findings: Teen Relationship Abuse Research," 2005, accessed Feb. 28, 2012

HealthRI.gov, "Youth at Risk: 2011 Rhode Island High School Health Risks," February 2012, accessed Feb. 28, 2012.

"Teen Dating Violence Fact Sheet," Rhode Island Coalition Against Domestic Violence, 2012, accessed Feb. 29, 2012

ArchPediatrics.com, "Intimate Partner Abuse and High-RisK Behavior in Adolescents," Archives of Pediatrics & Adolescent Medicine, April 2003, accessed Feb. 29, 2012
Browse the Truth-O-Meter
More by C. Eugene Emery Jr.
Support independent fact-checking.
Become a member!
In a world of wild talk and fake news, help us stand up for the facts.