Stand up for the facts!
Our only agenda is to publish the truth so you can be an informed participant in democracy.
We need your help.
I would like to contribute
Says Ohio Rep. Marcy Kaptur "actually lives" in "a fancy condo in the Washington, D.C. suburbs."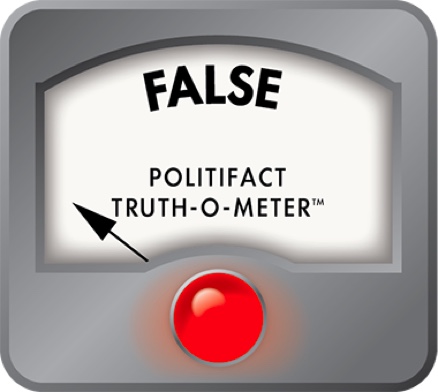 Texas-based PAC says Marcy Kaptur really lives in a fancy, suburban-Washington condo
Redistricting chewed up Rep. Dennis Kucinich's old 10th Congressional District and him in the same new 9th Congressional House District as Rep. Marcy Kaptur. The two now are pit against each other in the March 6 Democratic primary.

The location of their Ohio residency doesn't actually matter legally. Members of the House are not constitutionally required to live in the districts they represent -- only to be an "inhabitant" of the that state.

An ad from a Texas-based political action committee, though, trys to turn residency into an issue against Kaptur.

A 30-second cable TV ad paid by the Campaign for Primary Accountability says the congresswoman  "actually lives" in a "fancy condo in the Washington, D.C., suburbs" valued at $488,000.

It dings her for saying in her own campaign ad that she lives in the same Toledo house where she grew up, and says she was late paying her property taxes in Ohio nine times.

In support of its claims, the Campaign for Primary Accountability provided a copy of Kaptur's property assessment by the city of Alexandria, Va., and copies of site-search data from the Lucas County auditor in Ohio.

Kaptur's campaign disputed the context but not the specific claims to PolitiFact Ohio and other reporters.

"She does not live there (in Alexandria)," spokesman Steve Fought said. "She has a place where she stays. When the gavel falls and the (House) session ends, she is out of there like a rocket and back home with her brother.

"Marcy Kaptur lives in the house where she grew up, which she inherited from her parents, with her brother, who is disabled."

The house and property are valued at $68,800 by the Lucas County auditor. That house serves as her voting residence for the Lucas County Board of Elections.

Kaptur's campaign acknowledged that she has paid a total of $295.20 in late fees on property taxes going back to 2006. Five instances involved three rental properties in her neighborhood.

"She has always paid her taxes on her home and rental properties within 10 days of the due date except in one instance, when she was six weeks overdue and paid the penalty," spokesman Matthew Klempner said.

He said the congresswoman is "fully current" on real estate taxes.

The average condominium in Alexandria valued below Kaptur's at $266,919, according to the city budget director. The average value for all homes there was $632,958.

Kaptur's campaign noted that the PAC ad does not mention that Kucinich bought a blighted, foreclosed house in Washington, D.C., in 2009, and that it has a current assessed value of $404,910.

What does it add up to?

First, we note that Washington area real estate values are not the same as those found in northern Ohio, so that the assessed values are much higher should not be a surprise. We also note that members of Congress do have to have a place to stay while serving in Washington. But that doesn't mean that their permanent legal residence moves with them.

In that regard, the ad's claim is inaccurate. Kaptur does spend at least part of her year, when Congress is in session, in a condo in suburban Washington.

By asserting that she "actually lives" there, however, the ad suggests that is her permanent residence, a claim that Kaptur disputes and that is not supported by her voter registration and her property tax payments in Ohio.

Following that rationale, she would be ineligible to run for her seat from Ohio. And the same argument could be applied to virtually every other member of Congress.

On the Truth-O-Meter, the claim rates False.
Toledo Blade, "Kucinich aide decries Kaptur residency claim," Feb. 26, 2012

The Plain Dealer via Cleveland.com, "Ads get nastier in Kucinich-Kaptur race as Super PAC enters the fray," Feb. 28, 2012,

Campaign for Primary Accountability, "Taxes," Feb. 28, 2012

The Plain Dealer, "Texas Super PAC does robo-calls, mailings on behalf of Dennis Kucinich," Feb. 08, 2012

U.S. National Archives, U.S. Constitution

Email from Campaign for Primary Accountability, Feb. 28, 2012

Lucas County, Ohio, auditor, Real Estate Information System

Interview with Kaptur campaign spokesman Steve Fought, Feb. 29, 2012

Alexandria, Va., Real Property Assessment Overview, Feb. 23, 2012
Browse the Truth-O-Meter
More by Tom Feran
Support independent fact-checking.
Become a member!
In a world of wild talk and fake news, help us stand up for the facts.