Stand up for the facts!
Our only agenda is to publish the truth so you can be an informed participant in democracy.
We need your help.
I would like to contribute
Says his "patents in ultrasound have revolutionized modern medicine."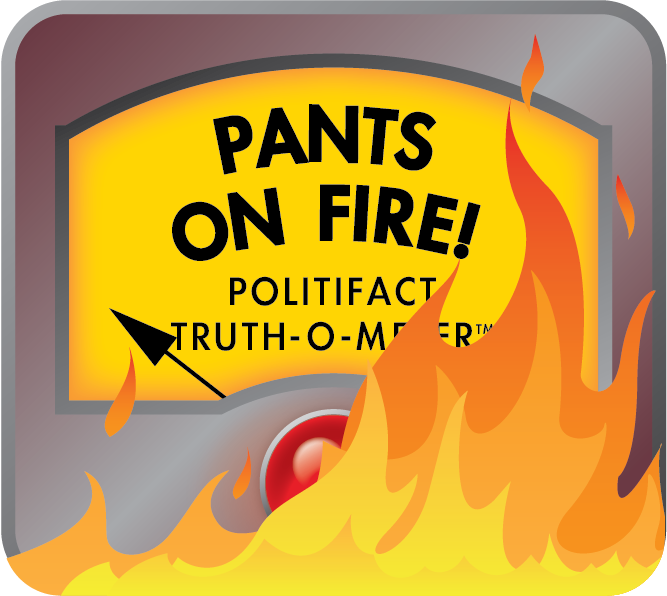 Memphis candidate George Flinn claims his patents "revolutionized modern medicine"
Dr. George Flinn is well known in Memphis as a radiologist, radio station magnate and a big-spending, self-funding Republican political candidate who is running for Congress again this summer, this time in Tennessee's 9th Congressional District.

Fewer know him as an inventor with patents on file in Washington, but that's what he claims in a commercial he's airing as he seeks to defeat 2010 GOP nominee Charlotte Bergmann. The winner in Thursday's Aug. 2 primary will face the winner of the primary between incumbent U.S. Rep. Steve Cohen and school board member Tomeka Hart.

The commercial boldly claimsthat Flinn is "a doctor whose patents in ultrasound have revolutionized modern medicine, whose innovations have saved lives throughout the world."

Based on the scant evidence we were able to discover and our lack of deep knowledge in the history of ultrasound technology, we are narrowing the focus to whether Flinn does indeed hold patents in ultrasound technology that might have revolutionized modern medicine.

The only Flinn patent we were able to find was awarded on July 3, 2007, and it is not for ultrasound technology. Flinn and two others received patent No. 7,238,370 B2 for their invention of a substance made of pumice and an aqueous surfactant (like a detergent) that experiments showed increased skin thickness and gave it a "more youthful appearance." It was also tested on shaved guinea pigs. Its claim is that it prevents and treats "photoaging" of skin.

Whatever the usefulness of this substance, we're comfortable concluding it has not revolutionized modern medicine. It took Flinn's campaign more than a week to provide information about other innovations the campaign believes backs up Flinn's claims. OnThursday evening, July 26, campaign manager Kristi Stanley sent along three acknowledgement letters from the U.S. Patent and Trademark Office confirming receipt of applications for patents.

Not patents, but applications for patents.

The letters state that the information Flinn provided (which was not provided to PolitiFact) "will be examined for patentability." The letters also extend Flinn the right under federal law to seek a patent in foreign countries. Nothing that Stanley provided indicates Flinn sought foreign patents. She did note that Flinn also was involved in obtaining patents while employed by the National Institutes of Health that are held, not by him, but by that government agency.

So let's look at the three patent applications, according to the initial letters from the Patent and Trademark Office dated in May and June of this year.

One (Customer No. 062439) is for "Chemotherapy Treatment Using Microspheres to Deliver a High Concentration of a Drug to a Tumor." The letter provided by Stanley provides no other information about the patent itself, just details about Flinn's rights. It does not appear to deal with ultrasound.

The second is titled "Process for an Improved Galactogram Procedure," with, again, no supporting description or detail.

The third: "Color Encoding Method for Ultrasound Images." Again: No detail.

We could explain that galactography is the examination of the breast by mammography and, specifically, examination of the milk ducts, or that microspheres are particles smaller than one millimeter in diameter. But it seems we can make short work of this analysis by saying that, although Flinn claims to deserve the patent for them, these are not patented inventions and he only sought them after he was deeply involved in this congressional campaign.

If the technologies are being employed in medicine to demonstrative salubrious effect, it isn't because they are his patents because the patents have not yet been granted.

When contacted initially, the campaign indicated it was eager for us to examine the claim but did not provide the kind of supportive documentation that would establish its veracity. Instead, the documentation establishes the application for patents.

But Flinn's commercials flatly claim he his patents in ultrasound technology revolutionized modern medicine, when the record shows he he only applied for patents several months after this congressional campaign was under way. That kind of deliberate deception of voters earns this claim a Pants On Fire!
Flinn television commercial, running in July in the 9th Congressional District.

July 20, 2012 email message from Kristi Stanley to Bartholomew Sullivan offering to provide "paperwork filed on the patents."

Abstract for the "method and composition for stimulating skin function to prevent and reverse the effects of photoaging."

May 25, 2012 Letter to Sinorica LLC of Germantown, Md., acknowledging receipt of patent application for Chemotherapy Treatment.

June 19, 2012 Letter to Sinorica LLC acknowledging receipt of patent application for Galactogram Procedure.

June 15, 2012 Letter to Sinorica LLC acknowledging receipt of patent application for Color Encoding Method for Ultrasound Images.
Browse the Truth-O-Meter
More by Bartholomew Sullivan
Support independent fact-checking.
Become a member!
In a world of wild talk and fake news, help us stand up for the facts.