Get PolitiFact in your inbox.
U.S. Rep. Stephen Fincher is "the only working farmer currently serving in the House."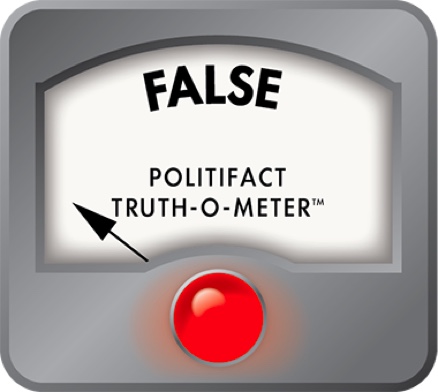 Corn Growers Association blog laments Congress has just one "working farmer"
We know it's been a while since the United States was truly an agrarian society, but is it possible that, of the 435 members of the U.S. House of Representatives, just one is a "working farmer" -- U.S. Rep. Stephen Fincher? That's the claim made by Corn Commentary, an online newsletter of the National Corn Growers Association. Its headline, "Only Farmer in Congress wants to wait on Farm Bill" has been featured in the "In The News" feed that runs prominently on the "About Me" section of Fincher's website.

Back in July, Corn Commentary caught up with Fincher, R-Tenn., at the Southern Peanut Growers Conference. It wanted to ask the Northwest Tennessee representative about his concern "about cuts in agricultural funding being considered at the federal level" and referred to the freshman lawmaker in the article as "sadly the only working farmer currently serving in the House."

Sad maybe, but also unlikely, it seemed to us, given the number of rural districts represented in the House of Representatives. So we set out to find out whether Fincher, of Frog Jump, Tenn., is in fact the only working farmer now serving. That Fincher is running a headline that says "Only Farmer in Congress . . .  " next to a big photo of himself on his website also strikes us as an implicit endorsement of the statement, though we could not find any other evidence of him making the claim independently.

A working farmer would, we figured, be someone who gets involved in farm operations, drives a tractor, tends to fence posts, and is known down the blacktop at the local feed store. Fincher clearly meets those specifications.

But a quick call to the House Agriculture Committee, where Fincher served briefly before taking a seat on the Financial Services Committee, revealed that its chairman, Frank Lucas, R-Okla., considers himself a fifth generation farmer and runs a cattle operation.

There's more:
● Marlin Stutzman, R-Ind., is a co-owner of Stutzman Farms in Howe, where he farms 4,000 acres with his brothers and brothers-in-law, growing soybeans, green beans and seed corn. Stutzman's spokesman James Wegmann reports that the congressman sets aside "combine time" during the harvest season and is very much involved in the operation.
● Vicky Hartzler, R-Mo., lives on a working farm in Cass County, served on the Missouri Farm Bureau and owns businesses that sell farm equipment. Her spokesman, Steven S. Walsh, said she "can, indeed, be considered a working farmer."
Two others have extensive experience on the farm although they no longer claim to be "working farmers."
● According to his House bio, Bob Gibbs, R-Ohio, is a "self-employed farmer, predominately (sic) producing market hogs" for three decades. But spokeswoman Catherine Gatewood said in an email update that Gibbs is "technically not a working farmer anymore as he sold his operation!"
● Christine Noem, R-S.D., described on her official site as a "farmer and hunting lodge owner and operator" -- and who was twice named South Dakota's Outstanding Young Farmer before entering Congress -- is no longer actively involved in farming, according to her spokesman, Josh Shields. She sold off the last of her cattle and her brothers and sisters now do the actual farming, he said.
We were also curious how many members of Congress look like farmers on paper by receiving U.S. Agriculture Department payments for farm operations they may not actually actively farm. For that we turned to the Washington-based Environmental Working Group, which for years has maintained a database of crop subsidy payments obtained from the USDA through a Freedom of Information Act request.
 
Earlier this year, EWG noted that 23 members of the 112th Congress, including five senators, have received farm program payments since 1995.

Corn Commentary says Fincher is the only working farmer in the House, and in an emailin response to a PolitiFact inquiry, reporter Cindy Zimmerman doubled-down: "To my knowledge, the other members of Congress who claim agriculture as a 'profession' are investors or part-timers."

Our Ruling

Several other House members seem comfortable with manure on their work boots and do work farms when back home in their districts. They have the added cachet of actually serving on the committee overseeing farm programs, which Fincher does not.

We rate this statement False.
Browse the Truth-O-Meter
More by Bartholomew Sullivan
Support independent fact-checking.
Become a member!
In a world of wild talk and fake news, help us stand up for the facts.