Stand up for the facts!
Our only agenda is to publish the truth so you can be an informed participant in democracy.
We need your help.
I would like to contribute
Claims Ohio Gov. John Kasich says climate change is a problem.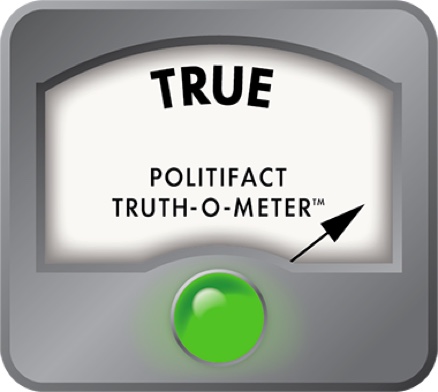 Convention billboard touts John Kasich's view of climate change to GOP delegates
Republican devotees who have traveled to Tampa, Fla. for their party's national convention expect a week filled with activities aimed at unifying the GOP around the central policy and agenda messages as they nominate former Massachusetts Gov. Mitt Romney for president.

But as thousands of out-of-towners arrived and made their trek to the Tampa Bay Times Forum, the arena hosting the convention, they have been greeted by some well-placed advertisements featuring some prominent conservative leaders -- including Ohio Gov. John Kasich -- that are not quite in lock-step with the message Republicans have long touted.

Kasich is prominently featured on a billboard outside the arena and on one at the most central interstate highway crossing in the city, as well as, on some placards adorning 40 city taxi cabs proclaiming his belief that global warming is real.

"I am a believer – my goodness I am a Republican – I happen to believe there is a problem with climate change," reads a quote attributed to Kasich that appears next to a picture of the smiling Ohio governor.

But wait, Kasich is still as staunch a conservative as ever, isn't he? PolitiFact Ohio decided to check if the ad accurately reflects the governor's position.

The billboard was sponsored by the Florida Wildlife Federation, a private membership group with about 60,000 members who are hunters, fishermen and outdoorsmen with a keen interest in environmental issues. It told PolitiFact Ohio it partnered with the Evangelical Environmental Network, a Washington lobbying group, to place the advertisements.

The Federation's policy consultant, Jay Liles, said his group is desperate to get politicians to view climate change as a life-changing issue and not a partisan issue. They have skin in this game. And there it is true that some Republicans have staked out a position doubting that climate change is really a factor.

In addition to Kasich, the federation also has sponsored similar ads with similar messages from similarly conservative leaders, such as, New Jersey Gov. Chris Christie, former New York City Mayor Rudy Giuliani and former President George W. Bush.

We checked with Kasich's staff to see whether the quote was accurate. Rob Nichols, the governor's spokesman, confirmed that it was taken from a speech Kasich made in May 2012 at a small energy conference in Columbus, Ohio, that was sponsored by The Hill, a Capitol Hill media organization.

"What they have on the billboard is accurate," Nichols said, adding that Kasich has uttered similar comments four or five times during various private speeches, some of which were before Republican gatherings.
 
But for context, Nichols said there is a little more to Kasich thoughts on global warming.
 
"He has said this several times but what is usually omitted is what is on the back-end of what he has said," Nichols said. "Each time he says it he has added, 'How big is this? I don't know. Should we overreact to this? No.'"
 
In fact, The Hill published an article on May 2, 2012, about Kasich's speech at the energy conference. The quote on the billboard came from that story, according to the Evangelical Environmental Network.
 
The full quote is: "I am a believer – my goodness I am a Republican – I happen to believe there is a problem with climate change. I don't want to overreact to it, I can't measure it all, but I respect the creation that the Lord has given us and I want to make sure we protect it."
 
Liles said the Federation was approached by the evangelical group and agreed to sponsor the Tampa advertisements to convince Republicans to stop viewing global warming through political lenses.
 
"We believe at the core that people don't treat our environment as a right or left issue, it is an issue that affects all of us. It is an issue that affects our pocketbooks," Liles said.
 
"Whether it is addressed more through market driven means or through proposed regulatory means," he said, "we believe somewhere in the middle is a road forward and they need to stop making this a partisan issue."
 
Alexei Laushkin, of the Evangelical Environmental Network, which paid for the advertisements said his group intentionally sought out key conservative leaders to push this agenda.
 
"We in the evangelical community are tired of the politics of the issue and wanted to highlight conservatives who agree with us on this issue," Laushkin.
 
For the most part, Republicans have doused talk of global warming saying Democrats are pushing it to enforce more government regulations on the energy industry.
 
The Hill article notes that the Environmental Protection Agency has already begun to try to regulate greenhouse gas emissions and proposed carbon dioxide standards for new power plants to help mitigate the suspected effects of global warming. And that many scientists have long concluded climate change is real. But some Republicans have challenged the proposed EPA standards and questioned scientists conclusions.
 
"We're hoping at the end of the day it will be a bi-partisan issue, one party can't solve the issue so we want to highlight conservative leadership on this," said Laushkin.
 
Laushkin said he suspects that many Republican delegates who see the signs at the convention will be surprised.

But as far as the quote from Kasich, his own staff confirms its accuracy. As long as Kasich's comments aren't used as a scare tactic to get others to believe in climate change then the governor is OK with how he is being portrayed, Nichols said.

And that's how the billboards convey the message. No scare tactics. Just Kasich saying he agrees climate change is a problem.
 
On the Truth-O-Meter, the Florida Wildlife Federation's claim rates True.  
The Hill, "Ohio Gov. Kasich concerned by climate change, but won't 'apologize' for coal," by Ben Geman, May 2, 2012

Phone interview Aug. 27, 2012 with Rob Nichols

Phone interview Aug. 28, 2012 with Alexei Laushkin, Evangelical Environmental Network

Phone interview Aug. 28, 2012 with Jay Liles, Florida Wildlife Federation
Browse the Truth-O-Meter
More by Reginald Fields
Support independent fact-checking.
Become a member!
In a world of wild talk and fake news, help us stand up for the facts.