Get PolitiFact in your inbox.
Art Robinson says "Social Security should be ended through attrition."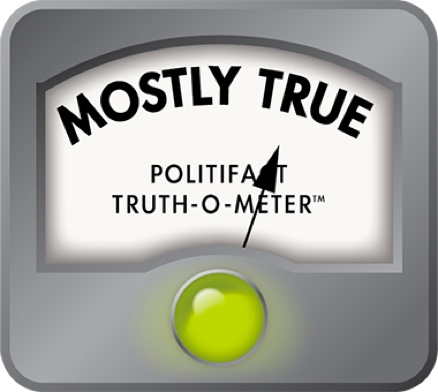 Does Art Robinson want to end Social Security through attrition?
Republican Art Robinson got a hefty boost from out-of-state GOP interests when he challenged U.S. Rep. Peter DeFazio, D-Ore., for the state's 4th Congressional District in 2010. The two men are in a rematch this fall.

DeFazio's campaign recently issued a press release, accusing the chemist from Cave Junction of trying to moderate what DeFazio considers extremist views on public schools, nuclear waste and Social Security.

"Despite his attempt to recast himself as Social Security's great defender in 2012, Art Robinson has repeatedly called Social Security a 'Ponzi Scheme' including as recently as December 2011," states the DeFazio release. "And he has said in speeches and interviews that programs like Social Security and Medicare should be ended by attrition."

The press release accompanies an online ad that likens Robinson to Mr. Rogers, but not in a kindly, cardigan-sporting way. "It's a nutty day in his neighborhood," the voiceover sings as the camera hovers over a diorama of streets and houses.

"And here he said Social Security should be ended through attrition," the voiceover continues. These phrases show up on screen: "These entitlement programs need to be ended …" and "... they have to be ended by attrition." Robinson is heard speaking these words in the ad. The words "Social Security Ended" appear on screen later in the ad.

So what gives? Does Robinson want to end Social Security? By attrition? Is he backpedaling? Does he want to freak out frail senior citizens? We're only sort of kidding on that last question because that's what the DeFazio campaign is saying with its press release and ad.

Most people know Social Security as the federal program that workers and their employers pay into over the course of the employee's work life; the person then gets monthly stipends based on age of retirement and pay. The program also pays for people with disabilities and survivors of retirees. (Both Social Security and Medicare face long-term financial challenges and lawmakers have been urged to fix problems with both programs so there will be enough money for future recipients.)

Robinson, not surprisingly, argues that DeFazio is wrong to say -- and to say only -- that he would end programs such as Social Security.  "I have consistently called for increases in Social Security payments," Robinson writes in his new book, "Common Sense in 2012."

"I have pointed out that Social Security payments have lagged badly behind price increases. They must be increased to catch up. The federal budget must be balanced, but not by short-changing seniors for benefits they have paid for and counted on."

He sounds very senior-friendly there. DeFazio's people contend this is a prime example of Robinson backtracking from previous statements -- to end Social Security -- that were not as senior-friendly.

Let's take a breath and go back to the original interview on which the web ad is based in part. Luckily we didn't have to hunt too long because it's posted on the "Who is Art Robinson?" website paid for by DeFazio. In the nearly 90-second long clip, Robinson says that we need to change the Social Security system because we're digging ourselves into a hole:

"We should change our ways so that we don't incur any further liabilities under entitlements. In other words, these entitlement programs need to be ended, but they can't be ended by violating the contracts of the people who have already contracted with the government, they have to be ended by attrition. You have to stop taking on new people in the entitlements and let time pass and gradually by attrition cancel them."

Even here, you can see that Robinson cares about the contract that government has with Social Security recipients; in other words, he doesn't want to abandon them. Workers, after all, have paid into the system. A review of previous campaign statements shows that Robinson has consistently called for increasing payments to recipients and making sure the contract with recipients is honored.

In an interview with PolitiFact Oregon, Robinson stood by the totality of his position on Social Security and said he hasn't changed his views. He said he wrote what he did in his book because he was tired of DeFazio picking on only one part of his views -- the part most likely to alarm seniors. PolitiFact Oregon can sympathize, although the 2012 book is pretty heavy on wanting to save seniors and doesn't mention the word attrition once.

We're not going to rule on whether ending Social Security by attrition is feasible or flawed. We're not going to rule on whether Robinson is trying to have it both ways, by calling for an end to the current system while increasing payments to current recipients. Those are issues for voters.

We will rule on the accuracy of DeFazio's claim that Robinson wants to end Social Security "by attrition." Robinson has called for an end by attrition and continues to say we should end the current program by attrition, to be replaced by another system, whether it's private or mixed with a public program.

But we think it's also important to point out that Robinson has consistently called upon the government to honor its obligations to Social Security recipients. We rate DeFazio's statement Mostly True: Accurate but needs additional information.
Emails from Liz Cooney, campaign manager, DeFazio for Congress, Aug. 1, 6-7, 2012
Voicemail from Peter DeFazio, Aug. 3, 2012
Email from and interview with Art Robinson, Aug. 2, 3, 2012
DeFazio for Congress, "DeFazio responds to latest Robinson ruse to modify views," July 30, 2012
DeFazio for Congress, "Who is Art Robinson?"Art Robinson: Social Security and other programs should be ended by attrition.
Eugene Register-Guard, "The fight for the 4th: Scientist Art Robinson is making a spirited run to unseat Rep. Peter DeFazio," Oct. 10, 2010
Oregon Secretary of State, Voters' Pamphlet, general election 2010
Social Security Administration, "A summary of the 2012 annual reports"
Browse the Truth-O-Meter
More by Janie Har
Support independent fact-checking.
Become a member!
In a world of wild talk and fake news, help us stand up for the facts.