Get PolitiFact in your inbox.
"The average age of members of the House of Representatives is 57 years old."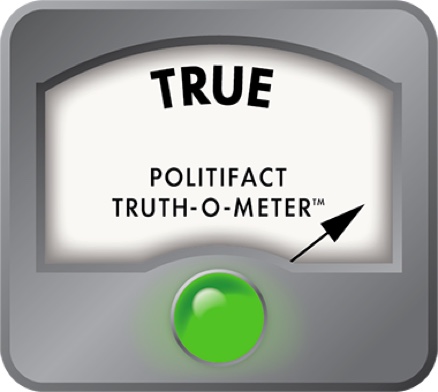 25-year-old congressional candidate Weston Wamp says average age of a Congressman is 57
Age equals wisdom, or so the saying goes. So what do you do if you're a young guy running for Congress?

Weston Wamp, a 25-year-old Republican candidate for the U.S. House in Tennessee's 3rd Congressional District, is trying to convince voters that his youth will be an asset in a Congress where seniority rules.

Wamp is running for the House seat held for 16 years by his father, Zach Wamp, who retired from Congress in 2010 after an unsuccessful run for governor.

Weston Wamp's campaign web site portrays him as a "young entrepreneur" and a member of the "debt-paying generation" who has a broad understanding of the world and business. He also says he knows a thing or two about politics, having grown up "at the feet" of many national leaders in politics and business during his father's congressional career. One of his underlying campaign themes seems to be that there's a serious need for some new blood in Washington.

"Of the 435 members of the House of Representatives, only two were born in the 1980s," noted a recent press release from his campaign.  "The average age of members of the House of Representatives is 57 years old."

We knew firsthand that both the House and the Senate are filled with gray-hairs, but we wondered if the average age in the House is really that high.

We contacted Wamp's spokeswoman, Bonnie Brezina, and asked for the source of that information. She said she wasn't sure, but she'd get back to us. She didn't, so we did a little digging of our own.

Turns out, young Wamp is correct. The average age of U.S. House members is 57.44, according to Congressional Quarterly, a publication that provides news and analysis about Congress.

"That takes into account the current makeup of the House – not when it convened in January," said David Meyers, CQ's managing editor of member information and research.

Three of the 435 House seats are currently vacant, so the average age could go up or down slightly once those three seats are filled.

The average age of the Senate's 100 members as of January 2011 was 61.5, according to the Senate Historical Office.

Wamp also was right on another front: Only two House members – U.S. Reps. Aaron Schock, R-Ill., and Justin Amash, R-Mich. -- were born in 1980 or later. Schock is 30; Amash is 31.

Other publications have noted the advanced age of Congress. When President Barack Obama entered the White House in January 2009, USA Today reported that Obama – one of the nation's youngest presidents – would be working with the nation's oldest Congress.

When Obama took the oath of office, the average age was 57 in the House and 63 in the Senate, the paper said. In each case, it was the highest on record.

Our ruling

We won't attempt to fact-check the argument that age equals wisdom. But on Wamp's claim that the average age of House members is 57, the young Republican is correct and earns a True rating on the Truth-o-Meter.
Weston Wamp, About Weston, campaign web site

Bonnie Brezina, PolitiFact interview, April 5, 2012.

David Meyers, managing editor of Member Information and Research at Congressional Quarterly, PolitiFact interview on April 5, 2012

Senate Historical Office, Average (Mean) Age of Senators at the Beginning of the First Session of a Congress, Nov. 4, 2011

Kathy Kiely, USA Today, Obama will work with nation's oldest Congress, Jan. 6, 2009.
Browse the Truth-O-Meter
More by Michael Collins
Support independent fact-checking.
Become a member!
In a world of wild talk and fake news, help us stand up for the facts.