Get PolitiFact in your inbox.
Twenty percent of housing in Portland's Pearl District is 'affordable.'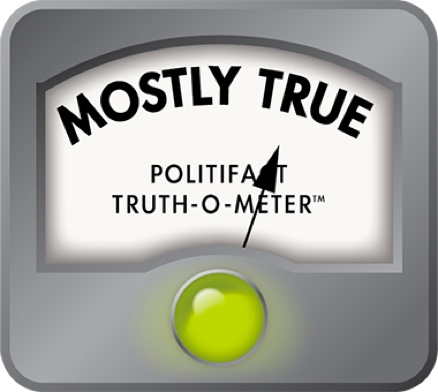 Is 20 percent of housing in Portland's Pearl District really affordable?
In a recent guest column in The Oregonian, Metro president Tom Hughes talked up the benefits of spending public money on urban renewal projects. One of his examples was the well-groomed Pearl District in Portland's Northwest quarter.

"In Portland, urban renewal-based investments in roads, parks, sidewalks and streetcars spurred $3 billion of investment in private projects that repaired dilapidated buildings and created new ones on vacant and underutilized land in the Pearl District. Today, the Pearl supports thousands of homes -- 20 percent affordable -- and many new middle-class jobs."

A PolitiFact Oregon reader wondered if the part about affordable housing was true. We did too. One-fifth isn't that big, but it might make us think twice about painting the entire neighborhood as filthy rich.

Let's back up. In 1998, the Portland City Council created the River District Urban Renewal area -- which includes the Pearl -- gradually transforming a cluster of empty buildings into a bustling neighborhood. Old Town/Chinatown, Tanner Creek and Union Station are included in this district.

City leaders were concerned about the effect of development on housing, so the next year, they endorsed a housing strategy that called for 5,000 new housing units by 2020. Here are the goals:
About 14 percent of units for households at 30 percent of median income or below. A household of four in this group has an income of $21,600 a year.
Around 12 percent for households between 31 percent and 50 percent of income. Such a household is at $36,000 a year.
About 20 percent for households between 51 percent to 80 percent of income. This household is at $57,600 a year.
We know we're throwing a lot of numbers at you. But please, bear with us while we tackle the question of how the city met those goals.  

According to the PDC's latest report, in 2007, about a quarter of the 7,400 units in the River District could be afforded by households in the lower two income brackets. The affordability percentage climbed to 40 percent with families up to 80 percent of median income.

But remember, these figures include Old Town/Chinatown, a grittier neighborhood by the river that has long served the poor and homeless. In fact, much of the river district's low-income diversity comes from Old Town/Chinatown, with 97 percent of 1,338 housing units open to people at 80 percent or less of median income.

On the opposite end, only 16 percent of 3,156 units in the "Central Pearl" are open to households in the three lower income brackets. In fact, more than 70 percent of homes in the Pearl are for households at 120 percent or more of median income. So it's as we suspected. The Pearl caters to the wealthy!

More important to PolitiFact Oregon, these figures don't back up Hughes, who specifically cited housing in the Pearl.

We turned to Jim Middaugh, Metro's communications director. He said Hughes was trying to make the point that development in urban renewal areas, including the Pearl, had "a broad set of benefits for all income classes," including housing. Middaugh also argued for including Tanner Creek as part of the Pearl in our analysis.
We re-considered. The Tanner Creek neighborhood at the north end of the River District is not as built up as the area between Burnside and Lovejoy, but it has attracted in recent years a Safeway supermarket, a chic park with a water feature, and several high-end restaurants that claim to be in the Pearl.

If we include the nearly 1,200 units in Tanner Creek, the percentage of homes affordable to low and very low income households grows to 15. The percentage grows to 23 if we include households earning up to 80 percent of median income. That would back up Hughes' statement.
We know others might view the "Pearl" in Hughes' statement as the development cluster along Burnside and not the area north of Lovejoy.
But in PolitiFact Oregon's humble opinion, we think it's fair to include Tanner Creek as part of the Pearl District because of its design layout, proximity and amenities. Dave Davis, president of the Pearl District Neighborhood Association, concurs that Tanner Creek is solidly within his group's boundaries. In fact, the residential Pearl District stretches from Burnside to the river, and Broadway to Interstate-405, according to a map.

We rate the statement Mostly True, and that's not meant as a knock on Hughes. What he said is accurate, but it needs a tiny clarification on what is included in the Pearl.
Return to OregonLive to comment on this story.
Tom Hughes, "Urban renewal's power: Public investments boost prosperity for all," Nov. 2, 2011
Portland Development Commission, "River District Housing Implementation Strategy 2006 Annual Report," June 2007
Portland Development Commission,"River District Housing Implementation Strategy Annual Report," March 2005
Portland Development Commission, "2008 Central City Housing Inventory,"
U.S. Department of Housing and Urban Development, "Affordable Housing," Sept. 13, 2011
U.S. Department of Housing and Urban Development, "HUD's Public Housing Program"
City of Portland, "Chapter 30.01 Affordable Housing Preservation"
Emails from Maileen Hamto, Portland Housing Bureau, Nov. 7, 14, 2011
Interview with Jim Middaugh, Nov. 16, 2011
Interview with Dave Davis, Nov. 18, 2011
Browse the Truth-O-Meter
More by Janie Har
Support independent fact-checking.
Become a member!
In a world of wild talk and fake news, help us stand up for the facts.