Stand up for the facts!
Our only agenda is to publish the truth so you can be an informed participant in democracy.
We need your help.
I would like to contribute
"Credit agency says Rep. Gibbs recklessly caused downgrade, higher interest rates."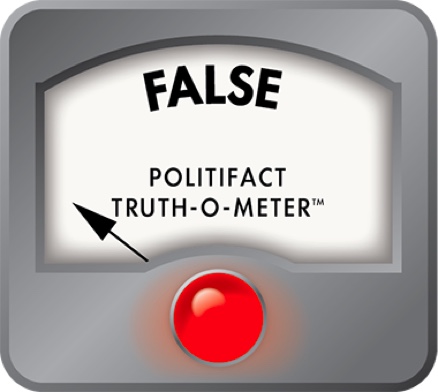 Democrats say Republican Rep. Bob Gibbs caused the downgrade of the U.S. credit rating
After Standard and Poor's decision to lower the credit rating of the United States government from AAA status to AA-plus, Democrats and Republicans jumped into the blame game with equal vigor.

The Democratic Congressional Campaign Committee, which works to elect Democrats to the House of Representatives, pointed the finger at Rep. Bob Gibbs, a Republican from the 18th District in east-central Ohio.

The DCCC issued a statement headlined, "Credit agency says Rep. Gibbs recklessly caused downgrade, higher interest rates." It said that "the downgrade of America's credit rating and the expected higher interest rates that come with it are thanks to Rep. Bob Gibbs recklessly protecting tax breaks for multi-millionaires and tax subsidies for Big Oil."

PolitiFact used the same source to evaluate this claim as we used to rule on a similar claim from Republicans: the S&P report, which is available to anyone online.

S&P based its downgrade on politics more than finance. It faulted "the political brinksmanship of recent months," complained that the statutory debt ceiling and the threat of default "have become political bargaining chips in the debate over fiscal policy" and said that "the differences between political parties have proven to be extraordinarily difficult to bridge."

The report criticized both major political parties, but it did not apportion blame or indicate which party might bear more responsibility. It did not assign value to specific spending or tax votes, beyond indicating that new revenues might have helped head off a downgrade, and it did not name individuals.

The DCCC cited half a dozen sources to back up its assertion that "the Gibbs-Boehner downgrade of American credit could raise interest rates for consumers."

All of those sources were articles that speculated on the possibility of interest rates increasing, and all of them came before the Federal Reserve made its promise to hold short-term interest rates near zero for at least the next two years. In fact, some consumer interest rates could increase in the future, but rates so far have not increased on one indicator, offers for new credit cards.

Regardless, we stumble over the DCCC's line that Gibbs can be blamed individually for the downgrade and any of its potential consequences, and over the way it gives the freshman legislator equal billing with Speaker of the House John Boehner.

PolitiFact Ohio rated the similar GOP claim Mostly False, noting that it blamed Democrats for the downgrade, a claim that contains an element of truth because S&P held both parties responsible.

The DCCC's statement specifically claims that S&P blamed Gibbs for "recklessly" causing the downgrade and raising interest rates. That simply is not accurate, which on the Truth-O-Meter makes it False.
New York Times, "S.& P. Downgrades Debt Rating of U.S. for the First Time," Aug. 5, 2011


Democratic Congressional Campaign Committee, email and news release, "Credit agency says Rep. Gibbs recklessly caused downgrade, higher interest rates," Aug. 10, 2011

Standard & Poor's, "Research Update: United States of America Long-Term Rating Lowered To 'AA+' On Political Risks And Rising Debt Burden; Outlook Negative," Aug. 5, 2011


National Journal, "Why S&P's Downgrade is No Joke," Aug. 7, 2011


New York Times, "Its Forecast Dim, Fed Vows to Keep Rates Near Zero," Aug. 9, 2011

Time, "Get Ready: Your Credit Card Rates Are Going Up," Aug. 8, 2011

CreditCards.com: Weekly Credit Card Rate Report, Aug. 10, 2011

New York Times, "How a Debt Downgrade May Affect Consumers," July 26, 2011

The Atlantic, "Drawing a AAA-Road Map for Post-Downgrade America," Aug. 11, 2011

Washington Post, "Who Runs Gov," April 22, 2011
Browse the Truth-O-Meter
More by Tom Feran
Support independent fact-checking.
Become a member!
In a world of wild talk and fake news, help us stand up for the facts.