Stand up for the facts!
Our only agenda is to publish the truth so you can be an informed participant in democracy.
We need your help.
I would like to contribute
Says Chris Abele, opponent in Milwaukee County executive race, "failed to finish 3 separate colleges, dropping out all 3 times."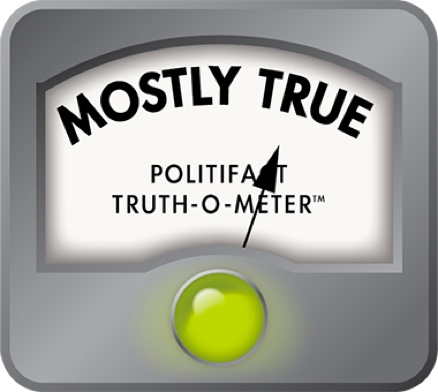 Jeff Stone says Chris Abele, opponent in Milwaukee County executive race, dropped out of three separate colleges
If philanthropist Chris Abele is elected April 5, 2011, he would become the second consecutive Milwaukee County executive without a college degree, following in Scott Walker's footsteps.

But did he drop out of college three times?

His opponent, Rep. Jeff Stone (R-Greendale), makes that claim in a campaign flier that hit mailboxes the last week of March.

The flier recites a litany of newspaper stories that exposed issues from Abele's past. We decided to zero in on the college degree one because questions remain about Abele's academic career.

Abele pointedly evaded questions about why he didn't finish at Lawrence University during a high-profile campaign appearance March 17, 2011.

So did Abele "drop out" three times?

We asked Stone to explain. After all, his flier cites as support a Milwaukee Journal Sentinel story that only discusses Abele's departure from Lawrence without a degree.

Stone's campaign manager, Vi Rowley Hammelman, pointed us to a 2005 Milwaukee Magazine profile that outlined the schools Abele had attended.

She said it was fair to say Abele "dropped out" of three schools -- Lawrence, Bennington and Boston University -- because he didn't finish at those schools and ultimately did not get enough credits to earn a degree.

The basic information on Abele's college days is incomplete.

It's not clear how many credits Abele earned in his college career, which his campaign says ended at Lawrence but spanned at least three institutions from 1986 to 1994. Abele campaign spokesman Brandon Lorenz said he did not know how many credits short Abele was when he left Lawrence in 1994.

He said the campaign would not have time on short notice to find an academic transcript, and could not provide a résumé.

"Chris doesn't have a résumé," Lorenz said. "That's why we can't provide one to you."

Let's take a look, college by college.
Abele started at private Bennington College in Vermont, attending for a year in 1986, according to Lorenz. The school does not release information on students without student permission.
Lorenz said Abele moved on to Boston University, a private school. The university said it could not confirm or deny Abele attended there, unless he gives permission. The university has a Christopher Abele in its database, but he has asked that no information be released, an official in the registrar's office said. Lorenz said Abele was not a full-time student there. But it's unclear when and for how long.
Lawrence officials told us Abele attended from 1991 to 1994, with the last semester abroad at a school in London. The release of information on credits earned would have to be authorized by Abele, the university's registrar's office said.

In 2002, Abele was referred to as a Lawrence graduate in The Business Journal's story on a move to Milwaukee of the Argosy Foundation, run by Abele's family. Similarly, a 2002 online newsletter posted by a national nonprofit referred to Abele as a graduate, citing his bio. A 2003 Journal Sentinel profile of Abele said only that Abele "went to" Lawrence.

Milwaukee Magazine reported in a Feb. 1, 2005, profile that the official biography Abele provided the magazine's reporter said he graduated from Lawrence. That graduation claim was refuted by Lawrence officials in 2005, and they recently confirmed that for PolitiFact Wisconsin.

In our review, we found no evidence Abele has continued to circulate an inaccurate biography.

Lorenz, the Abele spokesman, didn't dispute the "dropout" characterization in relation to Lawrence and Bennington.

He mildly challenged the term in relation to Boston University, saying, "if you are not a full-time student I'm not sure how to characterize that as dropping out."

Hammelman responded: "Tell him to prove" he went part time at BU.

The Stone campaign did not consider Abele's 1992 summer school courses in making its claim. Abele enrolled in two extension courses through Harvard University. Harvard officials said their records showed he did not complete the courses.

We asked Abele's campaign about Boston University and about his official bio.

Regarding BU, Lorenz would say only that Abele was contemplating a major in music at the time.

Regarding Abele's biography, Lorenz provided a Feb. 15, 2005, letter to Milwaukee Magazine written on behalf of Abele by an Argosy Foundation official.

The letter says Abele's bio "is compiled and sent out by assistants in the office, not Chris. However, Chris takes fulI responsibility for any errors and sincerely apologizes to anyone who feels they've been misled or that he was being dishonest."

Time for a final grade.

Stone -- who officials at public Washburn University in Kansas say earned a bachelor's degree in 1983 -- claims Abele "failed to finish" at three schools, "dropping out" each time.

Abele does not dispute that he did not finish college, and confirms he attended the three schools Stone cites. His campaign takes issue with the "drop out" charge only in the context of Boston University.

If we could determine that Abele entered Boston University intending to continue toward a degree, Stone's claim would likely rate True. Since we're looking at a Stone claim, the burden of proof is on him. Of course, it's Abele who won't provide the crucial details -- and the full context about his college history and background.

That puts us -- barring new information -- at Mostly True.
Milwaukee Magazine, "The Billionaire's Son," February 1, 2005

Milwaukee Journal Sentinel, "Abele avoids specifics on cuts, college degree," March 17, 2011

The Business Journal, Foundation Moving to Milwaukee, Nov. 17, 2002

Interviews with Brandon Lorenz, Abele campaign spokesman, March 29-30

Interview with Vi Rowley Hammelman, Stone campaign manager, March 30, 2011

Interview with Mark Kass, editor, The Business Journal, March 30, 2011

Interview with Mary Van de Kamp Nohl, former staff writer at Milwaukee Magazine, March 30, 2011

Interview with John Fennell, former editor, Milwaukee Magazine, March 30, 2011

Interviews with registrar's office officials, Bennington College, Boston University, Lawrence University, Harvard University extension, March 30, 2011

Interview with registrar's office officials, Washburn University, March 29, 2011
Browse the Truth-O-Meter
More by Dave Umhoefer
Support independent fact-checking.
Become a member!
In a world of wild talk and fake news, help us stand up for the facts.