Stand up for the facts!
Our only agenda is to publish the truth so you can be an informed participant in democracy.
We need your help.
I would like to contribute
Sen. Barbara Boxer "passed only three bills in 18 years" into law.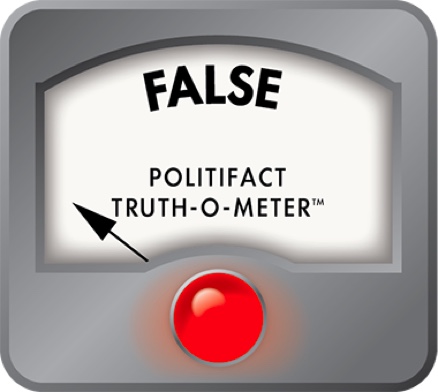 'Hot Air' movie not accurate on Boxer's laws
It's one of the weirdest political ads we've seen this year: "Hot Air: The Movie." It shows an animated Sen. Barbara Boxer, D-Calif., at a committee hearing in Congress. Her head starts expanding and expanding until it floats off into air, pulling Boxer from her chair and bursting through the Capitol dome. Then Boxer turns into a large blimp with loudspeakers on top and TV screens around the bottom, floating over the California landscape, broadcasting inanities. (No, we're not making this up. See the ad for yourself.)

A creepily cheerful narrator says: "Soon her elitist self-image grew so that it overwhelmed the capital and drifted west ... westward, to tell us all how to live our lives ..."

At seven and half minutes, the video runs too long to be a TV ad and is clearly aimed at an online audience. At about the halfway mark (after the senator-blimp has floated over what appears to be the L.A. skyline), the ad introduces Republican Carly Fiorina as a better alternative and a "successful leader."

We decided to check one of the ad's more concrete criticisms of Boxer: That she's "passed only three bills in 18 years" into law.

"One named a local courthouse. One named part of a river -- in Virginia. And the third brought California some money to retrofit bridges. Three bills," the narrator said.

Following our standard practice, we contacted the Fiorina campaign for back-up. They told us they were counting only bills passed into law where Boxer was listed as the primary sponsor. But they also told us since the ad was made, they ran across two other bills, so the actual number they found was five. They contrasted this unfavorably with Sen. Dianne Feinstein, who they said was the primary sponsor on 14 bills that became law.

Of Boxer's legislation, the ad mentions a 1994 law that funded bridge retrofits; a 2007 law to name a U.S. courthouse in Fresno, Calif., the "Robert E. Coyle United States Courthouse; and a 2008 law to  designate a portion of the Rappahannock River in Virginia as the "John W. Warner Rapids."

The other two laws are a 2004 measure to provide for "the development of a national plan for the control and management of Sudden Oak Death, a tree disease caused by the fungus-like pathogen Phytophthora ramorum," and a 2009 law to re-name a San Diego post office as the "Cesar E. Chavez Post Office." (We verified that both passed.)

But Fiorina's narrow accounting is misleading because it ignores the collaborative way that bills become law. Any single bill that lists a single senator as author is often the collective work of many senators. In some cases, entire bills become amendments to other bills that pass.

We found that Boxer co-sponsored at least 72 bills since 1995. A good number of these were for less significant resolutions or post office namings. But some were more prominent pieces of legislation, such as the Lily Ledbetter Fair Pay Restoration Act, which removed barriers so women can sue for gender-based pay discrimination, and the Enforcement of Intellectual Property Rights Act of 2008, which aimed to reduce counterfeiting and piracy of intellectual property.
"It's the nature of the process that everybody participates," said Senate historian Donald A. Ritchie. "No one writes a bill all on their own with no other input."

In the case of particular bills, it's often possible to piece together which senators contributed to a piece of legislation through research and reporting. But there's no standardized way to count meaningful contributions on a broad scale.

"There is no good, strong, objective, consistent way to measure productivity as a legislator," said Norman Ornstein, a Congressional expert and a resident scholar at the conservative American Enterprise Institute. The statement in the Fiorina ad is "meaningless," he said. "It doesn't matter whether it's narrowly, factually accurate. It has nothing to do with Boxer's record as a legislator," he said.

Ornstein also pointed out that Boxer is chair of the U.S. Senate Committee on Environment and Public Works, so she's steered important legislation on energy and offshore drilling. Committee chairs don't always author the original legislation themselves, but they play a critical role by greenlighting bills they support and stopping bills they oppose. Boxer has used that power to advance her legislative agenda, Ornstein said.

The Boxer campaign said she has contributed to several pieces of legislation that she didn't directly sponsor. She co-authored a successful amendment that permitted companies to claim a one-time tax reduction on profits made overseas if money is invested into the domestic American economy. They said she also contributed to laws that protected California wilderness areas, funded after-school programs, and set rules for 401(k) plans limiting how much employers could force employees to hold in company stock.

We looked into a few different accounts of Boxer's legislative accomplishments. CQ's Politics in America 2008 edition noted that she had "pushed through" the tax change on overseas profits. It also said that she had "led efforts in 2001 to help communities deal with abandoned industrial sites." However, the 2010 edition said that "Getting major legislation passed has not been the trademark of Boxer's career," and noted the bridge retrofits bill. But it also said that she is very active in promoting environmental issues and has been a longtime proponent of "cap and trade" legislation to address carbon emissions and climate change. Such legislation is still pending in Congress and has yet to become law.

In ruling on the statement in the "Hot Air" ad, we find a lot lacking. The Fiorina ad said that Boxer "passed only three bills in 18 years" into law. But now even the Fiorina campaign admits that number is wrong -- there are five. And more importantly, experts on Congress say the Fiorina campaign's methodology is a misleading way of assessing a senator's legislative accomplishments. The Fiorina campaign could still make a case that Boxer is not an effective legislator, but the campaign has failed to do it here. Using the count of bills authored is simplistic and doesn't reflect the reality of the legislative process. We rate the statement False.
Carly Fiorina campaign, Hot Air: The Movie, March 10, 2010
Thomas, Public Law 103-220, became law March 17, 1994
Thomas, Public Law 108-488, became law Dec. 23, 1994
Thomas, Public Law 110-46, became lawJuly 5, 2007
Thomas, Public Law 110-418, became law Oct. 14, 2008
Thomas, Public Law 111-109, became law Nov. 30, 2009
E-mail interview with Amy Thoma of Carly for Congress
Interview with Donald A. Ritchie, U.S. Senate historian
Interview with Norman Ornstein of the American Enterprise Institute
E-mail interview with Thomas Mann of the Brookings Institution
The San Francisco Chronicle, Silicon Valley tax break OKd by House; Pelosi slams Boxer-backed measure as pork, Oct. 8, 2004
CQ's Politics in America 2008
CQ's Politics in America 2010
The Almanac of American Politics 2010
Browse the Truth-O-Meter
More by Angie Drobnic Holan
Support independent fact-checking.
Become a member!
In a world of wild talk and fake news, help us stand up for the facts.