Get PolitiFact in your inbox.
"I have a record on the environment of creating green energy ... taking trash and turning it into cash."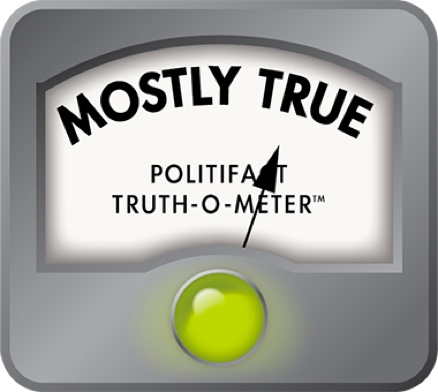 Jones says he helped turn "trash into cash."
This one had us wondering.

Vernon Jones, a Democratic candidate for Georgia's 4th Congressional District, discussed his environmental credentials at a recent candidate forum. He pointed to a program created during his days as DeKalb County's chief executive officer. In July 2005, the DeKalb County Board of Commissioners approved Jones' plan to convert methane gas into electricity from one of its landfills and sell it to Georgia Power.

"I have a record on the environment of creating green energy by capturing methane gas at our landfills and selling it to Georgia Power and they in return selling it back as green energy -- taking trash and turning it into cash," Jones told the audience at the June 3 candidate forum in southeast Atlanta.

It's been five years since the county government signed on with Georgia Power. So we decided to take a look at the initiative and see how it's working out. Is DeKalb, as Jones claimed, "taking trash and turning it into cash"?

First, a brief explanation on how this works. Landfill gas is largely composed of methane and carbon dioxide. By burning gas in boilers, Georgia Power can produce steam for power generation, according to its Web site. The company said the landfills can produce as many as 8 megawatts of electric power, enough to power eight Super Wal-Marts. More than 500 agencies across the nation have similar programs. DeKalb is doing it at the Seminole landfill, located near the county's southern edge.

The environment is a big issue for Jones, who was CEO from 2001 through 2008. Jones won several awards for his efforts to preserve more green space in the county, primarily through a $125 million bond referendum that voters approved in 2001.

Jones is also hoping to capitalize on a major concern in Georgia -- unemployment. His campaign slogan is "Jobs First," and Jones is trying to convince voters that some of his economic development efforts, like the gas to energy program, are reasons why they should give him a shot in Washington. The state's unemployment rate in May was 10.2 percent. It was 9.5 percent a year earlier.

In 2006, the county built a facility to convert the gas to electricity at a cost of $5.3 million. DeKalb has since spent $1.6 million on maintenance and operations, county spokeswoman Angela Walton said.

And how much has DeKalb collected from the program? Walton said $3.9 million thus far. DeKalb projects it will collect nearly $1.1 million this year and slightly more in 2011.

Some environmental protection groups, such as the Sierra Club, dispute the potential profit margin for DeKalb and other facilities that convert gas to electricity. They said the operating costs will eventually exceed profits when governments spend more money to pay for the environmental impact of methane -- which has high global warming potential -- leaking during the conversion process. (The Sierra Club said a higher percentage of methane leaks into the atmosphere when you convert gas to electricity.) The Sierra Club's board of directors voted last year to oppose the creation of any new landfill gas-to-energy facilities.

"Methane is a dangerous gas that needs to be controlled," said Mark Woodall, the Sierra Club's Georgia chapter chairman. "It doesn't need to be regarded as the answer to all renewable energy needs."

For the record, the Sierra Club has endorsed the incumbent congressman, Hank Johnson, in this race.

Since 2006, DeKalb has spent about $6.9 million on the gas-to-electricity program. It has collected $3.9 million in revenue in that time span, with an estimated $2.1 million on the way in the next two years.

Most business ventures have start-up costs, and DeKalb had some in this project. The revenue is on pace to soon exceed the start-up costs and expenses. DeKalb is, Jones said, converting "trash into cash." We rate this claim as Mostly True.
Atlanta Journal-Constitution, Georgia jobless rate dips again, June 18, 2010

E-mail from DeKalb County spokeswoman Angela Walton, June 16, 2010

Georgia Power Web site.

Interview with Mark Woodall, Sierra Club Georgia chapter chairman, June 22, 2010

Sierra Club report on Landfill-Gas-To-Energy, Jan. 5, 2010
Browse the Truth-O-Meter
More by Eric Stirgus
Support independent fact-checking.
Become a member!
In a world of wild talk and fake news, help us stand up for the facts.