Stand up for the facts!
Our only agenda is to publish the truth so you can be an informed participant in democracy.
We need your help.
I would like to contribute
Health care reform: "Everything about it is going to raise costs, raise taxes and lower the quality of health care."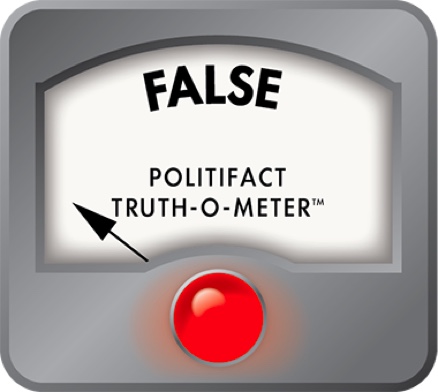 Hutchison says the health care bill will raise costs, taxes and lower the quality of care
A day after Senate Democrats released their version of the health care reform bill on Nov. 18, U.S. Sen. Kay Bailey Hutchison, who's seeking the GOP nod for governor, debuted a TV ad attacking the legislation.

"Everything about it is going to raise costs, raise taxes and lower the quality of health care," Hutchison says in the ad.

Everything? This kind of sweeping claim is often hard to back up with evidence. Hutchinson said everything in the bills would raise costs, raise taxes and lower quality. So if we can find anything that lowers costs, lowers taxes or raises quality, that would undermine the accuracy of her claim.

Hutchison's campaign told us the senator was criticizing all Democratic proposals. Her campaign sent us about 20 excerpts from documents seemingly supporting her claim, attributing most of it to to the Republican Policy Committee and the non-partisan Congressional Budget Office, both in Washington.

We don't dispute any of the projected costs and taxes her campaign sent us. But like many parties to the health care debate, Hutchison appears to have cherry-picked numbers to prop up the points she wants to make.

Let's talk about tax increases first.

Hutchison notes that the bill includes a "$149 billion tax increase on private health insurance plans." She fails to mention that the levy, known as the "Cadillac tax," is one measure the federal government expects to generate revenue by taxing high-priced insurance plans (not all private policies).

That is, most people, about 75 percent, won't see an additional tax.

Hutchison cites "$43 billion in new taxes and fines levied on individuals and businesses," an abbreviated interpretation of how much the CBO has projected the federal government will generate in penalty payments from people and businesses who choose not to enroll in an insurance plan. She doesn't note that those increases are among the measure's features intended to offset costs.

And she also fails to note that a good chunk of taxpayers — those who make up to 400 percent of the poverty level — will get a tax credit from the government to buy health insurance. So those people won't get a tax increase and in fact get a material benefit from the plan.

Next, we looked at projected costs.

Hutchison's campaign pointed us to total projected federal health care expenditures: $234 billion, according to a report by Richard Foster, chief actuary for the Centers for Medicare and Medicaid Services (CMS), the federal agency that administers Medicare, Medicaid and the Children's Health Insurance Program.

Unnoted by Hutchison's camp: The $234 billion reflects how much national health care expenditures would increase by 2016 — including the cost of providing coverage for 33 million people who were previously uninsured — about 10 percent of the population, most of whom (we'll suppose) would see the new benefit as a boon.

Also unnoted by Hutchison: The CBO projects that under the Senate's health care plan, most insured people would see their premiums drop slightly by 2016.

The CBO also concluded that through 2019, the Senate approach would reduce the federal deficit by $130 billion and slow the rate of federal spending growth due to new taxes and provisions to reduce spending over time.

Spending cuts have also been proposed to save money — Hutchison notes $120 billion from Medicare Advantage, among others. We learned that's what she's referring to when she says quality will suffer.

Yet the Senate plan separately has features intended to enhance quality such as pilot programs rewarding doctors for improving patients' outcomes and aimed at curbing unnecessary medical tests.
We looked too at the impact of the plan on American taxpayers. The bottom line, according to the CMS and CBO projections, is that most people's taxes would not increase and most people's premiums wouldn't either.

Summing up, Hutchison is correct that the Senate plan is projected to increase costs — at the onset — and to add taxes. But she she overlooked CBO projections stating the plan would slow long-term federal spending thanks to its provisions designed to offset costs.
Hutchison stretches too far by saying everything in the bill would raise taxes, drive up costs and conceivably diminish quality. As we've described, several parts of the bill are intended to lower costs, and most people won't see a tax increase.
We rate her overreach False.
Centers for Medicare and Medicaid Services, Estimated Financial Effects of the "Patient Protection and Affordable Care Act of 2009," as proposed by the Senate Majority Leader on November 18, 2009, Dec. 10, 2009
Congressional Budget Office,Letter to Harry Reid, Nov. 18, 2009

Congressional Budget Office, Letter to Harry Reid, Dec. 19, 2009

Congressional Budget Office, An Analysis of Health Insurance Premiums Under the Patient Protection and Affordable Care Act, Nov. 30, 2009

Interview with Henry Aaron, health policy scholar, Brookings Institution, Jan. 11

Kaiser Family Foundation, Side-by-side comparison of major health care reform proposals, accessed Jan. 5

The New York Times, Pelosi unveils new House health care bill, by David M. Herszenhorn, Oct. 29, 2009

Phone interview with Anne Dunkelberg, Center for Public Policy Priorities associate director, Jan. 6

PolitiFact.com, Obama said health care reform will reduce the cost of health care, Dec. 15, 2009

PolitiFact.com, Health care bill or 'War and Peace' — which is longer? Nov. 20, 2009

Slate.com, Up in the air, by Christopher Beam, Jan. 5

Texans for Kay, Texans for Kay TV ad: Fighter, Nov. 19, 2009

The Washington Post, Health reform legislation would accomplish more than critics admit, by Henry J. Aaron, Dec. 18, 2009

The Washington Post, Obamacare: Buy now, pay later, by Robert J. Samuelson, Nov. 16, 2009

The Washington Post, Robert J. Samuelson on health reform's ghost savings, by Robert J. Samuelson, Dec. 14, 2009

The White House, Remarks by the President to a joint session of Congress on health care, Sept. 9, 2009

The White House, Remarks by the President after meeting with Senate democrats, Dec. 15, 2009
Browse the Truth-O-Meter
More by Ciara O'Rourke
Support independent fact-checking.
Become a member!
In a world of wild talk and fake news, help us stand up for the facts.