Get PolitiFact in your inbox.
Republicans tried to block the deficit commission.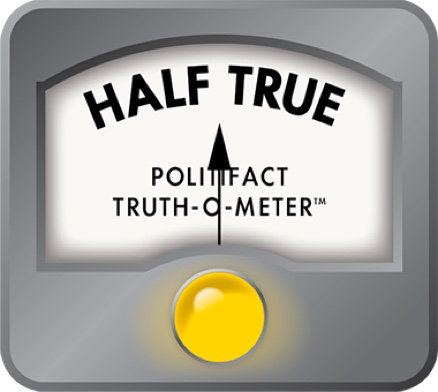 DNC chairman says Republicans blocked move to cut the deficit
Republicans keep talking about cutting the deficit, but they blocked President Barack Obama's efforts to actually do something about it, Tim Kaine, chairman of the Democratic National Committee, said on the Aug. 15, 2010, segment of CBS Face the Nation.

"The good news is, the president has said I'm going to do what the previous Democratic president, Bill Clinton, did. I'm going to get control of this deficit. And so he's cut domestic spending and -- and frozen discretionary spending. They're making strategic cuts to defense. He's got a deficit commission working that the Republicans tried to block."

Kaine's statement made us wonder -- do Republicans talk the talk but refuse to walk the walk? We decided to look into it.

We quickly found that what happened isn't as straightforward as Kaine makes out.

It all began with a proposal to create the Bipartisan Task Force for Responsible Fiscal Action, co-sponsored by the top Democrat and the top Republican on the Senate Budget Committee, Kent Conrad, D-N.D., and Judd Gregg, R-N.H. It would have established an 18-member bipartisan commission to study the current and future fiscal condition of the federal government and make recommendations about how revenues and expenses can be brought into line. Those recommendations would be fast-tracked to the House and Senate floors under a special procedure.

We checked the Senate voting records, and found that the proposal was ultimately rejected by a vote of 53-46. Though a majority voted for the commission, the proposal required 60 votes to avoid the possibility of a filibuster and pass it. Of the 46 people who voted "nay," 22 were Democrats. They were joined by 23 Republicans and Bernie Sanders, who is Independent. Alaska Republican Lisa Murkowski was the only senator who did not cast a vote. She was absent for family reasons, but would have supported the proposal, her office told Politico.

Reasons for opposing the panel varied widely. Some Democratic lawmakers worried that the commission would recommend drastic cuts to entitlement programs, such as Social Security and Medicare. Republicans, on the other hand, feared steep tax increases and argued that the commission would not be focused enough on cutting spending. There were also concerns that the commission was infringing on Congress' territory. "Bureaucrats do not enact great legislation. Senators do!" said Max Baucus, the Democratic Senate Finance Committee chairman.

As noted by a Politico story on Jan. 26, 2010, "The tepid support from Democratic leaders contributed to the loss, but more decisive was the number of Republicans switching under pressure from their party to block the measure." Days before the vote, seven Republicans who had supported the measure withdrew their co-sponsorship and eventually voted against it.

"This vote on the deficit commission is like dozens of other votes this year where Republicans changed their support on a bill for purely political reasons. Had the seven Republicans who originally co-sponsored this bill voted for cloture, the deficit commission would have become law. And that is indisputable fact," Brandi Hoffine, a spokeswoman for the Democratic National Committee, said in an e-mail.

Gregg, however, maintained that the White House should have been able to muster up the seven votes that were needed for the measure to pass. "Clearly, the White House has shown the ability to discipline their party in the Senate, and if they want to pass this, they should be able to … If they can get 60 for health care and 60 for pay-as-you-go limits, they can certainly get seven more votes."

Then there was Sen. Brownback's proposal to create the Commission on Accountability and Review of Federal Agencies. The panel would have reviewed all federal programs to find those that are duplicative, ineffective, or have outlived their usefulness. The task force would focus exclusively on cutting spending, and would not consider raising taxes. The Senate failed to adopt the measure on Jan. 28, 2010, by a vote of 51-49. Again, 60 votes were required to ensure passage. Forty-five Democrats, three Republicans, and one Independent voted "nay."

The debate came to a close on Feb. 18, 2010, when President Obama took matters into his own hands and signed an executive order to create the National Commission on Fiscal Responsibility and Reform. The commission, which meets once a month while Congress is in session, is to propose recommendations designed to balance the budget, excluding interest payments on the debt, by 2015. The final report must be available no later than Dec. 1, 2010, and will require the approval of at least 14 of the Commission's 18 members. Unlike the several commissions proposed by members of Congress, however, lawmakers are not required to vote on any of the panel's recommendations.

Going back to the original claim. Kaine said that President Obama has a "deficit commission working that the Republicans tried to block." We found that several Republican lawmakers who originally supported the Bipartisan Task Force withdrew their co-sponsorship only days before the vote took place. Had they not done so, the proposal would have passed. At the same time, the Democratic leadership also failed to get all of its members in line -- 22 Democrats voted against the measure. Democrats also overwhelmingly voted down a Republican-backed panel that would have looked at ways to reduce the deficit through spending cuts. In all, we rate this claim Half True.
CBS Face the Nation, Show transcript, Aug. 14, 2010

United States Senate, Roll Call Votes: S.Amdt.3302, Jan. 26. 2010

United States Senate, Roll Call Votes: S.Amdt.3309, Jan. 28, 2010

PolitiFact, McConnell reverses position on Conrad-Gregg budget commission, Feb. 1, 2010

The Hill, Gregg calls for re-vote on fiscal panel, by J. Taylor Rushing, Feb. 3, 2010

Politico, Senate politics stall deficit efforts, by David Rogers, Jan. 26, 2010

Kent Conrad, Bipartisan Fiscal Task Force press release, Dec. 9, 2009

Thomas Congressional Library, S.2853 Co-sponsor index page, accessed Aug. 18, 2010

The Washington Post, Obama establishes bipartisan commission on national debt, by Michael D. Shear, Feb. 18, 2010

E-mail interview, Brandi Hoffine, DNC Spokeswoman, Aug. 18, 2010
Browse the Truth-O-Meter
More by Lukas Pleva
Support independent fact-checking.
Become a member!
In a world of wild talk and fake news, help us stand up for the facts.