Get PolitiFact in your inbox.
Fact-check: Did Fox News debate moderators paint an accurate picture of America?
During the first debate of the 2024 Republican presidential primary, Fox News moderators Martha MacCallum and Bret Baier used attention-grabbing statements and statistics to paint a vivid picture of the state of America. 
The hosts touched on topics including extreme weather, gun violence and crime rates as they prompted eight presidential candidates to share their thoughts and policies on the debate stage. How accurate were the moderators' portrayals of the country? We fact-checked some of their claims. 
Fox News did not respond to our request for comment.
MacCallum: Since Roe v. Wade was overturned, "In six state referendums, all have upheld abortion rights in this country. And, even in red states, there are more swing state referendums that are coming up as we head into the elections."
This is accurate.
Since the Supreme Court overturned the landmark Roe v. Wade in June 2022, voters in California, Vermont and Michigan approved ballot measures to protect abortion rights. And in Kentucky, Montana and Kansas, voters rejected anti-abortion referendums.
In August, Ohio voters rejected a proposal that would have made it harder to pass citizen-led ballot measures. Abortion rights advocates viewed the proposal's defeat as a win, because they said Republicans had introduced the August referendum to make it harder to pass an upcoming ballot measure that could expand abortion rights. 
Baier: "This weekend, here in Milwaukee, reports say there were 30 shootings. And a number of them including kids."
This needs context. The number of reported shootings was half of what Baier cited, but he was close on the number of people killed or injured in shootings.
News reports said there were 15 separate shootings in Milwaukee during a reported surge in gun violence from Friday, Aug. 18, through Sunday, Aug. 20. 
Milwaukee police reported that at least four people were killed and 24 people were injured in weekend shootings. 
Some teenagers were among the shooting victims. One 17-year-old, Andrea Sanders, was killed. And in one of two mass shootings, nine people ages 16 to 42 were injured. 
In a question directed to Florida Gov. Ron DeSantis, Baier said crime in Florida "has been on the rise." When DeSantis disputed that, saying the state's crime is at a 50-year-low, Baier said, "Not in Miami."
The data on Florida crime is murky. 
In March, we rated DeSantis' 50-year low-crime claim accurate, based on data through 2021 and information that was available then. But subsequent reporting showed the data was incomplete.
Florida's overall crime rate was trending downward before 2021. But the incomplete recent data makes it difficult to compare Florida's current crime rate with years past, experts said.
The accuracy of Baier's claim about Miami depends on the data considered. Experts said violent crime in Miami increased during the early parts of the COVID-19 pandemic — as was the case nationwide — but it has since decreased, CBS News Miami reported. 
A Miami Police Department spokesperson said that certain property crimes have increased so far in 2023 compared with the same period in 2022, but it is inaccurate to say that overall crime is on the rise in the city of Miami:
In 2023, murders decreased by 29.6% from January through late August — 19 compared with 27 in the same period of 2022. Aggravated assaults decreased by 14.8% and robbery decreased by 15.7%. Incidents of rape increased by 2.5%.

Among property crimes, motor vehicle thefts increased by 11%, from 1,295 incidents in 2022 to 1,437 incidents in 2023 and larceny increased by 3.4%. Burglaries decreased by 12.9%, from 970 incidents to 845.
Data from Miami-Dade Police Department, which largely covers unincorporated Miami-Dade County, compared January through August 2022 with the same 2023 period. It showed that overall, crime has increased from 21,375 incidents in 2022 to 21,779 in 2023 — a 1.9% rise.
In 2022, 48 homicides were reported compared with 49 in the same period of 2023, a 2.1% increase. Aggravated assaults increased by 4.2%. Robbery increased by 2.7% and larceny increased by 4.3%. 
 
Forcible sex offenses decreased by almost 11%, from 546 incidents in 2022 to 486 incidents in 2023. Burglaries decreased by 6.8% and motor vehicle thefts decreased by 4.7%.

​MacCallum: "A tropical storm hit California for the first time in 84 years. The ocean hit 101 degrees off the coast of Florida. And in the last month, the heat wave in the Southwest broke records nearly 50 years old." 
These climate-related statements are accurate.
Tropical storm Hilary was the first to hit Southern California since September 1939.
In July, a sensor near Everglades National Park in Florida recorded an ocean temperature of 101.1 degrees Fahrenheit. Experts say this hot-tub-level temperature could threaten coral and marine life.
And a heat wave in the Southwest that kept temperatures in Phoenix above 110 degrees for 31 consecutive days broke the previous record — 18 straight days with highs above that temperature — which was set in 1974.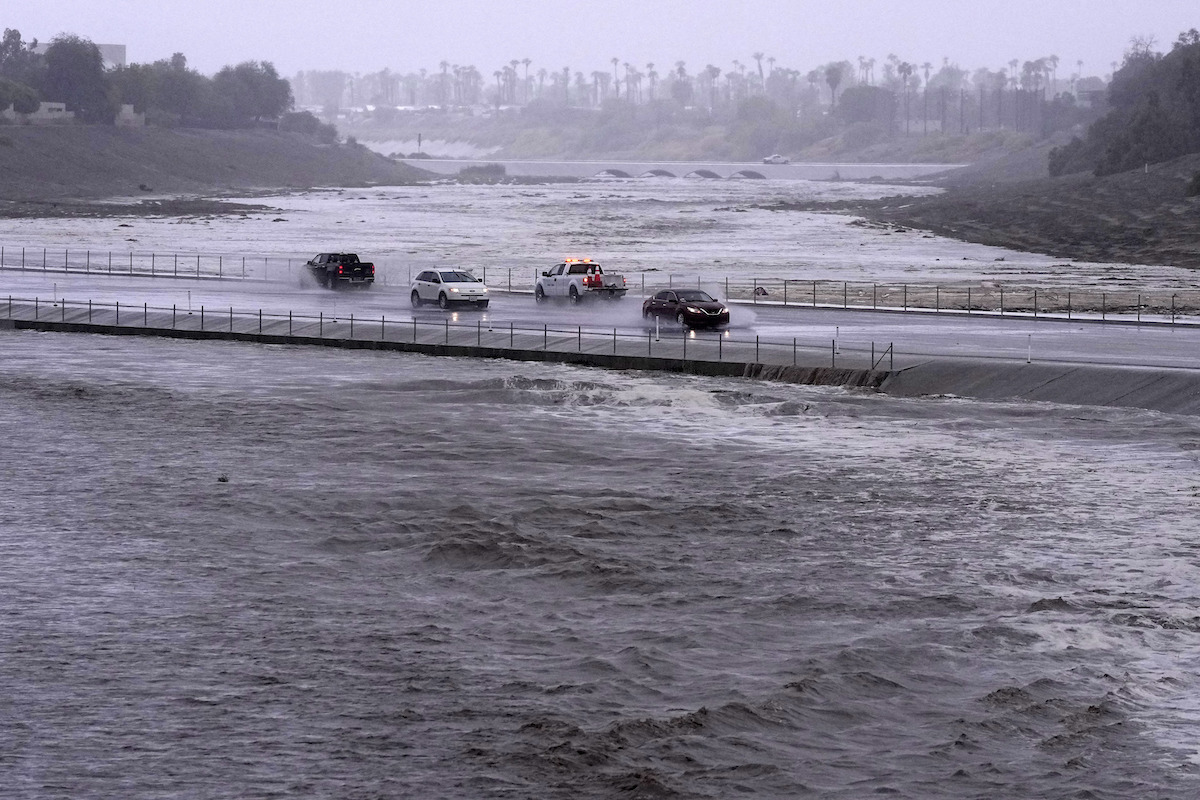 Vehicles cross over a flood control basin that has almost reached the street Aug. 20, 2023, in Palm Desert, Calif. (AP)
MacCallum: "Almost 7 million migrants have crossed this border, our southern border, during the Biden administration."
This is inaccurate; it overstates what the data shows and misleads about encounters at the border.  
Biden was inaugurated Jan. 20, 2021. From February 2021 to July 2023, U.S. Customs and Border Protection data shows about 5.8 million encounters at the nation's southern border. 
Encounter data does not reflect the number of individual immigrants stopped. For example, if one person tries to cross the border three times and is stopped each time, that would be counted as three encounters.
During the Biden administration, immigrants stopped at the border were often immediately expelled under Title 42, a public health order that expired in May, or were apprehended under immigration law. From February 2021 to now, CBP data shows there were 2.45 million expulsions under Title 42, and immigration officials removed migrants at the border more than 530,000 times under immigration law.
PolitiFact Staff Writer Maria Ramirez Uribe contributed to this report.
UPDATE, Aug. 25, 2023: This story has been updated to note we reached out to the Miami Police Department.

UPDATE,  Aug. 28, 2023: This story has been updated with crime data from the Miami Police Department.
RELATED: Fact-check: What Republican candidates got right, wrong in first debate on Fox News
 
The Associated Press, Rain from Tropical Storm Hilary lashes California and Mexico, swamping roads and trapping cars, Aug. 21, 2023
Los Angeles Times, What put Hurricane Hilary on a collision course with California? Aug. 20, 2023
Reuters, Storm Hilary moves north after drenching Southern California, Southwest, Aug. 22, 2023
The New York Times, 101°F in the Ocean Off Florida: Was It a World Record? July 26, 2023
NPR, With Florida ocean temperatures topping 100, experts warn of damage to marine life, July 26, 2023
CBS News, Florida ocean temperatures surpass 100 degrees Fahrenheit, potentially a world record, July 25, 2023
NPR, The historic heat wave that has hit the U.S. Southwest is set to cool a little, July 30, 2023
The New York Times, Phoenix Breaks Record With 19 Consecutive Days 110 Degrees or Higher, July 18, 2023
The New York Times, Phoenix Breaks Heat Record Set in 1974, July 18, 2023
Email exchange with spokesperson for Milwaukee Police Department, Aug. 24, 2023
Milwaukee Journal Sentinel, Did Milwaukee have '30 shootings' last weekend, as Fox News' Bret Baier said at the GOP debate? Aug. 23, 2023
WTMJ-TV, Violent weekend in Milwaukee: 4 killed, 24 injured in 15 separate shootings Aug. 18-20, Aug. 21, 2023
Milwaukee Journal Sentinel, Three dead, 20 injured in weekend shootings in Milwaukee, including 9 injured in one incident, Aug. 21, 2023
WISN 12, 17-year-old Andrea Sanders shot, killed in Milwaukee, Aug. 21, 2023
Fox 6 Milwaukee, Girl shot, killed on Milwaukee's north side, Aug. 19, 2023 
CNN, Voters deliver ringing endorsement of abortion rights on midterm ballot initiatives across the US, Nov. 9, 2022
NPR, Voters in Kansas decide to keep abortion legal in the state, rejecting an amendment, Aug. 3, 2022
PBS, Kentucky voters reject constitutional amendment on abortion, Nov. 9, 2022
NPR, Kentucky voters reject amendment that would have affirmed no right to abortion, Nov. 9, 2022 
Time Magazine, Voters Rejected Montana's Anti-Abortion Referendum. Here's What it Means, Nov. 10, 2022
The 19th, Ohio voters reject measure aimed at blocking abortion rights amendment, Aug. 8, 2023
Alaska's News Source, U.S. Navy destroyers dispatched to Aleutians after Chinese, Russian vessels spotted nearby, Aug. 6, 2023
The Guardian, US dispatches warships after China and Russia send naval patrol near Alaska, Aug. 6, 2023
PolitiFact, Chip Roy cites correct border encounters data, but is wrong about most staying indefinitely, Feb. 3, 2023
PolitiFact, Francis Suarez's misleading claim about millions of migrants getting free cellphones, plane tickets, July 28, 2023
PolitiFact, Ask PolitiFact: What can we expect if Title 42 is lifted? Dec. 16, 2022
U.S. Customs and Border Protection, Southwest Land Border Encounters, accessed Aug. 24, 2023
The Marshall Project, DeSantis Claims Florida's Crime is at a 'Record Low.' But He's Using Incomplete Data, June 6, 2023
Time, The Problem with Ron DeSantis' Claims About Crime in Florida, July 13, 2023
NBC 6 South Florida, Miami Sees Decrease in Murders, Shootings: City Stats, April 4, 2023
The Marshall Project,  Ahead of Midterms, Most Americans Say Crime is Up. What Does the Data Say? Nov. 5, 2022
Bureau of Justice Statistics, Criminal Victimization, 2021, September 2022
CBS Miami, GOP debate mentioned Miami crime rate as up but is that true? Here's what the figures show, Aug. 24, 2023
Brennan Center for Justice, Myths and Realities: Understanding Recent Trends in Violent Crime, July 12, 2022
Miami Dade Police Department, 85B - Part 1 Crimes YTD Comparison - Automated, accessed Aug. 25, 2023
Vox, Ron DeSantis might not be as tough on crime as he says he is, April 10, 2023
NPR, Phoenix ends 31-day streak of highs at or above 110 degrees — by reaching 108, Aug. 1, 2023
Browse the Truth-O-Meter
More by Madison Czopek