Stand up for the facts!
Our only agenda is to publish the truth so you can be an informed participant in democracy.
We need your help.
I would like to contribute
How days of vote counting became go-to 'evidence' for false election fraud claims
If Your Time is short
Experts who track misinformation said the 2020 election gave a head start to 2022's false claims that normal vote counting processes are evidence of fraud.

Election officials and some Democratic leaders issued cautionary statements ahead of Nov. 8, warning that it could take days before key elections were decided. Others used those statements to suggest something nefarious.

From Sept. 1 to Nov. 8, the "voting delays" or "delays in midterm election results" narrative accumulated more than 5,000 mentions on blogs, Twitter, Reddit, in broadcast, on news sites and in other online forums and spaces, according to Zignal Labs. From September to October, those mentions jumped by 1,034%.
When Pennsylvania's acting secretary of state called a press conference two weeks before polls closed on the 2022 midterm elections, she said her aim was to prevent the spread of misinformation.
"It's really important for us to get accurate information about the election process in Pennsylvania so voters and the public know that when there are delays in counting, it doesn't mean that there's anything nefarious happening," Acting Secretary of Commonwealth Leigh Chapman said. "It's just what the law is in Pennsylvania."
Her statements might have reassured some people. But according to an analysis by Zignal Labs, a media intelligence company, Chapman's comments were used as fodder for a growing narrative that perpetuated the election myth she was trying to dispel.
From Sept. 1 to Nov. 8 on Twitter, the three most-shared headlines related to unannounced election returns were pinned to Chapman's statements and came from conservative and libertarian media sites.
"BREAKING: Acting PA secretary of state warns of 'delays' in counting midterm votes," wrote The Post Millennial on Oct. 26.

"After sending out 240,000 unverified ballots, Pennsylvania now warns of 'delays' counting midterm votes," reported Zero Hedge on Oct. 27.

"Pennsylvania secretary of state says there will be 'delays in counting' 2022 midterm votes," read an Oct. 27 Epoch Times headline.
Although the articles did not outright allege that slow results would signal fraud, they generated online discussion that claimed as much.
The narrative built as election night neared and lasted through election week.
"There was a major backlash to election officials and party leaders like President (Joe) Biden saying that it would take time to count votes," said Emma Steiner, disinformation analyst at Common Cause, a voting rights group. "We saw a lot of conspiratorial narratives arise saying they were 'announcing their plan'" to steal the election.
During a Nov. 2 speech, President Joe Biden encouraged voters to be patient while awaiting midterm results. (C-SPAN)
From Sept. 1 to Nov. 8, the "voting delays" or "delays in midterm election results" narrative accumulated more than 5,000 mentions on blogs, Twitter, Reddit, in broadcast, on news sites and in other online forums and spaces, according to Zignal Labs. From September to October, those mentions jumped sharply — by 1,034%.
But experts say the narrative had such staying power because the 2020 election gave it a head start.
"It does seem like, in many ways, unfortunately, 2022 is just a continuation of false information and disputes around the 2020 election," said Lawrence Norden, director of the Brennan Center's Elections and Government Program.
He said claims that later results signal electoral misconduct have appeared sporadically for years. During the 2000 election, for example, as votes were counted and recounted and the margin between George W. Bush and Al Gore narrowed, some political leaders and pundits suggested something improper was happening.
Norden said the 2020 election propelled such efforts to sow doubt about vote counting "to a whole other level."
Conspiracy theorists seemed more likely to anticipate that results would take longer in 2022 — and to "just automatically view it as suspicious," Steiner said.
Mentions of "delays" in results spiked from 388 mentions in September to more than 4,400 in October, Zignal Labs reported.
Zignal Labs said that number included mentions from news organizations and officials who warned that it would take time to count every vote. But it also included posts that contained false or misleading information.
PolitiFact found examples of such posts shared in the weeks before Nov. 8:
A video shared Oct. 28 on Reddit titled, "After sending 250,000 ballots to unverified voters, Pennsylvania now warns of delays counting votes." The video generated discussion that included comments such as: "The Democrats aren't even trying to pretend any more," and "They are being shockingly blatant about it."

A Nov. 3 tweet claimed, "When I was a kid we knew the winner of elections on election night. Technology is supposed to make things more efficient, not delay the count for weeks. You're insane if you don't question this idiocy." It racked up more than 17,000 likes.
In 2022, election deniers made a strategy of preemptively working to discredit any results that came in after Election Day, Steiner said.
Morgan Wack, a graduate researcher at the University of Washington's Center for an Informed Public, said that after laying that groundwork and sowing doubt in the process, bad actors can then point to the lags and say, "Well, there were these delays, so that must have been when they stuffed the ballots or switched the votes or did the hacking."
But such lags are a normal part of the process, especially in states where laws dictate that election workers can't start processing ballots until Election Day. As voting by mail has become more popular, results have taken longer because mail ballots require extra handling. Laws about when counting can commence vary from state to state. These factors make it harder for news outlets to call races on election night. But there's no evidence that days of counting are suspicious.
Norden said it appeared efforts to cast slower election results as evidence of fraud were "much more organized" in 2022 than they were in 2020.
Analysts with the Election Integrity Partnership, a nonpartisan coalition that researches how online behavior can harm the democratic process, found that engagement with the "delays framed as fraud" narrative spiked after Chapman and Biden told voters it would take time to count all the midterm votes.
Looking at the cumulative plot, discussions surrounding the delays in counting ballots have only become more common and more viral in recent days and will likely continue to spread on Twitter and elsewhere over the next week: pic.twitter.com/xznHZ9GjKN

— Election Integrity Partnership (@EI_Partnership) November 5, 2022
Zignal Labs' analysis showed this as well. On Twitter, the fourth most shared article about midterm result "delays" followed Biden's warning that midterm results would not be immediate.
"Biden says we won't know the results of the midterm election until days after polls close November 8th," read the headline from The Conservative Treehouse blog. That article overtly aimed to undermine the election process, with the first line reading, "it would appear that national democrats are setting the stage for fraudulent ballot collection again."
Despite the misinformation backlash, Wack said it was "best practice" for officials to warn people that counting every vote would take time.
"It's still worth doing," he said. "But, you know, you also run the risk of it being used against you."
Claims about fraud were loud, but not at 2020 levels, experts said
Statements to discredit election results that come after Election Day appeared on platforms such as Twitter, Facebook and Instagram and on fringier social media platforms, such as Telegram and former President Donald Trump's Truth Social.
"Mainstream platforms have been a breeding ground for conspiracies about elections," Steiner said. But more specific strategies linked to this narrative — such as the push to vote in person after 3 p.m. on Election Day — originated on less widely used alt-tech platforms like Telegram and Truth Social.
"There's a definite tendency for these types of conspiratorial narratives to find fertile ground on (alternative) platforms and then cross over into mainstream platforms," Steiner said. "Then, eventually, you have elected officials and high profile influencers repeating it."
By Nov. 8, the narrative was being amplified by Republicans with large followings.
In response to the White House press secretary's Nov. 7 warning that it takes time to count votes, which is how elections are supposed to work, Sen. Ted Cruz, R-Texas, on Nov. 8 tweeted, "nope. it's not." Cruz has 5.5 million Twitter followers, and his tweet was liked more than 20,000 times.
To her 1.3 million followers, Rep. Marjorie Taylor Greene, R-Ga., tweeted: "Defending democracy is not having elections where mail-in ballots are still counted weeks after Election Day." Rep. Troy Nehls, R-Texas, tweeted, "continuing to count ballots after Election Day undermines voter confidence."
Trump amplified this narrative, too. Back in 2020, he prematurely and falsely declared he won reelection and made unsubstantiated claims that states continuing to count votes had rigged the election against him.
He revived those types of claims in 2022.
On Truth Social Nov. 8, Trump wrote: "Pennsylvania just announced that it could take days to determine the winner. This is outrageous!" After the polls closed, on Nov. 10, he falsely claimed that election results in Nevada and Arizona were taking longer than other states' results because election officials wanted "more time to cheat!"
On Nov. 14, as the margin of votes between Kari Lake, the Republican candidate for governor in Arizona, and her Democratic opponent, Katie Hobbs narrowed, Trump claimed that Lake's "win" — which had not been projected at the time of his post — was "slowly, yet systematically, being drained away from her, and from the American people." He continued, claiming that "mail in ballots," "long election counts," and "many day elections" were unreliable and "an American disaster." Media organizations that evening called Arizona's gubernatorial race for Hobbs, though a recount may be possible.
Data shows fraud through mail voting is statistically rare.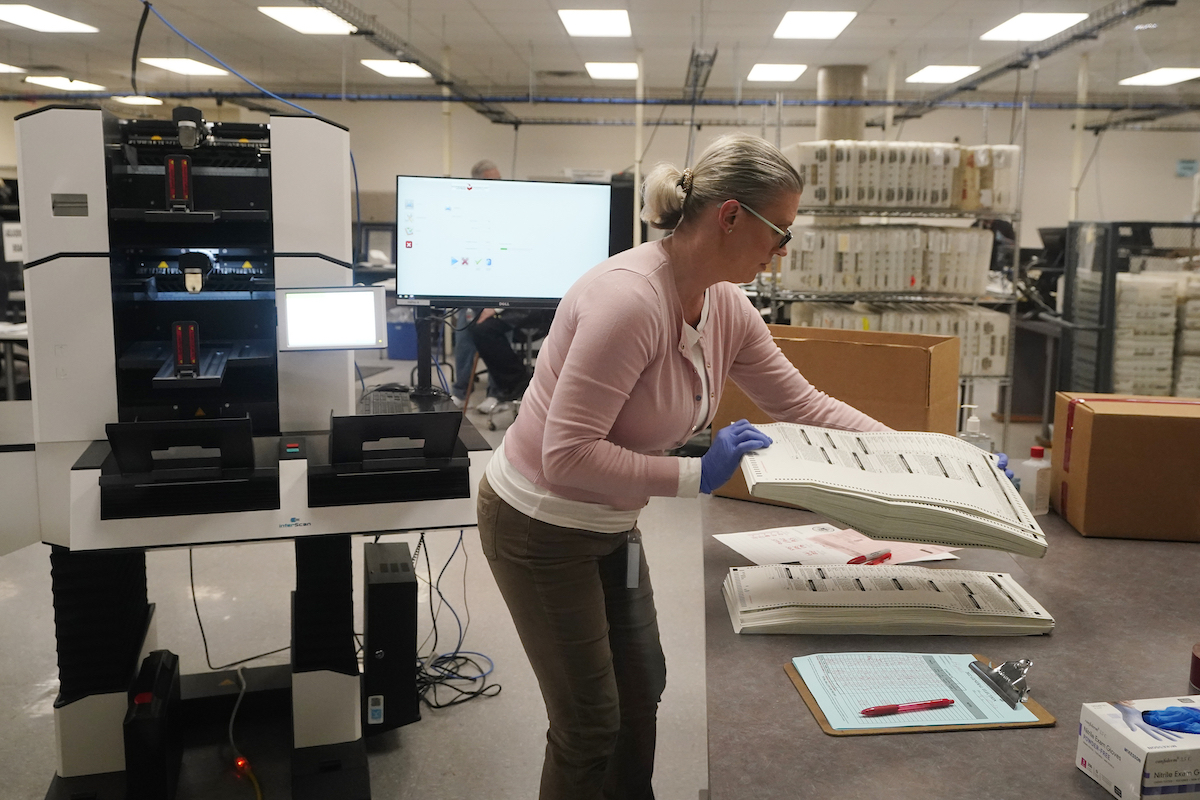 An election worker holds a stack of counted ballots at the Maricopa County Recorders Office in Phoenix, Nov. 10, 2022. (AP)
Although the doubt-sowing narrative was strong in 2022, Wack said he was taking comfort in what appeared to be a lower volume of such claims compared with the 2020 general election.
It could have been because votes were still being counted. Or it could have been simply because this was a midterm election, in which case we might expect to see such misleading claims surface again in 2024.
"Pretty much every midterm is going to have less turnout or participation in most things," Wack said, "up to and including misinformation and interaction with online narratives."
PolitiFact reporter Amy Sherman and Louis Jacobson contributed to this report.
Correction, Nov. 15, 2022: An earlier version of this story incorrectly spelled Morgan Wack's name.
RELATED: Ask PolitiFact: What would speed up election results?
RELATED: Why days of ballot counting isn't suspicious
RELATED: No, every vote wasn't previously counted on election night
Interview with Lawrence Norden, director of the Brennan Center's Elections and Government Program, Nov. 8, 2022
Interview with Morgan Wack, a graduate researcher at the University of Washington's Center for an Informed Public, Nov. 11, 2022
Interview with Emma Steiner, a disinformation analyst with Common Cause, Nov. 10, 2022
Zignal Labs, Inc., Zignal Labs: 2022 Midterm elections narrative report, Nov. 8, 2022
Brennan Center for Justice, The roadmap to the official count in the 2022 election, Oct. 31, 2022
PolitiFact, Trump did not win two-thirds of election lawsuits 'where merits considered,' Feb. 9, 2021
PolitiFact, Websites spin unproven link between Canada, China about coronavirus outbreak, Jan. 28, 2020
PolitiFact, European leader did not say the Nuremberg Code should be disregarded, Dec. 7, 2021
Zero Hedge, After sending out 240,000 unverified ballots, Pennsylvania now warns of 'delays' counting midterm votes, Oct. 27, 2022
The Epoch Times, Pennsylvania secretary of state says there will be 'delays in counting' 2022 midterm votes, Oct. 27, 2022
The Post Millennial, BREAKING: Acting PA secretary of state warns of 'delays' in counting midterm votes, Oct. 26, 2022
The Conservative Treehouse, Biden says we won't know the results of the midterm election until days after polls close November 8th, Nov. 2, 2022
News Guard, theepochtimes.com, published 2020
News Guard, 2022 midterm election misinformation tracking center, accessed Nov. 10, 2022
CBC, Canadian news site The Post Millennial blurs line between journalism and conservative 'pamphleteering,' Aug. 13, 2019
PolitiFact, No, every vote wasn't previously counted on election night, Nov. 4, 2022
PolitiFact, Election result delays are not proof of fraud, Nov. 8, 2022
90.5 WESA, Pa.'s acting secretary of state warns of possible delays in election results, Oct. 25, 2022
Politico, GOP activists and candidates set stage to claim elections they lose are stolen, Nov. 7, 2022
Reddit, r/conservatives discussion archive, Oct. 28, 2022
Archived tweet, Nov. 3, 2022
C-SPAN, President Biden remarks on democracy and midterm elections, Nov. 2, 2022
PolitiFact, Trump falsely and prematurely claims 2020 presidential victory, Nov. 4, 2020
AZ Central, Katie Hobbs maintains lead over Kari Lake after last major report from Maricopa County, Nov. 14, 2022
PolitiFact, Trump's cascade of falsehoods about voting by mail, Nov. 1, 2020
Gallup, Confidence in election integrity hides deep partisan divide, Nov. 4, 2022
Los Angeles Times, In Arizona, election fraud conspiracy theories rage on as the vote count continues, Nov. 13, 2022
The Associated Press, Why AP called the Arizona's governor race for Katie Hobbs, Nov. 15, 2022
AZ Central, Key Arizona election races in 2022 likely to go into recount, Nov. 14, 2022
Fox News, Arizona gov election: Katie Hobbs defeats GOP challenger Kari Lake, race may now go to recount under state law, Nov. 15, 2022
NBC, Democrat Katie Hobbs defeats MAGA favorite Kari Lake in high-stakes race for governor in Arizona, Nov. 14, 2022
Browse the Truth-O-Meter
More by Madison Czopek