Stand up for the facts!
Our only agenda is to publish the truth so you can be an informed participant in democracy.
We need your help.
I would like to contribute
Bring back manufacturing
"My plan includes a pledge to restore manufacturing in the United States."
Trump-O-Meter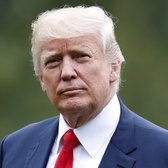 No overall improvement for manufacturing sector under Trump
One of the signature promises by Donald Trump during the 2016 presidential campaign was to bring back the country's manufacturing sector.
As president, Trump has enacted pro-business policies, including a cut to the corporate tax rate, rollbacks of business regulations and an aggressive posture against trading partners such as China that have spent decades competing against U.S. factories.
But despite Trump's aggressive pro-business agenda, the results on his watch have been mediocre for the manufacturing sector, even before the coronavirus pandemic drove the U.S. economy into its first recession in a decade.
Here's a chart showing manufacturing employment by month. The blue portion shows the period under President Barack Obama, while the red shows the period under Trump.
Manufacturing employment did increase from mid 2017 to early 2019, but at roughly the same pace as it did for most of Obama's tenure. And for the year between early 2019 and early 2020, manufacturing employment stagnated. And that was before the coronavirus hit; during that yearlong stagnation, the economy was still expanding overall.
"There was nothing special or extraordinary about Trump's two years of manufacturing job growth, other than to say he benefited from synchronized global growth, which is very rare, and juice from the corporate tax cut, which probably shifted investment and hiring forward a bit," said Scott Paul, president of the Alliance for American Manufacturing, which has applauded many of Trump's goals on manufacturing policy.
Here's another way to look at the sector during Trump's tenure: gross manufacturing output by quarter.
By this metric, too, output rose during the first year and a half of Trump's presidency, though not much faster than during most of Obama's presidency. And since then, output has stagnated or declined slightly.
Finally, wages for rank-and-file workers in manufacturing didn't improve much either, as measured by average hourly earnings of production and non-supervisory employees.
Under Trump, hourly earnings for manufacturing workers continued rising much as they did under Obama, and they didn't gain ground on earnings for private-sector workers as a whole.
Meanwhile, the nation's balance of trade in goods — a measure of manufacturing exports vs. imports — initially got worse under Trump before improving to roughly where it was when he took office. "Prior to the pandemic, we were seeing increases of imports from Vietnam, other Asian economies and Mexico," Paul said. And any recent manufacturing gains were wiped out by the COVID-19 lockdown, observers say.
All told, Trump tried to boost manufacturing, but significant improvements weren't showing up in the data even before the pandemic hit. We rate this a Promise Broken.
The Hill, "The Wheels are coming off Trump's trade policy," June 19, 2020
Email interview with Robert E. Scott, senior economist at the Economic Policy Institute, June 26, 2020
Email interview with Scott Paul, president of the Alliance for American Manufacturing, June 26, 2020
Upticks in manufacturing employment, little policy progress
President Donald Trump promised to revive manufacturing on the campaign trail. One year in, the industry is on the same trajectory as when he took office.
"My plan includes a pledge to restore manufacturing in the United States," Trump said in a campaign rally in Detroit, Mich., on Oct. 31, 2016.
Bureau of Labor Statistics data shows that jobs have been on a slight uptick. Between November 2016 and November 2017, the number of manufacturing jobs rose by 189,000.
But the growth reflects a continuation of the trends former President Barack Obama's fiscal and monetary policies set in motion, experts told us.
Robert Scott, director of trade and manufacturing policy research at the left-leaning Economic Policy Institute, likened patterns in manufacturing industry to an aircraft carrier.
"It is very hard to move," Scott said. "Once you get it going it's hard to slow down and once it's stopped it's hard to get it moving again."
Source: Bureau of Labor Statistics
"Manufacturing has dropped by about 30 percent since the 2000s," said Susan Houseman, vice president and research director at the Upjohn Institute for Employment Research. "It's ticked back up in recent years but hasn't even come close to regaining employment levels before the recession. So you have to paint a picture of manufacturing that's very weak still."
Economists attributed the harsh drop since 2000 to several factors: decreased domestic demand, the automation of manufacturing processes and drops in exports relative to imports, also known as the trade deficit. The latter was a frequent target of Trump's stump speeches, but experts say he's done little to address it.
"The goods trade deficit has increased 7.3 percent this year relative to the same period in 2016, reflecting the complete failure of the Trump administration to take any significant action to reduce the growth of this deficit," Scott said.
The North American Free Trade Agreement -- which Trump promised to renegotiate -- is not nearly as problematic as the trade imbalance with more powerful countries like China, Japan and Germany, according to Scott.
Trump broke his promise to declare China a currency manipulator in April, although his new National Security Strategy declares "the United States will no longer turn a blind eye to violations, cheating or economic aggression."
That stance has yet to materialize in specific trade policies. And there has been no public updates on the investigations Trump directed into unfair steel trade practices or China's alleged intellectual property theft.
Soon after taking office, Trump created the Manufacturing Jobs Initiative, a council comprised of 24 chief executives, but he disbanded it with a tweet after several members resigned following Trump's response to Charlottesville in August.
The most concrete accomplishment in reinvigorating manufacturing, then, comes in the form of business optimism.
"I do not believe he has done a lot to change the position of U.S. manufacturing, but he has imbued a strong sense of optimism in the business sector that encourages investment," said Martin Baily, a senior fellow in economic studies at Brookings. "Lowering the corporate tax rate will bring foreign investment into the United States."
The National Association of Manufacturers reported record-high confidence levels in a survey that Trump tweeted.
Bradford DeLong, an economics professor at U.C. Berkeley, said new tax legislation may have the opposite effect. By incentivizing investment, DeLong argues, the tax bill funnels away money foreigners may have otherwise spent on domestically manufactured goods.
"It's not going to be as large a shock as was delivered to the manufacturing sector by the 1981 or the 2001 and 2003 cuts in taxes," DeLong said. "But it is very likely to be the big factor driving the change in the manufacturing employment share over the next two years. And it is likely to drive it down."
Trump has been taking small steps to improve U.S. standing in trade relations and has improved confidence in the manufacturing industry, but he's got a long way to go to reach the level of output enjoyed before 2000.
We rate his promise In the Works.
Phone interview with Robert Scott, director of trade and manufacturing policy research at the Economic Policy Institute, Dec. 15, 2017
Phone interview with Susan Houseman, vice president and research director at the Upjohn Institute for Employment Research, Dec. 15, 2017
Email interview with Martin Baily, senior fellow in economic studies at Brookings, Dec. 15, 2017
Email interview with Brad Delong, University of California, Berkeley economics professor, Dec. 15, 2017
Email interview with Steven Cheung, White House spokesman, Dec. 8, 2017
PolitiFact, Trump on China: 'They're not currency manipulators', April 13, 2016
WhiteHouse.gov, National Security Strategy, Dec. 18, 2017
BLS.gov, The employment situation: November 2017, Dec. 8, 2017
Data.BLS.gov, Manufacturing Employment, Seasonally Adjusted, accessed Dec. 18, 2017
Financial Times, Trump to accuse China of 'economic aggression', Dec. 15, 2017
New York Times, Nafta Round Closes With Talks Bogged Down by Conflict, Nov. 12, 2017