Get PolitiFact in your inbox.
Strengthen antitrust enforcement
"Will reinvigorate antitrust enforcement, which is how we ensure that capitalism works for consumers."
Obameter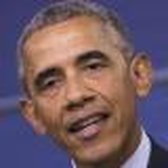 Antitrust enforcement has picked up
When we last looked at President Barack Obama's campaign promise to strengthen antitrust enforcement, Christine A. Varney, the newly appointed head of the Justice Department's Antitrust Division, had just announced that the department was reversing a Bush administration policy that she said "raised too many hurdles to government antitrust enforcement and favored extreme caution" in antitrust activity. Since then, in July, 2011, Varney announced that she was leaving the Obama administration to return to private practice.

"I came in with President Obama committed to fulfilling his promise to reinvigorate antitrust law, and I think we've done that," she told the Wall Street Journal in an interview discussing her decision.

So Varney declared the promise kept, but what do other experts think? Several said they saw increased enforcement, although some of the developments they pointed to occurred after Varney's departure.

The Obama administration has produced "more enforcement," said D. Daniel Sokol, who teaches antitrust law at the University of Florida Levin School of Law. Sokol pointed to the recent collapse of AT&T's proposed $39 billion takeover of T-Mobile under pressure from the Justice Department and the Federal Communications Commission and the Justice Department's successful opposition to a merger of H&R Block and TaxAct (two of three of the largest makers of do-it-yourself tax preparation products) as two important cases.

Sokol added, "in the shadow of the law (the vast majority of matters that we do not see such as mergers never filed or mergers that get cleared within 30 days), there seems to be the perception among practitioners that merger enforcement is up on the margins."

"It certainly seems as if the administration has indeed been more aggressive, especially with respect to merger enforcement," said Phillip C. Zane, a specialist in the regulation of competition and trade with the law firm Baker, Donelson, Bearman, Caldwell & Berkowitz, PC. The Justice Department's success in heading off the merger of AT&T and T-Mobile "gives them encouragement to be aggressive, because it worked." he said.

The acting assistant attorney general for the Antitrust Division, Sharis A. Pozen, noted in a speech Nov. 17, 2011, that in the fiscal year ended Sept. 30, 2011 that the Justice Department had filed 90 criminal enforcement cases, noting it was "the highest number of criminal cases the division filed in the last 20 years." Criminal cases are filed for infractions such as bid rigging and price fixing.

"I think the pace has picked up in the last year, particularly in the last six months," said Bert Foer, president of the American Antitrust Institute, also citing the AT&T and H&R Block cases, several pending cases, a settlement with MorganStanley,and a major cartel case in the auto aftermarket. "Both AT&T and H&R Block indicated a more activist positioning on mergers," he said, although he noted that objecting to mergers that reduce the number of horizontal competitors in a highly concentrated market isn't unusual.

But Foer noted that the administration has also gone after several vertical mergers, mergers of companies that are not direct competitors but which are in different distribution levels of the same industry. "They actually brought cases where the prior administration probably would have let them go," he said, although he said some of the settlements in these cases should have been considerably stronger.

One expert who hasn't been impressed with the Obama administration's approach to antitrust is Daniel A. Crane, who teaches antitrust at the University of Michigan Law School. The AT&T case "is not a particularly adventurous complaint," he said, and "not different than what could have occurred in the prior administration."

Crane also noted that, though the administration had "made a lot of noise about monopolization," it has brought only one such case in three years. "True, one is more than zero (the number brought during the Bush years), but it hardly indicates a major reinvigoration of monopolization enforcement," he wrote in an e-mail.

While the American Antitrust Institute's Foer gives the administration more credit, it's still measured when it comes to the Justice Department's performance. "The bottom line is that they've reflected the Obama administration, which has been middle of the road on business issues, generally prone to compromises."

"Obama in his statement as a a campaigner indicated that they would be more aggressive than the Bush administration, and that's true. They certainly have been," said Foer. "But they were up against a fairly low benchmark. It's still not as aggressive as we'd like to see, but it's not out of pace with the administration."

While antitrust enforcement may not have been bolstered as much as some had hoped, it is definitely stronger. We rate this a Promise Kept.
Nov. 17, 2011 speech by Acting Assistant Attorney General Sharis A. Pozen to the ABA Section of Antitrust Law 2011 Antitrust Fall Forum

Wall Street Journal, Antitrust Chief to Step Down, July 7, 2011.

E-mail interview with D. Daniel Sokol, assistant law professor at the University of Florida

Telephone interview with Phillip C. Zane, of counsel at the law firm Baker Donelson

Telephone interview with Bert Foer, president of the American Antitrust Institute
E-mail interview with Daniel Crane, law professor at the University of Michigan
Obama appointees change tone on antitrust policy
Not even four months into President Barack Obama's term, the new administration openly broke with the Bush administration on antitrust policy.

In a May 11, 2009, speech before the liberal Center for American Progress, Christine A. Varney, the new assistant attorney general overseeing the Justice Department's Antitrust Division, announced that the department was "withdrawing, effective immediately," a Bush-era policy that "raised too many hurdles to government antitrust enforcement and favored extreme caution" in antitrust activity.

The policy's withdrawal was the "clearest way to let everyone know that the Antitrust Division will be aggressively pursuing cases where monopolists try to use their dominance in the marketplace to stifle competition and harm consumers," Varney said. "The division will return to tried-and-true case law and Supreme Court precedent in enforcing the antitrust laws."

The withdrawal has been the most high-profile administration action -- but not the only one -- that seeks to "reinvigorate antitrust enforcement," as Obama promised during the campaign.

The Antitrust Division hired several new officials with pro-consumer backgrounds, including Philip J. Weiser as deputy assistant attorney general for international, policy and appellate matters; and Gene Kimmelman as chief counsel for competition policy and intergovernmental relations. Weiser had advised Varney's Clinton administration predecessor, Joel Klein, who was the point man in the government's antitrust lawsuit against Microsoft Corp. Kimmelman spent years in senior positions with Consumers Union and the Consumer Federation of America and began his career as a staff attorney for Public Citizen's Congress Watch. All three of the groups Kimmelman worked for represent consumers and have often sparred with industry groups.

Varney, a former commissioner at the Federal Trade Commission and White House Cabinet secretary during the Clinton administration, has made a series of speeches in which she's outlined an aggressive approach to antitrust enforcement. In addition, during congressional testimony, she echoed the contention by many Democratic lawmakers that repealing the insurance industry's antitrust exemption could improve the health insurance market. Meanwhile, the Antitrust Division is working with government agencies to "insulate procurement, grant and program funding processes from collusion and fraud" in the awarding of economic stimulus funds.

Still, the way antitrust enforcement works, bold statements by the head of the Justice Department's Antitrust Division do not necessarily translate into action -- at least not immediately.

"We haven't seen the filing of any big cases, but that could be because it takes time to develop those cases, and they're still working on them," said Daniel Crane, a law professor at the University of Michigan. In addition, other institutions beyond Varney's division shape antitrust policy, including the Federal Trade Commission -- which is filled by presidential appointment but which is not directly controlled by the administration -- as well as judges and state attorneys general.

So, while Varney has offered bold rhetoric that would seem to "reinvigorate antitrust enforcement," experts we spoke to agreed that it's premature to assume that the administration's changed approach to antitrust policy will produce tangible results. So for now, we'll rate this promise In the Works.
Justice Department, "Justice Department Withdraws Report on Antitrust Monopoly Law" ( news release ), May 11, 2009

Justice Department, "Antitrust Division Senior Leadership Named" ( news release ), April 22, 2009

Justice Department, "Antitrust Division Announces Initiative to Help Protect Recovery Funds from Fraud, Waste and Abuse" ( news release ), May 12, 2009

New York Times , " Obama Takes Tougher Antitrust Line ," May 12, 2009

New York Times , " Obama Threatens Insurers" Anti-Trust Exemption ," Oct. 18, 2009

E-mail interview with D. Daniel Sokol, assistant law professor at the University of Florida, Nov. 19, 2009

E-mail interview with Phillip C. Zane, of counsel at the law firm Baker Donelson, Nov. 19, 2009

E-mail interview with Daniel Crane, law professor at the University of Michigan, Nov. 19, 2009