Get PolitiFact in your inbox.
No permanent bases in Iraq
"The U.S. will not maintain permanent bases in Iraq."
Obameter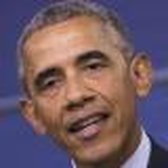 Defense Authorization Act puts it in writing
In a speech at Camp Lejeune, N.C., on Feb. 27, 2009, President Barack Obama pledged to end the combat mission in Iraq by Aug. 31, 2010. And speaking more directly to the issue of permanent bases, he said, "I intend to remove all U.S. troops from Iraq by the end of 2011."

The administration's position was reinforced by Secretary of Defense Robert Gates in a Sept. 4, 2009, interview when he was asked by an Al Jazeera reporter whether the Obama administration would stick to its pledge not to build any permanent military bases in Iraq.

"Absolutely," Gates said. "Unless there is some new agreement or some new negotiation, which would clearly be on Iraqi terms. But we will not have any permanent bases in Iraq. We have no interest in permanent bases in Iraq. And we are now planning on withdrawing all American military forces by the end of 2011."

Lastly, it was a position clearly written into the National Defense Authorization Act for 2010 passed by Congress and signed by President Obama on Oct. 28, 2009. Section 1221 states, "No funds appropriated pursuant to an authorization of appropriations in this Act may be obligated or expended ... to establish any military installation or base for the purpose of providing for the permanent stationing of United States Armed Forces in Iraq."

It's a provision that has been included in defense authorization legislation for several years in a row, dating back to the Bush administration.

Promises kept can always be broken in the future, and we'll revisit this one if things change -- particularly as we move closer toward the deadlines for troop removal -- but the Obama administration has not wavered from its pledge and the president signed a bill that specifically prohibits defense funds from being used to permanently station U.S. armed forces in Iraq.

We think that's enough to move this one to Promise Kept.