Stand up for the facts!
Our only agenda is to publish the truth so you can be an informed participant in democracy.
We need your help.
I would like to contribute
Las personas atraídas a los menores de edad "ya tienen su bandera del orgullo".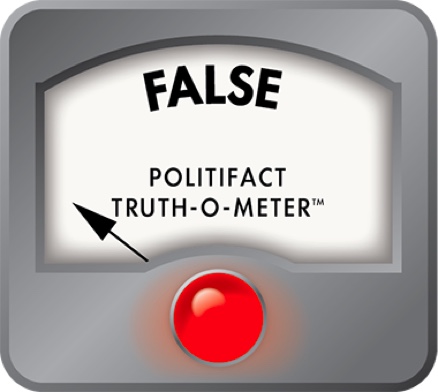 La bandera pedófila creada en Internet no pertenece a la comunidad LGBTQ+
If Your Time is short
La bandera fue creada por un usuario de Tumblr en 2018 como una broma. 

La bandera fue esparcida en Internet y puede que haya sido usada por personas "atraídas" a niños, pero la mayoría de las publicaciones que la compartieron lo hicieron para condenar su uso.

Grupos de abogacía LGBTQ+ no han incorporado abogacía hacia la pedofilia en su trabajo, ni tampoco han adoptado o compartido la bandera. 
La bandera colorida del orgullo LGBTQ+ es conocida popularmente. Ahora en TikTok, un video dice que hay una nueva bandera cuyo significado es preocupante.
"Esta bandera que ven ustedes aquí en sus pantallas, es la bandera de los minor attracted people, personas que están atraídas o que les atrae los menores de edad, los adultos que les atrae románticamente y sexualmente los niños", dice un hombre en un video del 19 de abril en TikTok. "Ya tienen, ya es un grupo organizado aquí en los Estados Unidos y ya tienen su bandera de orgullo".
Imágenes de la "bandera del orgullo pedófilo" comenzaron a circular en Junio del 2018, cuando los usuarios compartieron la imagen advirtiéndole a "menores" a estar alertas de este símbolo. El Daily Caller ese año sugirió que la bandera era un esfuerzo de los pedofilos de "ganar aceptación" en la comunidad LGBTQ+.
A pesar de que varios verificadores han dicho que el símbolo no tiene nada que ver con la comunidad LGBTQ+ o su trabajo de abogacía, estas declaraciones han recirculado a mediados de las celebraciones del mes del orgullo en el 2023.
Las investigaciones sugieren que la bandera fue creada como una broma en Internet. No hay evidencia de que la comunidad LGBTQ+ la ha adoptado o que va a incorporar a la pedofilia en su abogacía. 
La publicación fue marcada como parte del esfuerzo de Meta para combatir las noticias falsas y la desinformación en su plataforma. (Lea más sobre nuestra colaboración con Meta, propietaria de Facebook e Instagram).
Los orígenes de la bandera
La bandera con franjas de colores pasteles, rosado, azul, amarillo y blanco tuvieron su primera aparición en una página en Tumblr en junio del 2018 en lo que parecia ser un intento de broma, según Snopes.
"La comunidad NOMAP realmente no tiene una bandera del orgullo, así que en honor al mes del orgullo yo diseñe una bandera NOMAP del orgullo", dice la publicación. El usuario luego describe el color de cada franja y su significado.
El acrónimo "NOMAP" es usado en Internet para significar "personas atraídas a menores no ofensivas". El término "personas atraídas a menores" es usado por algunas organizaciones que tratan de proveer acceso a terapia y recursos para adultos que se describen a sí mismos atraídos sexualmente a niños. También ha sido usado en estudios. El uso de la frase a sido criticado como un intento de "normalizar" la pedofilia.
A pesar de haber sido originado como una broma, el diseño de la bandera ganó atención a medida de que usuarios preocupados compartieron la imagen en las redes sociales como una alerta, la cual llevó a otros usuarios a condenar su uso. PolitiFact encontró escasas ocasiones en la que la imagen fue compartida en las redes sociales en lo que parecía ser una manera de apoyo — pero hasta en esos casos, el anonimato de las publicaciones no dejó en claro si el apoyo era genuino. 
Russell Dick es un trabajador social y co-fundador de B4U-ACT, una organización sin fines de lucro que promueve el acceso a servicios profesionales y recursos para adultos quienes dicen estar atraídos a niños. Algunas personas con las que su organización interactúa han compartido la bandera, dijo Dick, pero "B4U-ACT no ha proclamado la bandera de MAP y tampoco rechazamos a los MAP que muestran la bandera MAP".
El dijo que no hay una forma de saber como todas las personas están usando el símbolo, pero dijo que "B4U-ACT no está trabajando para alinear a las personas atraídas a menores con la comunidad LGBTQ". El Global Prevention Project, una organización haciendo trabajo similar al de B4U-ACT, dice lo mismo en su página web. 
Los defensores de la comunidad LGBTQ+ no estan apoyando la pedofilia
Los defensores de la comunidad LGBTQ+ no apoyan esta bandera.
Laura Powell, una vocera de Human Rights Campaign, un grupo de abogacía LGBTQ+ con más de 3 millones de miembros y partidarios, dijo que cualquier declaración que diga que el movimiento de apoyar los derechos LGBTQ+ está asociado con esta bandera y su supuesto significado está equivocada.
"Esto es categóricamente falso", dijo Powell, "y la desinformación de este tipo es parte integrante de los continuos intentos de demonizar a las personas LGBTQ+ haciendo declaraciones de asociaciones que no existen". 
El Human Rights Campaign mantiene un récord de las banderas del orgullo en su página web. La bandera de las personas atraídas a menores no está representada.
Laura McGinnis, una vocera de PFlag, otra organizacion grande de abogacía LGBTQ+ con mas de 325,000 miembros y partidarios, dijo que la pedofilia y hebefilia (atraccion a adolescentres de edades tempranas) son "preferencias sexuales desordenadas".
"Ellos no son parte de la comunidad LGBTQ+", dijo McGinnis. Ella dijo que la retorica anti-LGBTQ ha tenido una largo historial de acusaciones de pedofilia en contra de las personas queer. Ella caracterizó esas declaraciones como "viles", "deshumanizantes", y con la intención de "quitarles la humanidad a las personas de la comunidad LGBTQ+".
"Esa coneccion de pedofilia y hebefilia a las personas LGBTQ+ es de hace largo tiempo," dijo ella. "Es antigua, cansona y está incorrecta".
El Human Rights Campaign y PFlag dijeron que no conocen  alguna organización LGBTQ+ destacada que haya reconocido dicha bandera o que haya apoyado legítimamente la inclusión de las personas atraídas a menores en la comunidad LGBTQ+.
PolitiFact no encontró dicha bandera en el inventario de venta de los proveedores principales de banderas de orgullo o en Internet. Y, a pesar de las declaraciones en Internet, los colores usados en la bandera de personas atraídas a menores no tienen nada que ver con la bandera del orgullo transgenero o la bandera del progreso y el orgullo.
Our ruling
Un video en TikTok dice que las personas atraídas a los menores de edad "ya tienen su bandera del orgullo".
El diseño de esa bandera apareció en Tumblr en el 2018 en lo que parecía haber sido un intento de broma. No es parte de un gran movimiento de personas atraídas a niños y tampoco su supuesto simbolismo es apoyado por la abogacía LGBTQ+. 
Calificamos esta publicación como Falsa. 
Una versión de este artículo fue escrita originalmente en inglés y traducida por Maria Briceño.
Read this article in English.
Lea más reportes de PolitiFact en Español aquí.
---
Debido a limitaciones técnicas, partes de nuestra página web aparecen en inglés. Estamos trabajando en mejorar la presentación.
Fuentes incluidas en la verificación en inglés. 
Browse the Truth-O-Meter
More by Grace Abels
Support independent fact-checking.
Become a member!
In a world of wild talk and fake news, help us stand up for the facts.