Stand up for the facts!
Our only agenda is to publish the truth so you can be an informed participant in democracy.
We need your help.
I would like to contribute
Says Pete Gallego "went and lobbied after you fired him from Congress."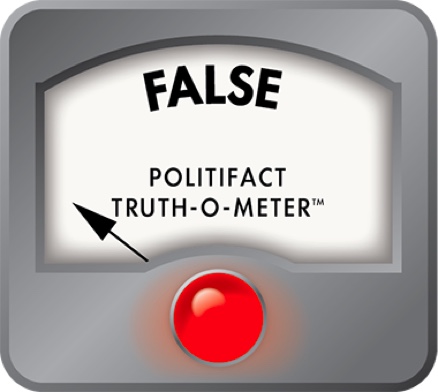 Republican group wrong that 'fired' Pete Gallego turned around and became lobbyist
Nancy Pelosi, the Democratic House minority leader, wants Pete Gallego of Alpine back in the U.S. House, according to a TV ad from a Republican group backing the incumbent in the seat representing the 23rd Congressional District sprawling south and west from San Antonio.
And why, the ad's narrator says? He says: "Because Gallego is the insider's insider. Career politician. Went and lobbied after you fired him from Congress."
Fair enough on the politician part; Gallego, a lawyer, was a Texas House member for more than 20 years before winning election to Congress in 2012. Two years later, though, he lost re-election to Republican Will Hurd of Helotes, who's now trying to win his second term.
The National Republican Congressional Committee ad shows Gallego smiling as he strolls what looks like a major Washington, D.C. avenue. Text simultaneously flashes: "Career politician," then "Gallego lobbied" with these words in smaller type at the bottom of the screen: "City of Austin, 2015."
https://www.sharethefacts.co/share/505c2984-7393-475b-aac6-534c66d2f87d
SOURCE: Screen grab, TV advertisement, "She's a Fan," National Republican Congressional Committee, YouTube, Oct. 4, 2016
Gallego might be in legal trouble if he went to lobby right away on Washington's infamous K Street where lobbying firms marshal forces. A 2007 law bars former House members from lobbying Congress for a year after leaving the body.
Then again, news reports including a July 2016 Politico story suggest that despite the "cooling off" mandate, former senators and House members continue to enjoy lucrative careers trying to influence lawmakers. As of October 2016, too, the Center for Responsive Politics indicated that 49 percent of the former members of the 113th Congress, which was in session through 2014, had already gone to work for lobbying firms.
Its list, though, didn't link Gallego to any firm.
And asked to share the basis of the lobbyist claim, NRCC spokesman Zach Hunter, who confirmed the ad video showed Gallego strolling in Washington, pointed out Gallego's August 2015 federal personal financial disclosure indicating he was paid $55,000 that year to work for Austin's city government. Hunter also emailed us 10 documents that appeared to come from Gallego's city employee personnel file.
City officials: Gallego didn't lobby
We confirmed the authenticity of the city-connected documents by asking a city spokesman, David Green, for the public portions of Gallego's employee personnel file. Those documents indicate Gallego was employed in "government relations" for 40 hours a week from March 2, 2015, through Aug. 21, 2015, at an hourly rate of $56.26. At our inquiry, Green also shared the financial calculations that bear out the city ultimately paying Gallego $55,359.
For part of that time, through June 1, 2015, the Texas Legislature was in session. So, might it be that Gallego proved helpful to the city by lobbying legislators?
To the contrary, Green and a former Gallego superviser each told us Gallego had been hired not to lobby legislators but to advise the city on legislative and legal matters. Gallego, Green said by email, "advised the government relations officer on policy and legislation and assisted in document preparation and strategy."
Green told us John Hrncir, then the government relations officer, was one of Gallego's supervisors.
When we called Hrncir, who retired in May 2015, he said he'd recommended that the city consider adding Gallego to its government relations team after Hugh Brady left city government to work in President Barack Obama's administration.
According to Brady's entry on LinkedIn.com, he was a special assistant city attorney and legislative counsel to the city until March 2014 when he became general counsel in the executive office of the president. In his city role, Brady's entry says, he advised city officials and drafted "state and federal legislative instruments involving taxes, land use, water, government finance, regulatory authority, redistricting, collective bargaining, pensions and telecommunications."
By email, Hrncir wrote that "in a typical legislative session the city is potentially impacted by 25% or more of the bills considered. The city usually has to pay attention to the 1,200 to 2,000 bills impacting it the most of the five to seven thousand filed. Deciding which legislative provisions to amend, pass, or defeat, and the time and effort to spend on each action, is a constant process, and decisions are revised, sometimes hourly, until the final gavel at sine die. 
"Pete Gallego is an experienced former (legislator) who had demonstrated exceptional ability at solving problems by finding solutions palatable to multiple factions of legislators--both parties; rural and urban reps; business and environmental advocates; etc. The constant triage for bills and amendments is critical to the city's success and I was confident that Gallego's advice to the team would be invaluable in maximizing the city's resources."
Gallego responds
In gauging this claim, we also queried Gallego's campaign.
By email, spokeswoman Lyndsey Rodriguez said the implication that Gallego was a Washington lobbyist doesn't hold up.
Gallego, Rodriguez said, was a temporary in-house employee of the City of Austin for approximately a six-month period of time" and not among the city's outside paid lobbyists, she wrote, noting that he also didn't register as a lobbyist with the Texas Ethics Commission, which we confirmed from records listing outside lobbyists paid by the city to lobby in 2015.
Gallego, Rodriguez wrote, "reported directly to the city attorney and provided the city attorney with opinions on legislative language and process. Pete also reviewed legislation, during and after session, to determine its impact on the city."
Following up, we asked if Gallego in 2015 testified before a legislative committee or perhaps registered a position on behalf of the city; those are the kinds of duties often fulfilled by a lobbyist. "He did not," Rodriguez replied.
We also reached Brian Yarbrough, among outside lobbyists paid by the city, who told us by phone he wasn't aware of Gallego directly lobbying for the city that year and didn't recall even seeing him in the Texas Capitol.
Our ruling
The pro-Hurd Republican group says Gallego "went and lobbied after you fired him from Congress."
For half of 2015 including three months of the legislative session, Gallego worked in government relations for Austin's city government. But the NRCC didn't provide nor did we find evidence he was working as a lobbyist--either in Austin or Washington, which the ad arguably implies.
We rate this claim False.
---
FALSE – The statement is not accurate. Click here for more on the six PolitiFact ratings and how we select facts to check.
Report, "Post-Employment, 'Revolving Door,' Laws for Federal Personnel," Congressional Research Service, Jan. 7, 2014
Biographical entry, "Pete Gallego," from web page, Texas Legislators: Past and Present, Legislative Reference Library (accessed Oct. 11, 2016)
Emails including web link to Pete Gallego's federal financial disclosure filing, Aug. 29, 2015, Zach Hunter, regional press secretary, National Republican Congressional Committee, Oct. 10-11, 2016
Emails, David Green, media relations manager, City of Austin, Oct. 11-12, 2016
Emails, Lyndsey Rodriguez, communications director, Pete Gallego U.S. House campaign, Oct. 12, 2016
Telephone interview and email, John Hrncir, former government relations officer, City of Austin, Oct. 11, 2016
Telephone interview, Brian Yarbrough, lobbyist, Oct. 12, 2016
Browse the Truth-O-Meter
More by W. Gardner Selby
Support independent fact-checking.
Become a member!
In a world of wild talk and fake news, help us stand up for the facts.